This is the first wreath I made. I made it the first Christmas I spent with my now husband. It has been on our door in London, Dubai, Toronto (photo below – the snow is the give away!) and Oxfordshire, UK. It was made with a pack of baubles, a dry cleaner hanger and some pink ribbon.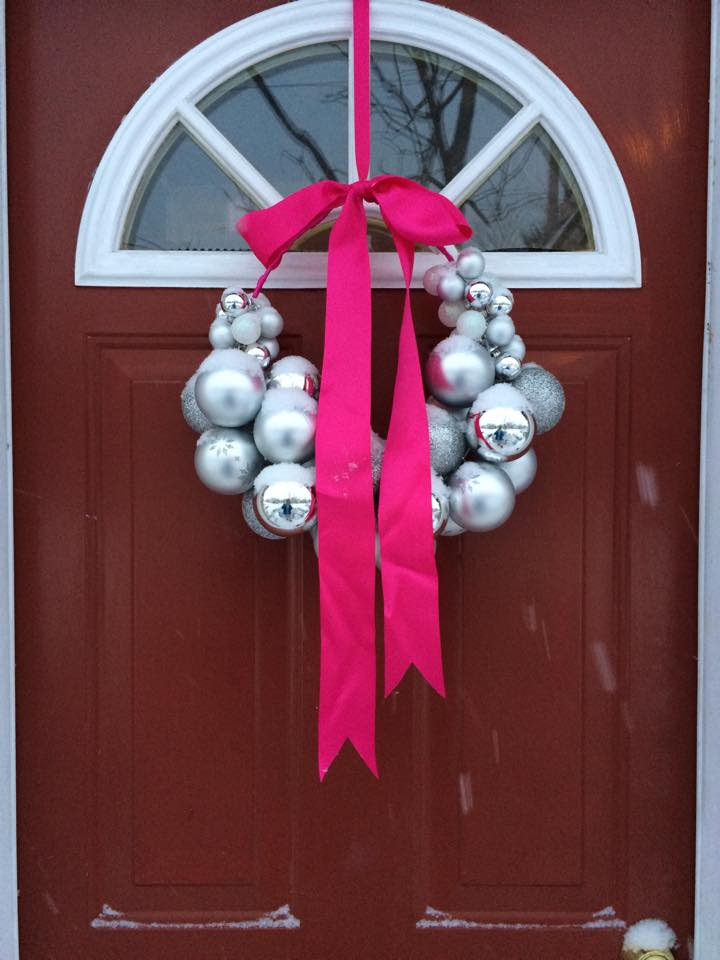 I have since made a few wreaths. In Dubai I made them as Christmas presents for friends. Again using a pack of baubles, a dry cleaner hanger and some ribbon, or for a more tropical theme using an ivy ring, some artificial orchids and some pastel baubles, all from IKEA. My personal favourite was the citrus star wreath. I made this with an artificial evergreen base from IKEA, and then glue gunned citrus peel onto it. I cut out – with a cookie cutter – stars from blood orange, orange and lemon peels for the ombré effect. It seriously damaged my hands but the result was quite stunning. To give it the extra Christmas feeling, I attached a scented bag on the back.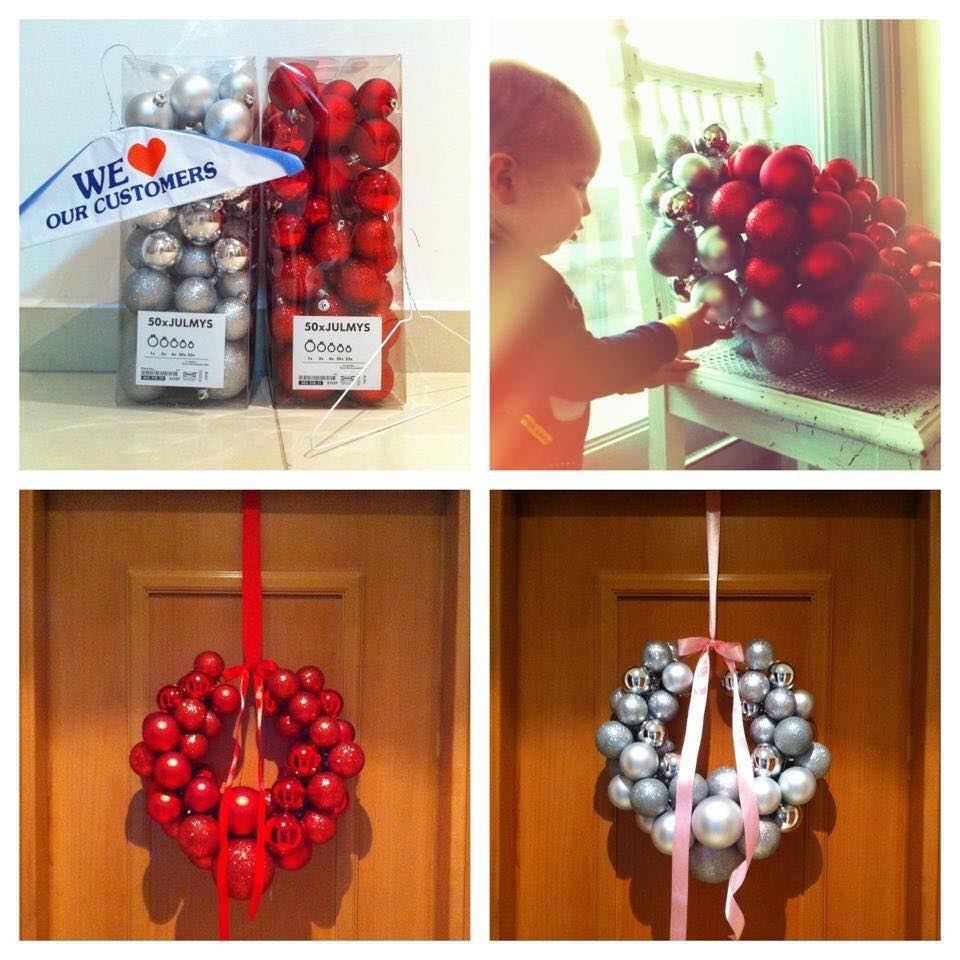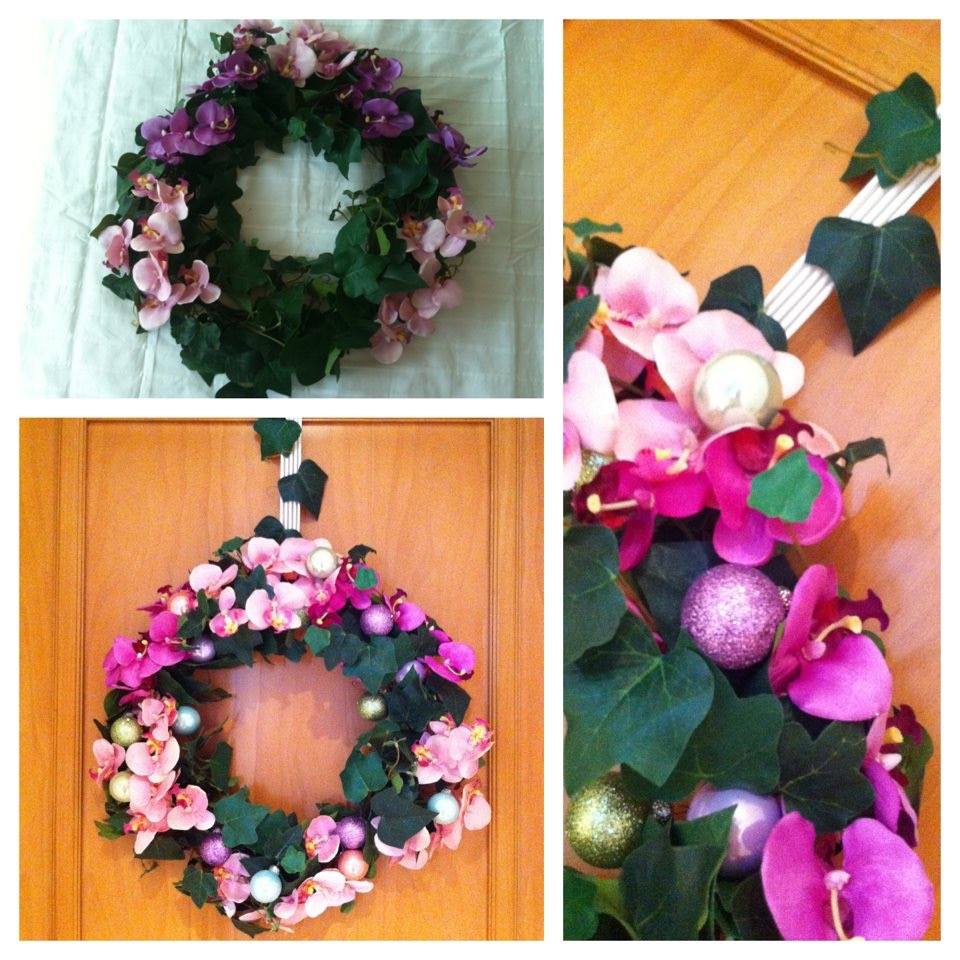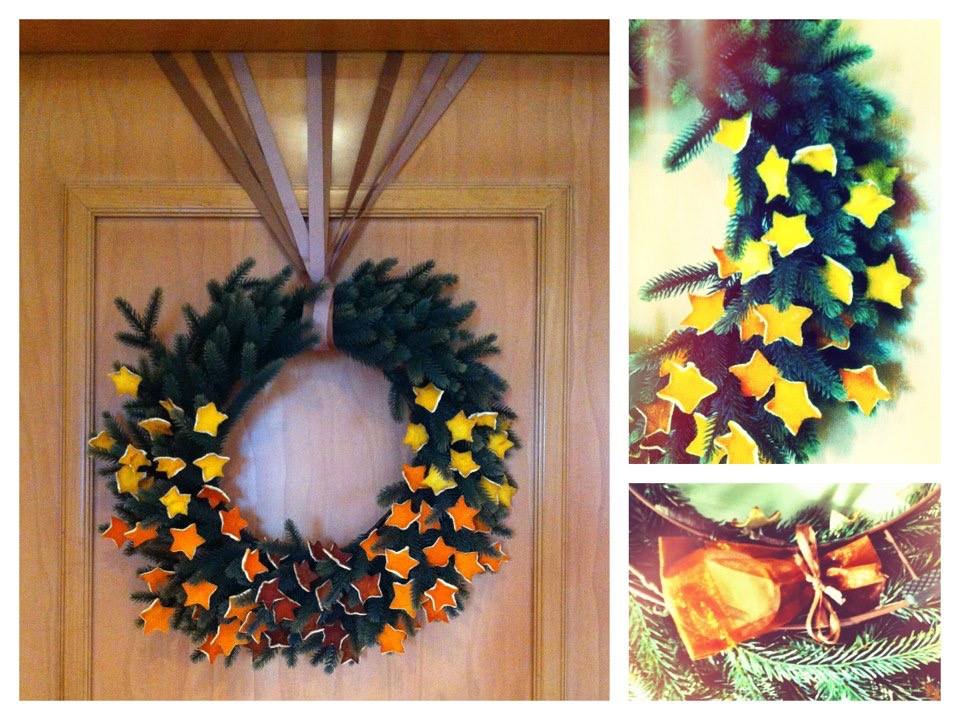 Last year I made wreaths to raise money for my daughter's school. One set using up some woodland decorations I had. And one set with mat green tinsel and home made dried apple and orange slices.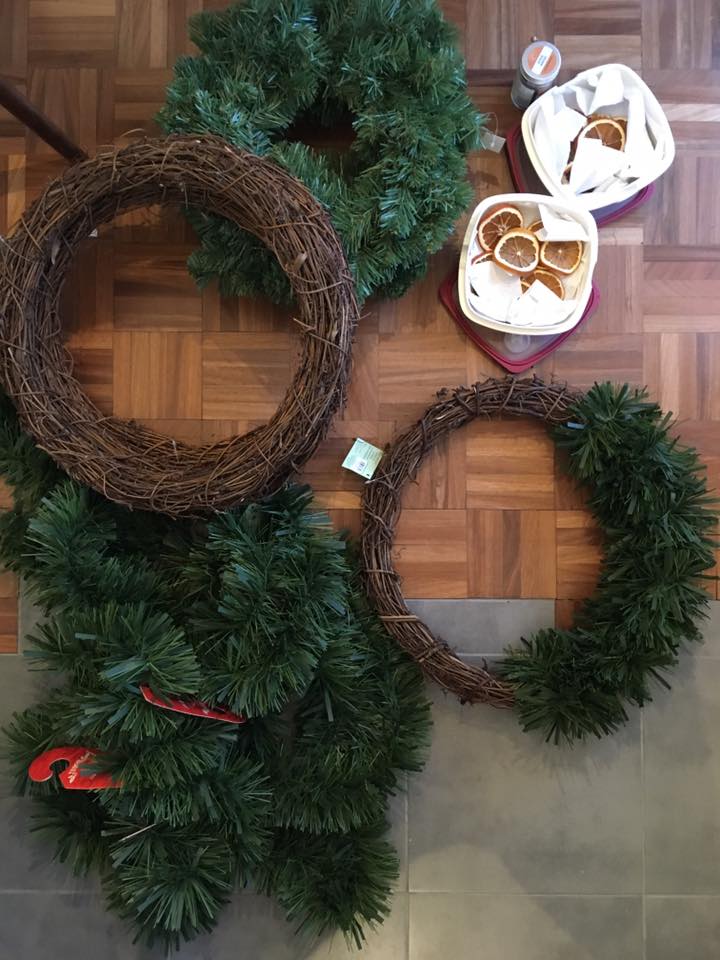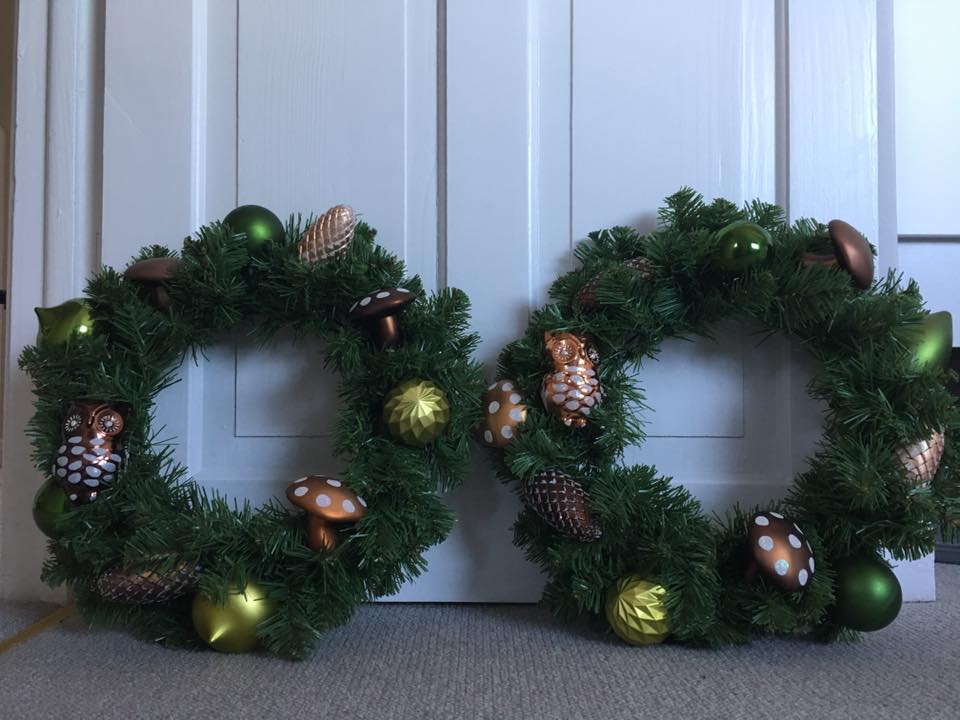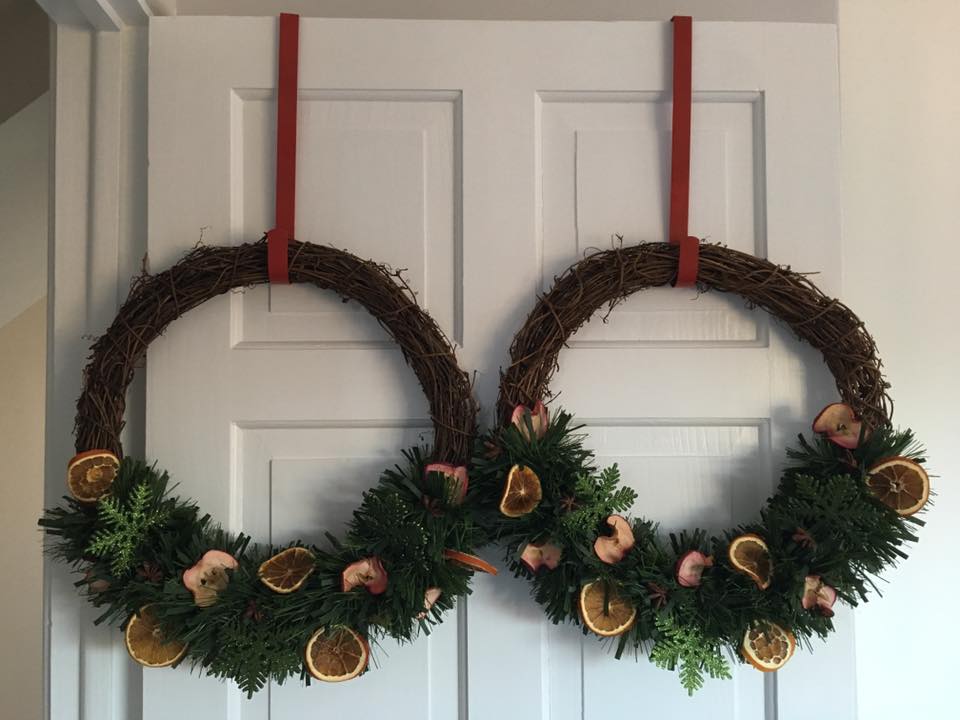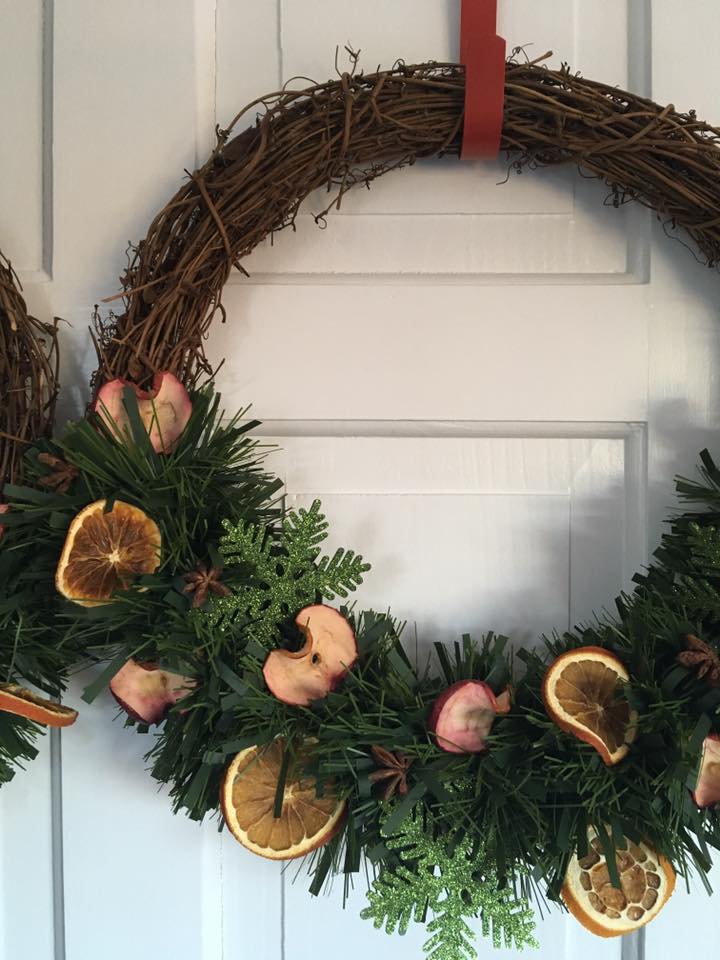 This year, I decided that after nearly a decade of the same wreath, I would make us a new one. More modern and more in keeping with our new front door. I fell in love with these oversized wreaths on Pinterest but can't afford something like this and I wanted something reusable – which will hopefully see me through another decade of Christmases.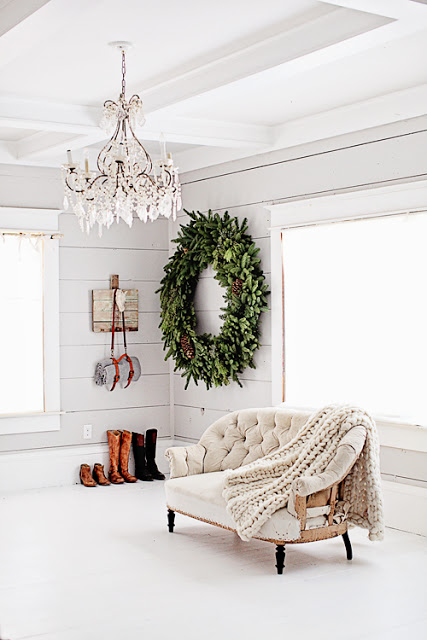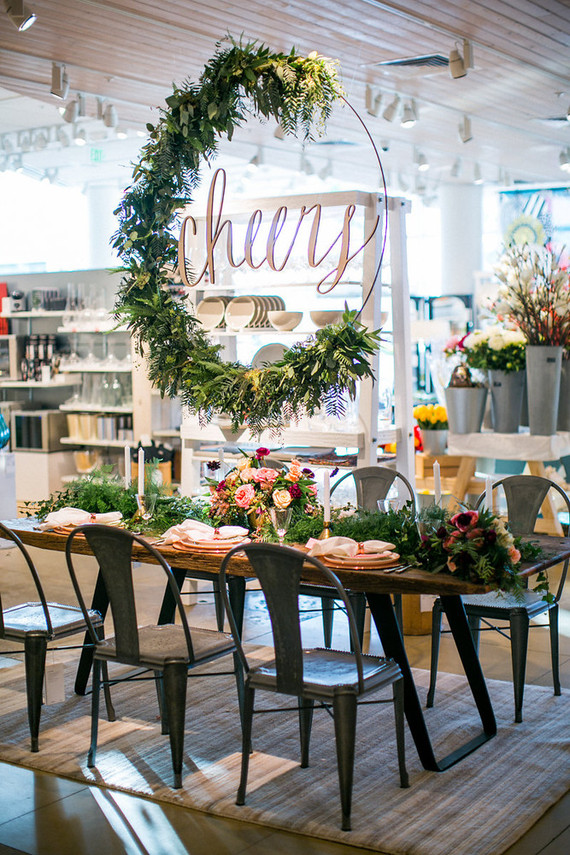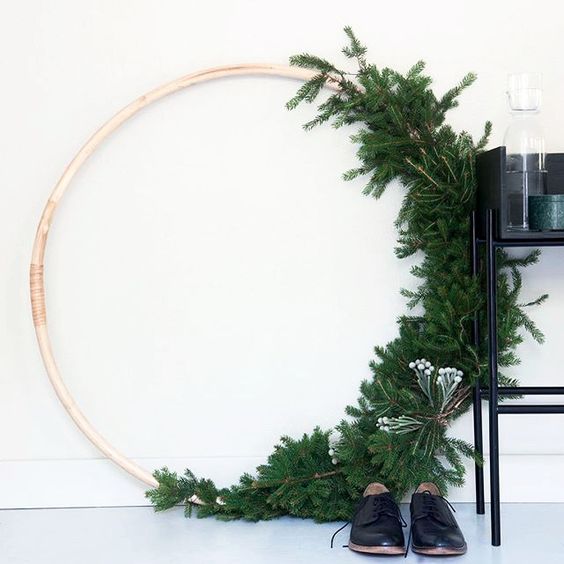 Here's the drawing I did to explain my idea to my husband. A simple mat oversized wreath with a house nestled off centre and some sparkly lights at the top. Budget £10 max.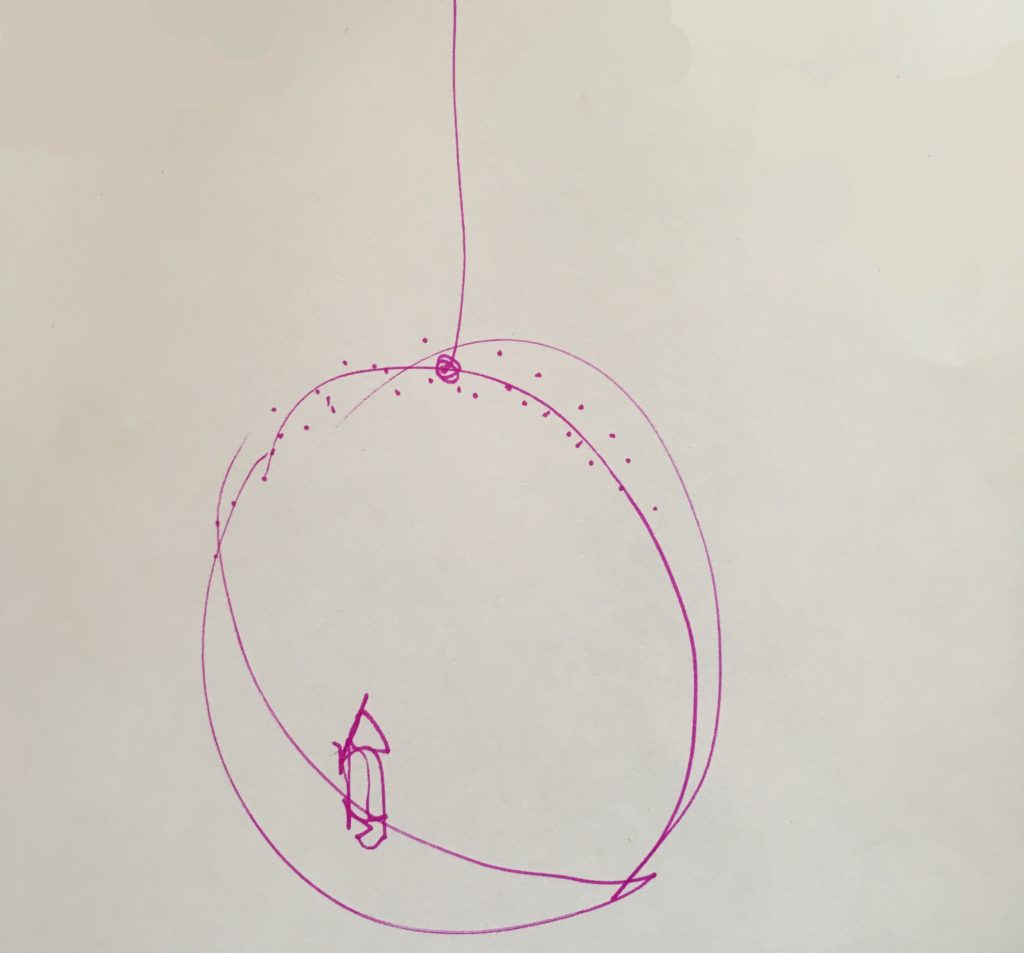 My base of choice – and my biggest investment – was the hula hoop. I could only find a yellow one of the right size so I spray painted it matte green. The little red metal house was on sale for 30p. The lights I had. The matte tinsel I bought on eBay for a song.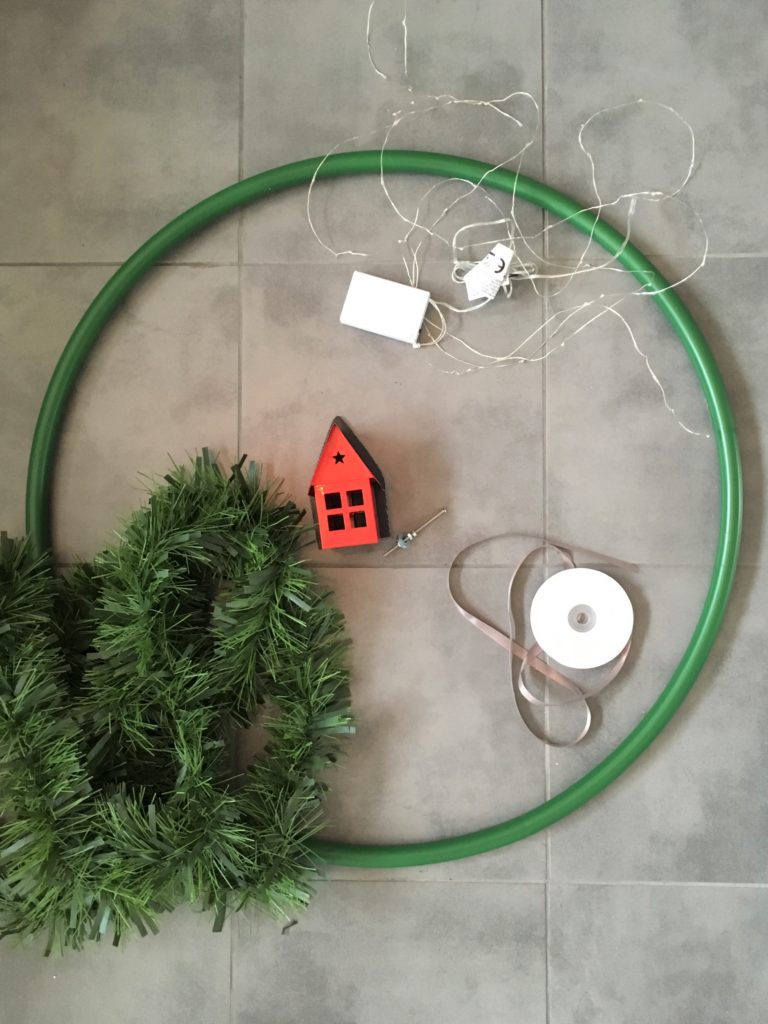 To secure the house to the hoop my husband drilled a bolt through the base of the house and the hula hoop (having a partially dislocated shoulder means I get to delegate such cool jobs). As our door is new-ish and miraculously unmarked, and the edges of the metal house's roof might scratch it, I attached cardboard – spray painted Anthracite grey to match our front door – as a protective buffer.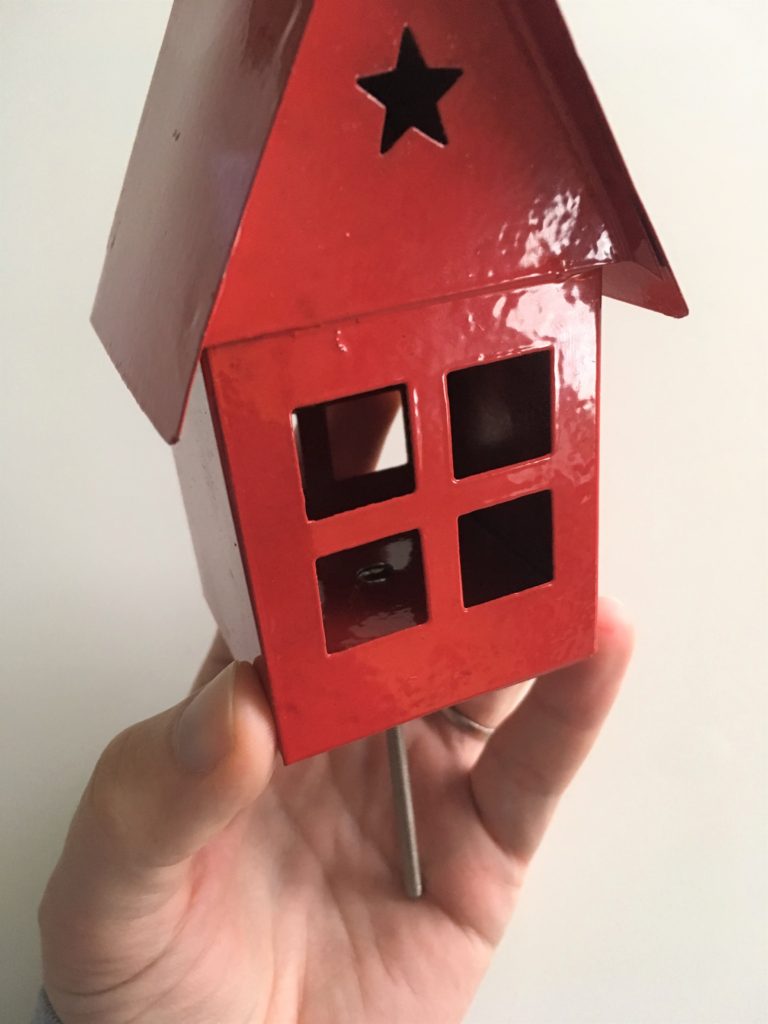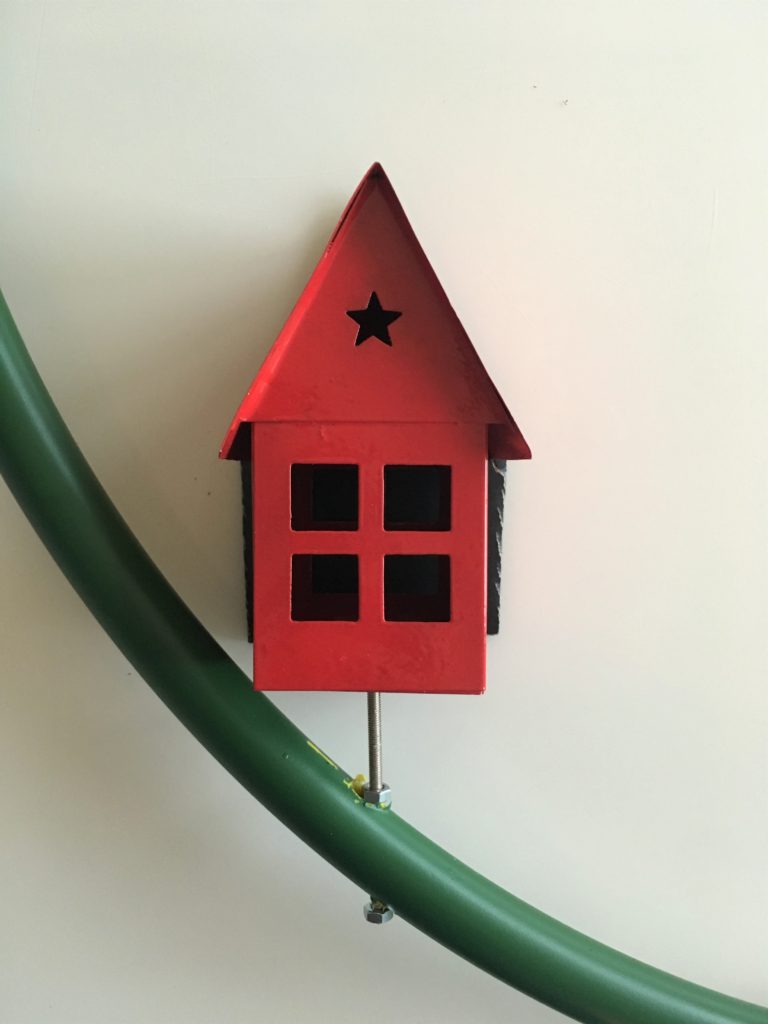 This is the bit where I should say et voilà, but as you can see it's the mirror image of my drawing as, when I went to hang the wreath, I realised our front door has a massive handle on the left, something I had forgotten in my planning. Doh. Anyway after some swearing, I realised I could of course flip the wreath round and pretend that it was always meant to fit that way! Shhhh it's our little secret…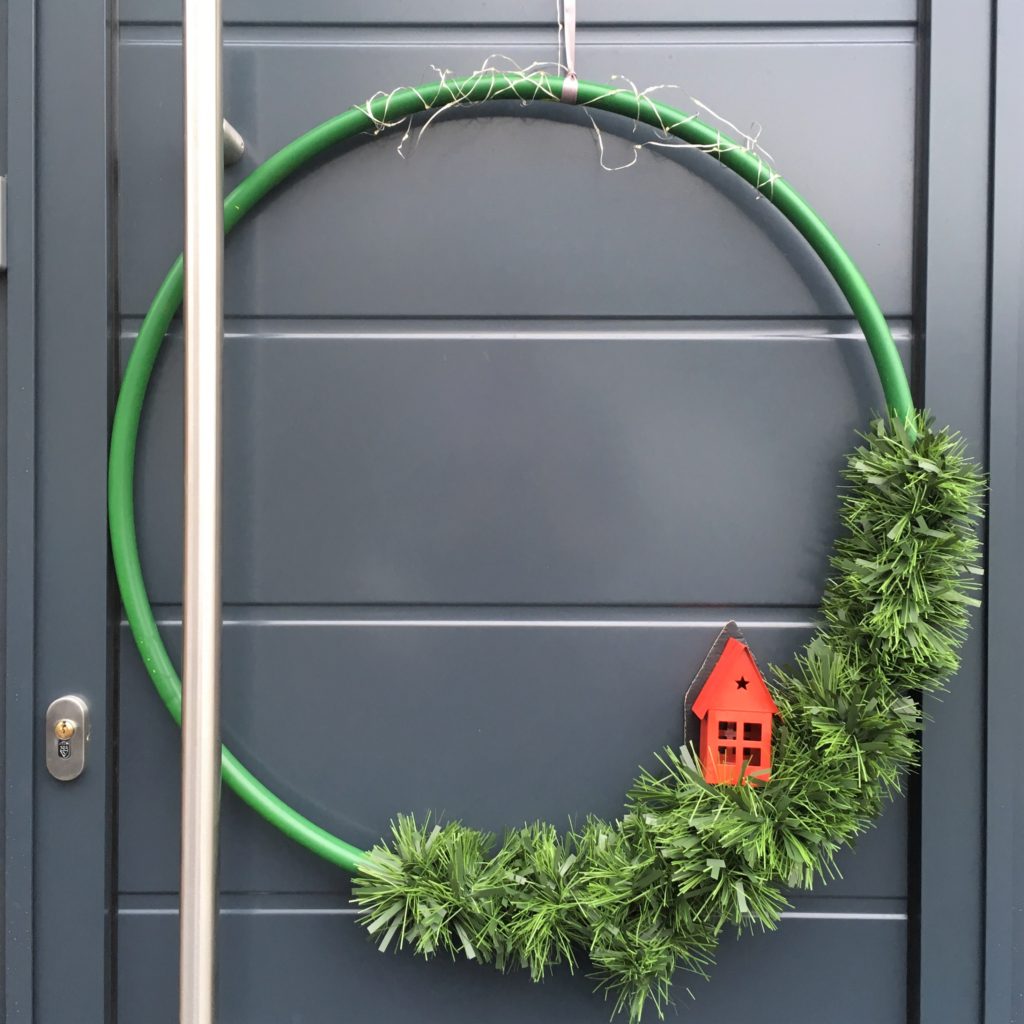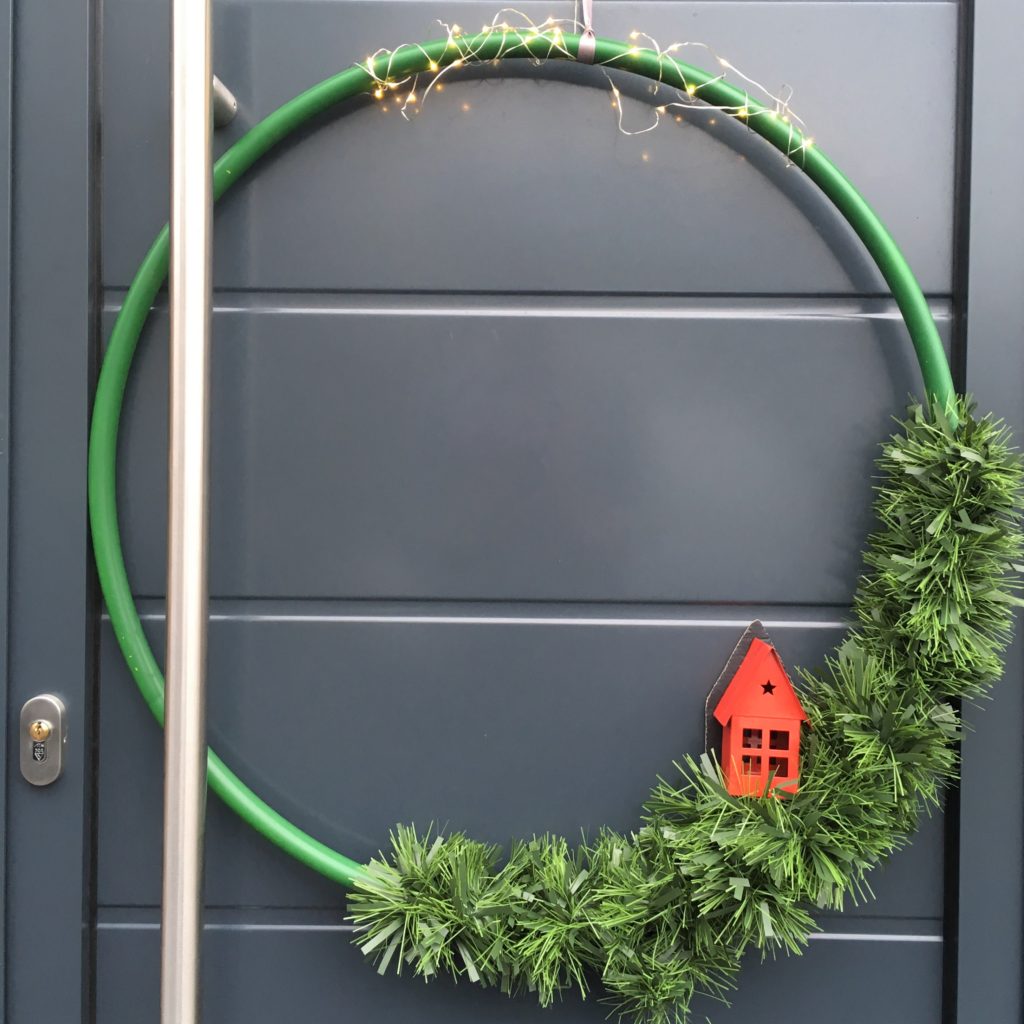 My eldest was so excited when she saw it as apparently "the red house is a fairy house and they'll be nice and warm there near to our home".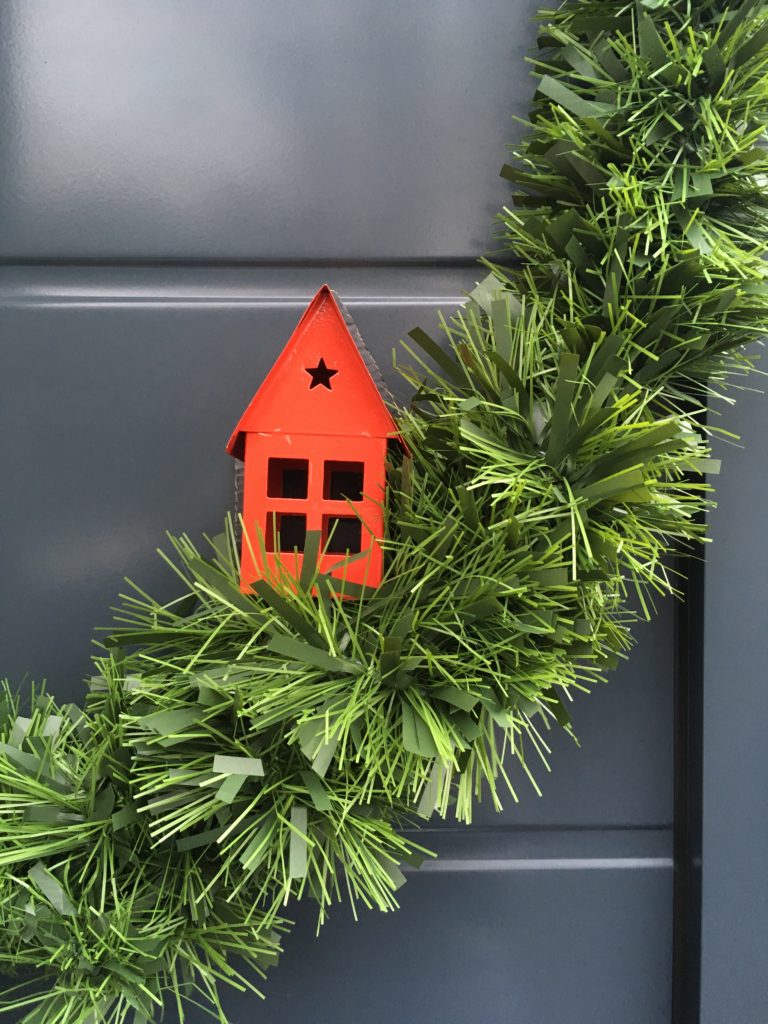 Lights on and good night.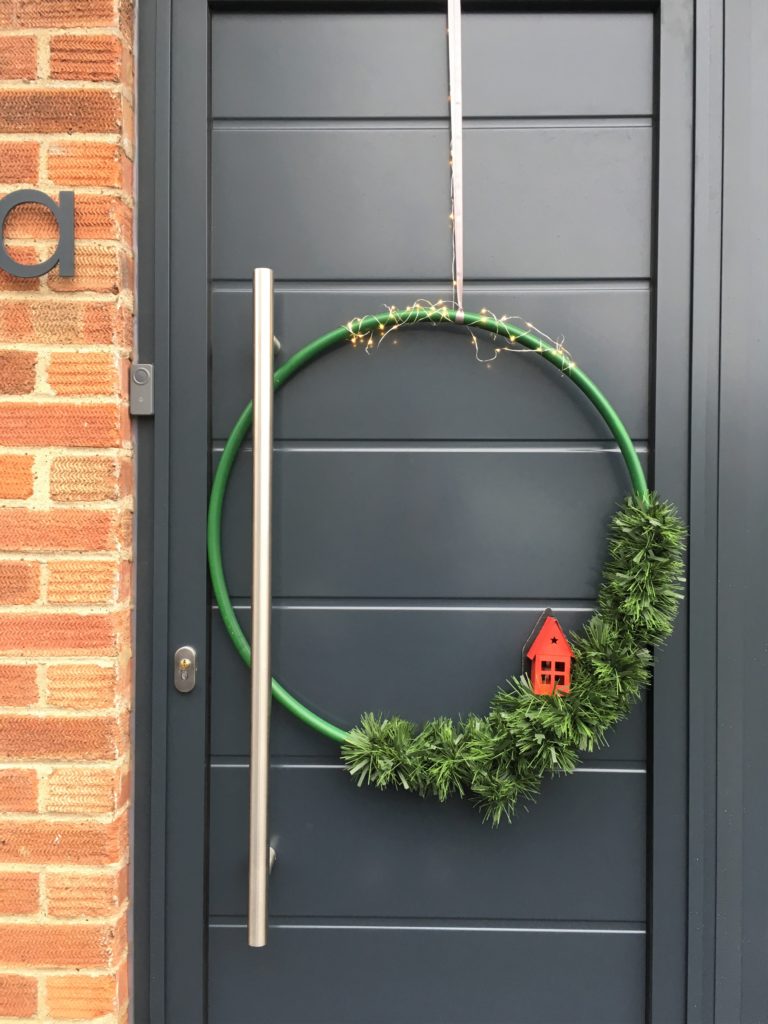 Happy making!