When we moved from Canada to the UK 3 years ago, my husband wanted a better work life balance and was keen to find a new job with a great company that would also enable him to work from home 3 days a week. Not only did he manage this, but over time those 2 days turned to 1 and now it's only every now and again he ventures out. It has been such a success that the company he works for has decided to go completely office-less. They are instead investing in home hubs as a way to not only enable staff to work from home more comfortably, but also give them a place to get together when they need to look each other in the eyes.
So we're getting a home hub in the garden! Yay. As you know if you follow my blog, I have completely redesigned our home, turning it from a very dated 1950s house to a lovely modern home – so clearly I couldn't leave the design of a building in the garden to someone else. Like everything I do, it started with some online research and if you go down that route you will come across a great online resource called The Garden Room Guide. It describes itself as "designed to inform potential garden room buyers of about their options and a place where suppliers can showcase their work." It's great as you can cut the information either by area, by company, by room type and it's all impartial information. No commissions are paid but there is advertising down the sides of the pages to pay for the running of the site.
Throughout my research over the last few months I have repeatedly gone back to it so I thought I would start my garden room blogging journey with an interview of  The Garden Room Guide Editor, Nick Green (known within the industry as Woody).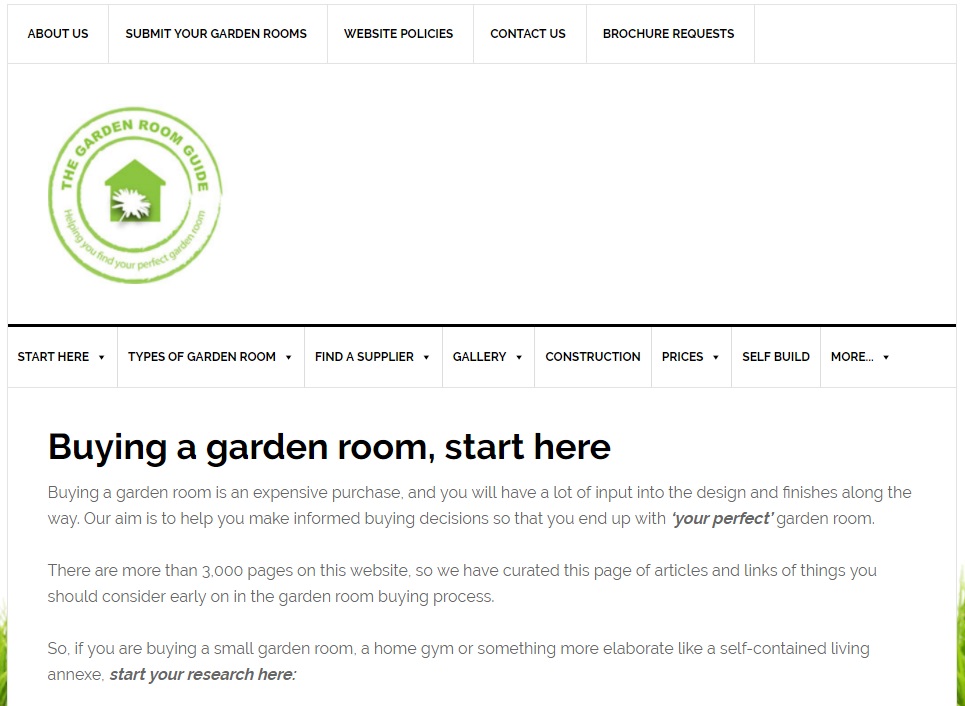 How did you get into garden rooms?
My first type of garden room, back in 1998 was a fully insulated playhouse for some very lucky children; it even had a wooden AGA! This lead me to build a garden office for someone who saw it, and the rest, as they say, is history.
How did the website come about?
Unfortunately, an accident in 2006 stopped me in my tracks, and my doctors said I would be unable to work again. In 2009 my mother commented that it 'was a shame as I had so much knowledge to share'. This was about the same time as blogs were taking off, so I spun up a site, and The Garden Room Guide was born. I thought it would be nothing more than a few pages and keep me occupied for a few evenings. Nine years later it stands at 3,000+ pages and tens of thousands of photos and is the leading source for anyone looking to buy a garden room.
What do you think the biggest trend is in garden rooms at the moment?
Living annexes! We are seeing more and more people choose to create a self-contained garden room that can become a home for a relative, young or old. They are also being purchased by families looking to create an en-suite guest room – some people let these out via sites like Airbnb.
What is your most searched for a question?
How much do garden rooms cost? Garden rooms are a big ticket purchase, and buyers want to get an idea of cost before they get too committed talking to suppliers.
What are your top tips for someone planning a garden room?
Research your options well. There are more than a 100 companies that I know about. Some are more reputable and experienced than others. Also, garden rooms come in different levels of specification, so you need to ensure you are comparing like with like. If one building is significantly cheaper than another, it could well be missing a key element such as the foundation system from the quote.
Find out your position in relation to planning permission early on in the project. It may well be that you can build under permitted development, but you must check, because in the worst case scenario your room would have to be dismantled. If you plan to sleep in the room, it also needs to comply with building regulations, so you need to ensure you are working with a company that is au fait with these rules.
It is good to set a budget for your project. No reputable firm will try and make you spend more. It is a good idea to tell them your budget so that they can suggest design tweaks to get the most for your money. Leave some funds for the connection of the electrics to the mains supply. Around £1,000 would be sensible, depending on how far your room is sited from the house will effect this cost.  
My readers are more interior design focused, do you think there is more interior design influence or incorporation in garden rooms recently?
Yes, interior design is being implemented by many suppliers to showcase the type of lifestyle that can be created in a garden room. Several suppliers have show sites where buildings are fully furnished. We think this is great as it demonstrates and inspires how a garden room is part of your home and not just a 'posh shed'. 
Woody also added: Buyers seem to buy into the indoor-outdoor living that can be created with a garden room. They are choosing floor to ceiling glazing, bifold doors and decks to enhance this connection.
Now if you're thinking about getting a garden room you should definitely check out The Garden Room Guide and subscribe to the newsletter as Woody pulls together industry news, deals and case studies. But you should also read the first edition of the Garden Room Guide's Garden Office Magazine (please note it takes a while to load as it's full of gorgeous photos) as it will answer most of the questions you probably have like: Do I need planning permission to build a garden office? Can I really use a garden office all year round?…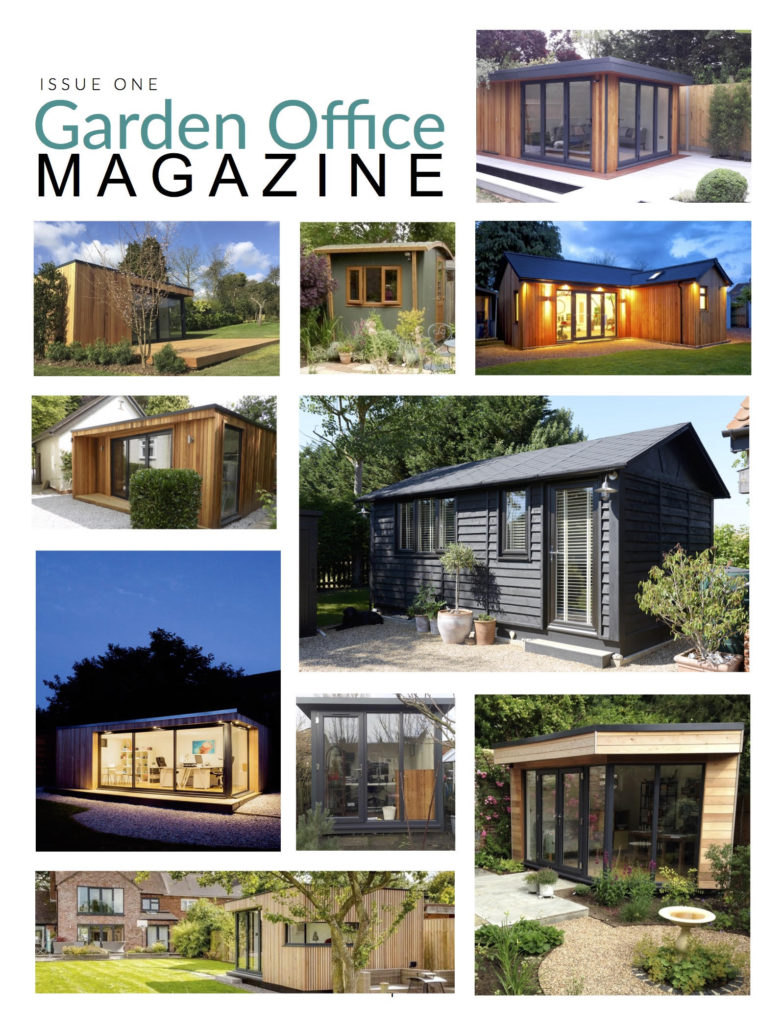 In my next post I'll explain how I narrowed down the options to 4 companies and booked my site consultation.
Happy making!
PS the small print: Interview with Nick Green from The Garden Room Guide. Not sponsored just inspired. The Garden Room Guide is an independent website designed to inform potential garden room buyers of about their options and a place where suppliers can showcase their work. Some garden room companies choose to run adverts with them. These adverts support the running costs of the site. They do not receive a commission from sales.