Following on from my Garden Room #1 post interviewing Woody from The Garden Room Guide, you should now be armed with all the online research you need to start on your garden room journey. Next is writing your brief.
This is our brief, keeping in mind that design should be functional and inspirational:
The office needed to be big enough for 3 people to work in comfortably. We could fit in the garden an office between 12sqm and 15sqm (4 to 5m wide and 3m deep) which is perfect for 3 people. Working out sight lines into the house, the view from the office and the sun orientation (important for glare issues), we worked out the best location.
As it will be seen from our bedroom – and overlooked by our neighbours – I was keen on a flat roof design preferably with a sedum roof (a living planted roof). I wanted a modern design and the option to chose Anthracite Grey windows to match the house.
I won't list here that it needed to be comfortable all year round as all modern garden rooms are and each company you look at will list how they achieve this as without this, they wouldn't be in business!
I planned with my husband – the client here – how the room would be used so how many power points it needed, desk sizes, connectivity requirements…
Even if you're not doing this immediately, it's important to also plan the space/garden around the new building. Not only will it help you plan, budget and schedule the works but it will help with things like window and door placement in the design.
I bookmarked some companies from a garden room supplement in Real Homes Magazine. I narrowed them down to 4 companies based on design. As you can see they are quite similar and broadly matched my brief above.
They are quite similar in design and broadly matched my brief but is was hard to compare like for like. Some companies include more or less information on their website and some included foundations in their price and some didn't. I decided the best approach was to do a table to give me a real comparison of the companies. Here it is: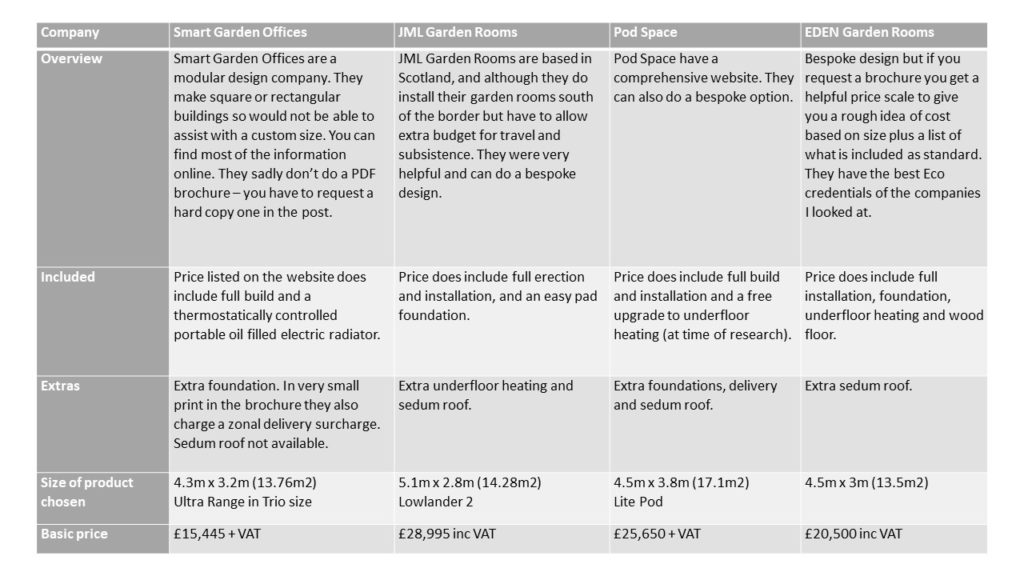 Based on this table I narrowed it down to Smart Garden Offices and EDEN Garden Rooms. Now these companies are very different. If you read the first issue of Garden Office Magazine linked in my first Garden Room post, you will know that there are 3 design routes:
standard design: off-the-shelf these buildings come in a few fixed sizes which makes them quick to order and install and very cost-effective. But you don't get the flexibility of design or personalisation.
modular design: offer a system of choices to create your own space at an affordable price. Lead times on modular garden rooms are typically 4 to 8 weeks. Installation is quick as it involves the assembly of different pre-built modules.
bespoke design: a truly unique personal design with no limits but this comes at a cost and will take longer to design, build and install.
Smart Garden Offices is a modular design company and EDEN Garden Rooms is a bespoke design company.
The designer in me would have loved to do a completely bespoke design but once I got to this stage, I realised another difference between modular and bespoke designs: their tax bracket. If a company/employer is involved like us in the funding of the office they may have requirements like whether the building is movable and as such can be considered as 'plant and machinery' in tax terms.
So I booked a site consultation with Smart Garden Offices! My next post will talk you through how it went.
Happy making!