As an interior designer, I can work in lots of different ways to suit your budget and involvement. You can hire me the old fashion way, in person, to work on a room or a full home. You can engage my e-productions service which gets you the professional look you want in your home but at your pace and on your budget – all done remotely. And you can even hit me up for a one off production from anything from finding the perfect piece of furniture or helping picking a paint colour to pull a room together. Here's an example of a one off production I did recently.
The design problem: Kitchen inherited from previous owners. The walls were painted Farrow & Ball Folly Green a dark green colour which combined with a dark wood kitchen and dark floor tiles, made the kitchen too dark. Not much money or time to redo it: a very common scenario right? The owners couldn't agree on a paint colour to brighten it up. The husband was thinking a light grey Crown Another day and the wife was thinking something warmer Crown Sneaky peak.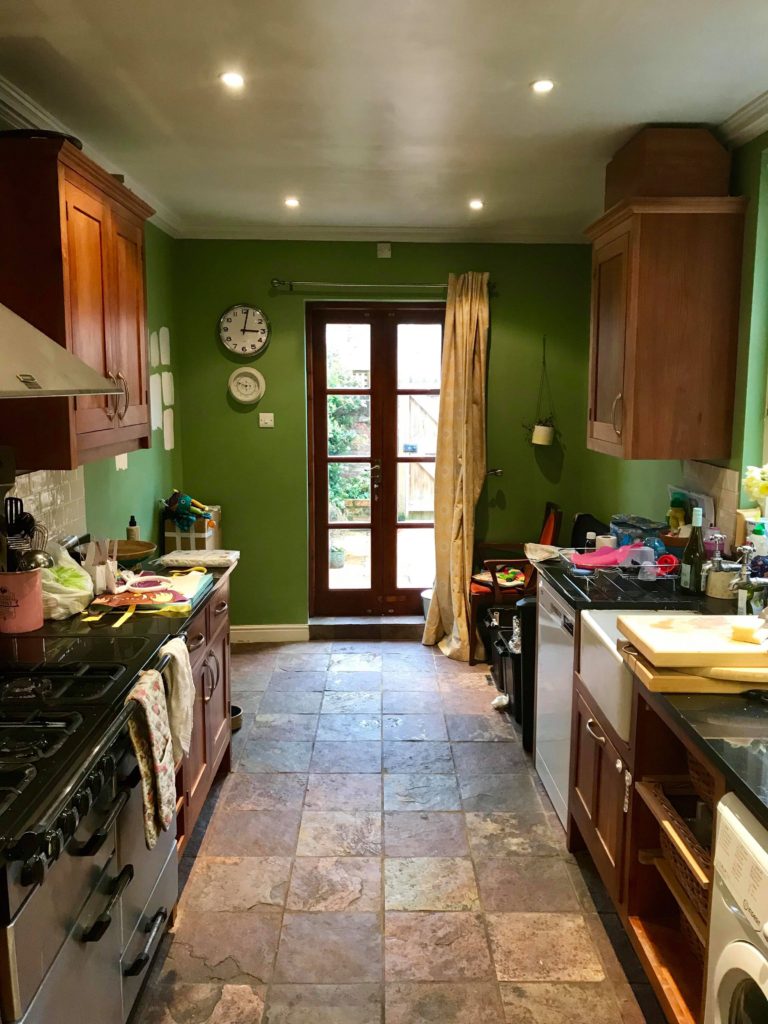 Brief: We want to brighten the kitchen up. The room is south facing but there isn't that much light in it. We are keeping the kitchen (units, worktop and splash back), floor tiles and curtain. Do you think Crown Another day or Sneaky peak would work best? I.E. grey or cream?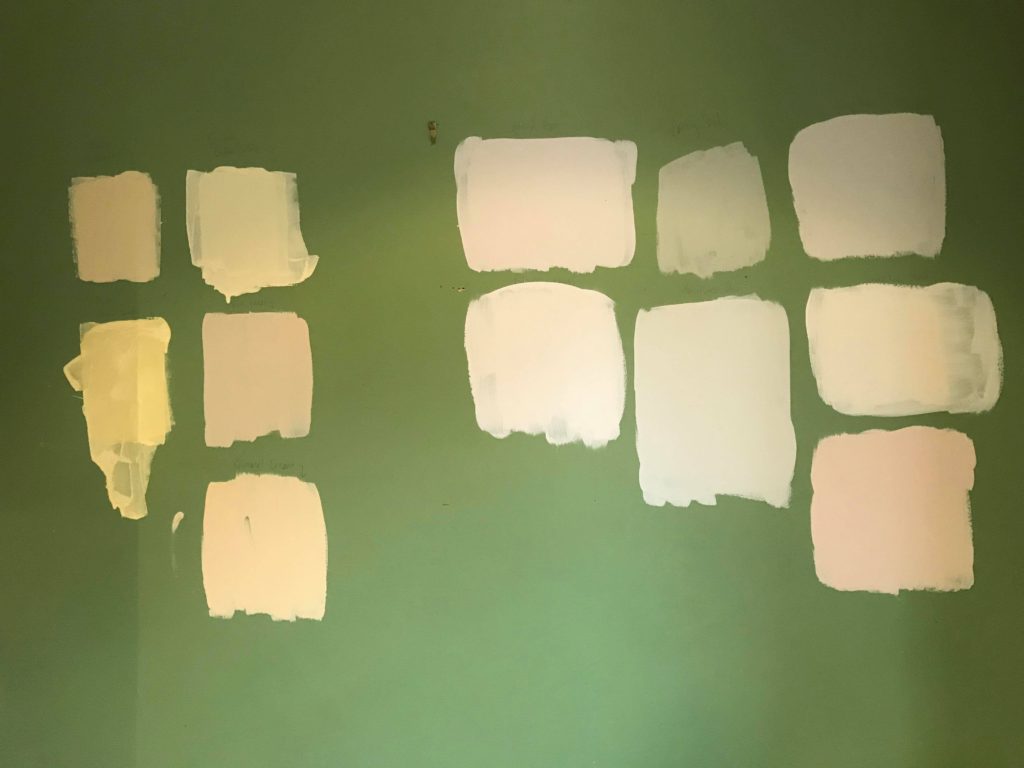 I thought I would share at this stage a HMP tip: when trying paint colours in a room, you should paint them on a piece of white thick paper, ideally bigger than A4 (two coats). One this means you get the true colour (not tinted by the existing colour of the wall). Two it's difficult for the eye to process lots of small areas of colour next to each other (like in the photo above) so having bigger areas to compare is easier. Three you can eliminate colours more easily by just taking down the paper. When you have narrowed it down to 2 colours, you can move the painted paper round the room to see it against different fixtures and fittings and in different light. And when you have picked the colour, you can also take it with you shopping for items to go in the room.
So I stripped back the photos to help the clients see the elements they are keeping without the green. With the dark redish wood cabinets, red floor tiles, cream tiles on the splash back and yellow curtain, I recommended a cream/beige paint to pull it together. In addition to the paint colour the clients had suggested, I added a slightly greener less yellow beige Crown Antique cream. But I also recommended trying some Dulux paint colours.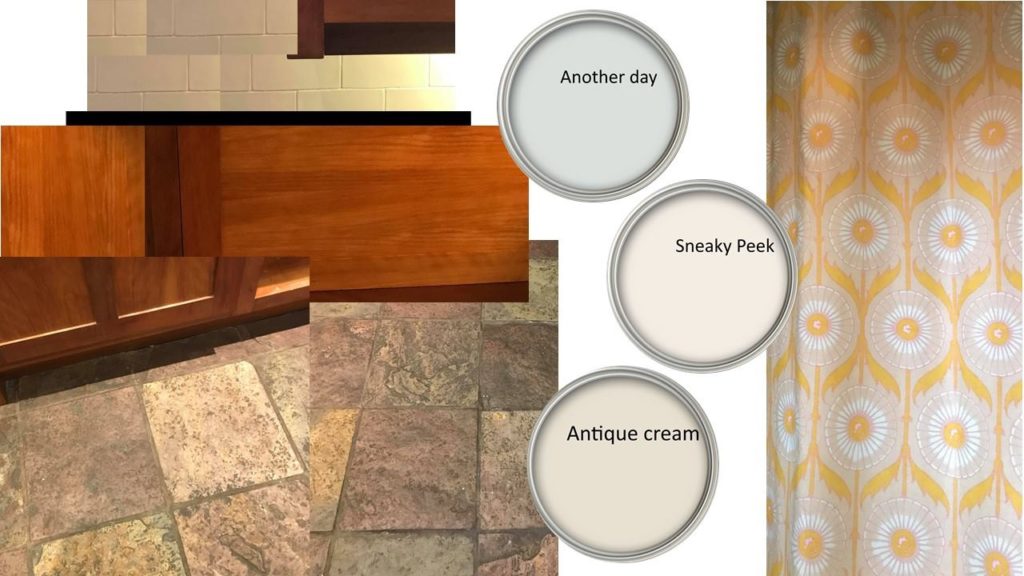 I also suggested 3 things that would help add light to the room:
1. a fresh coat of white on the ceiling
2. painting the frame of the door at the end of the room white
3. painting the top cabinets the same colour as the walls to make them disappear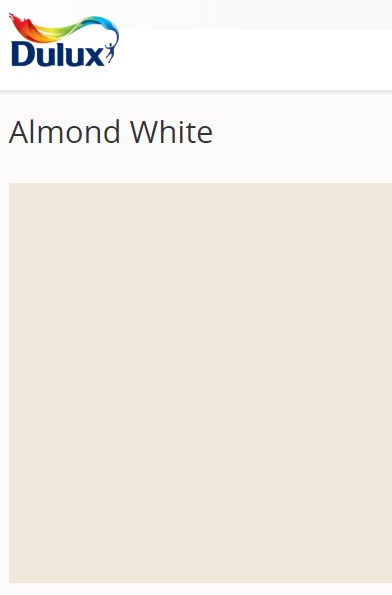 The clients tried out some cream paint colours as suggested and settled on Dulux Almond White kitchen paint. A lovely beige which isn't yellow. They were able to do it at their pace and their budget. And here's the end result. So much brighter!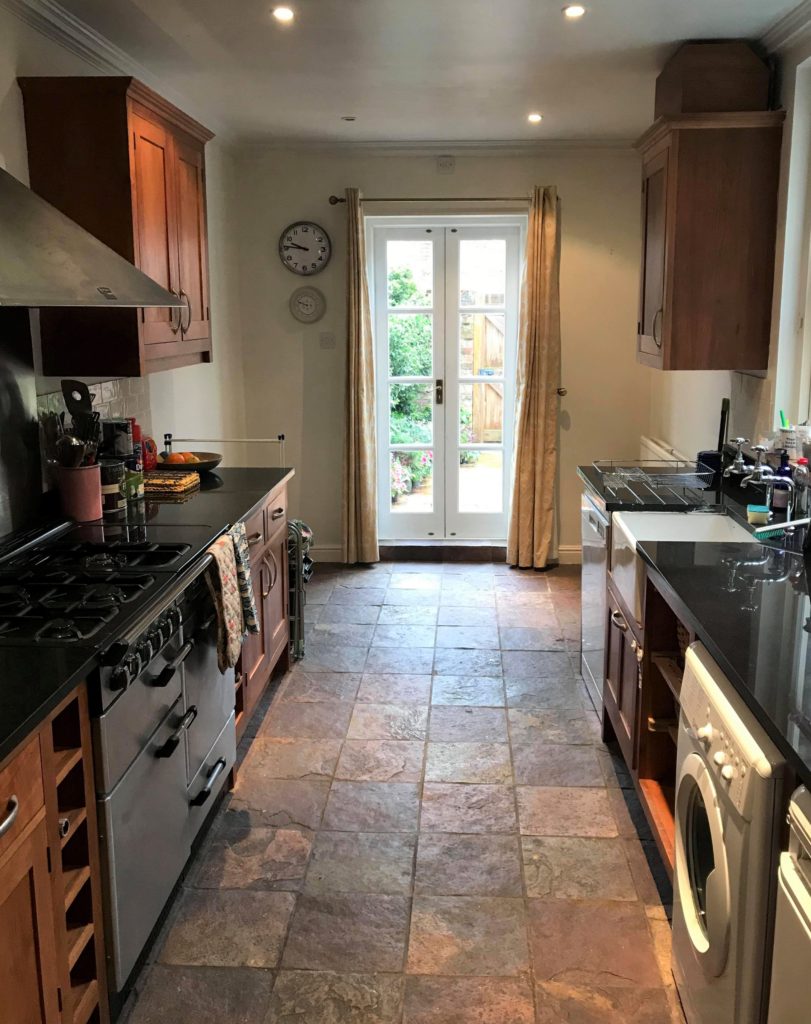 And the client feedback: "It's a bit of a rainy, dull day here, but it's looks SOOO much brighter!!! You were definitely right about the door too. Thanks for your advice."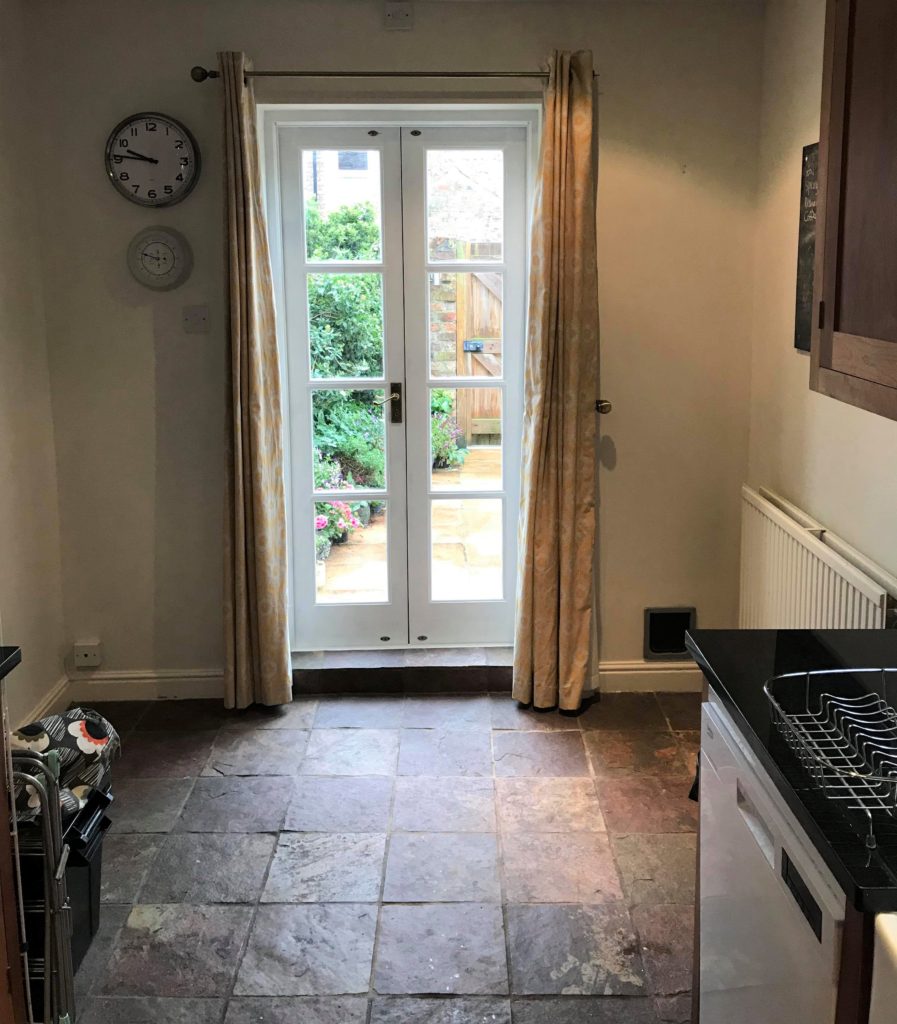 They decided to wait to see the walls painted before deciding whether to paint the upper cabinets to match and felt it wasn't necessary and I agree. With the new Almond White colour scheme in place and having got to know their taste, I was able to send them a styleboard with a full design to implement all within their budget. Blue is the complementary colour to cream/orange so a pop of blue tones down the look and makes it more balanced. Mismatched painted chairs, Orla Kiely plates and a vintage print were right up the client's street.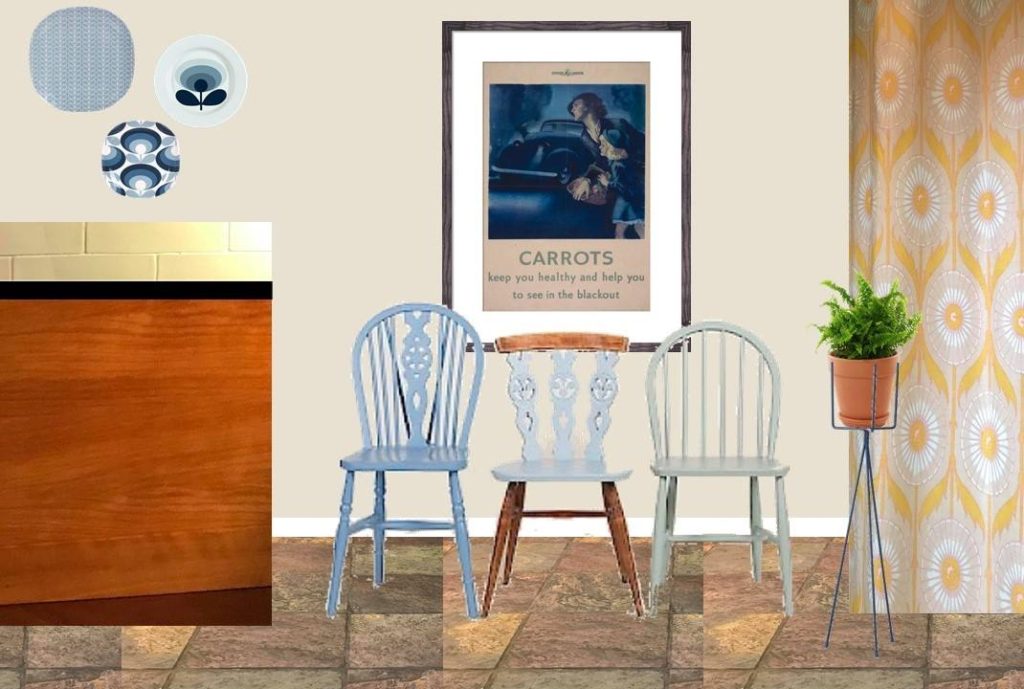 If you would like some help with your home, please check out my work with me page for more information.
Happy making!