I was reading this morning about how there's a rise in demand for gender neutral nurseries, kid's rooms and play rooms. An interior design parallel to the desire of a lot of parents to stop inflicting gender stereotypes on their children. With this in mind, I was inspired to do a monochrome gender neutral nursery (it could easily be a tween – toddler to teenager – bedroom swapping the cot for a bed). I have styled this whole nursery with items from IKEA – the Scandinavians are the bees knees of monochrome after all. It means that it's really affordable and hard wearing which is essential in a nursery. Total cost of the nursery: £460.95
I've done the styleboards with a wooden floor, one wall wallpapered with the new OMEDELBAR wallpaper and the other walls white. I haven't hyperlinked all the elements but I have included their names so you can look them up on the IKEA website.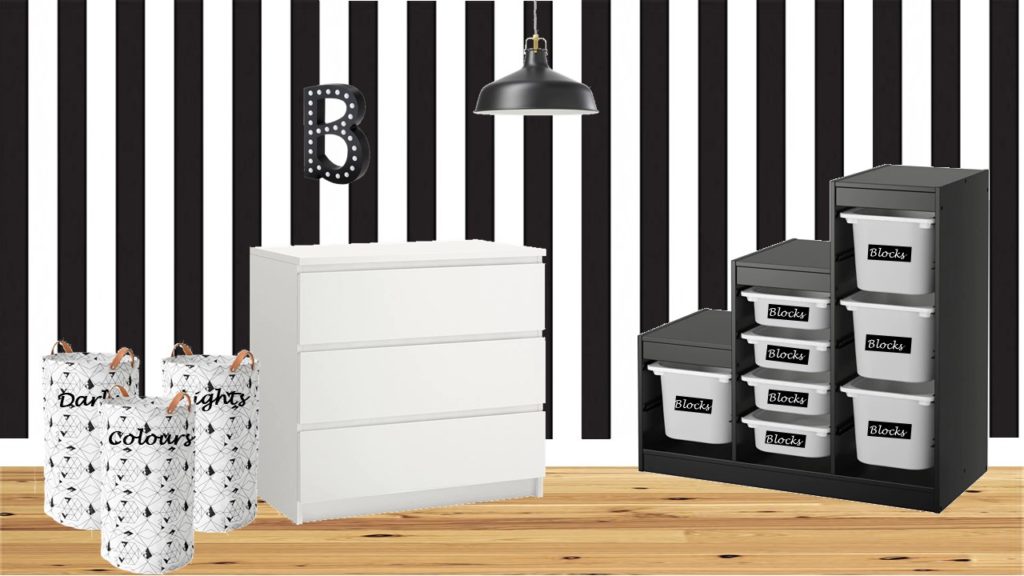 From left to right: 3 x PLUMSA Laundry bags – MALM 3 chest of drawers (please remember to anchor it against the wall) – New OMEDELBAR LED multi-use lighting – RANARP Pendant lamp – TROFAST Storage combination Black/white
I believe homes should practical and inspirational – easy to live with but inspiring to live in. So the practical elements of the design are highlighted with the speech bubbles. To turn the chest of drawers into a changing table you can use the VÄDRA Babycare mat.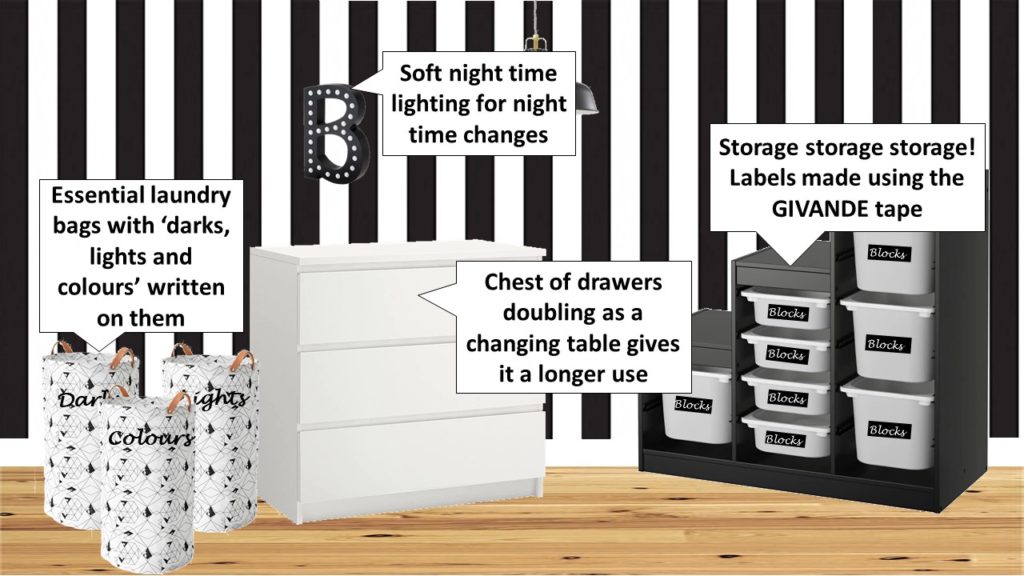 View of the other side of the room.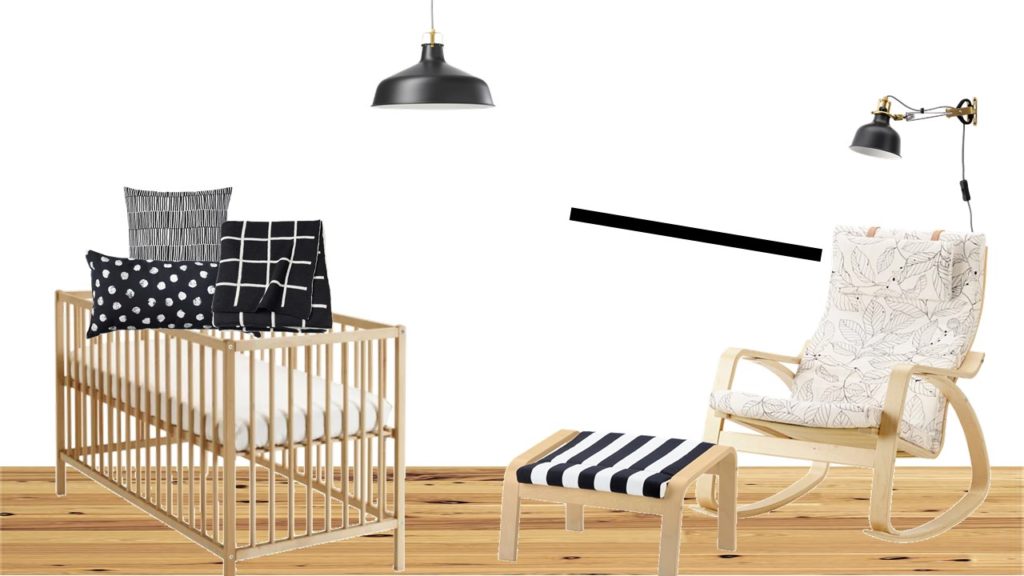 From left to right: SNIGLAR cot (I used this cot albeit a green painted version of it, for both of my girls and it was great) – ALMALIE throw which is double sided and machine washable – VENDLA and SKÄGGÖRT cushions – RANARP Pendant lamp – MOSSLANDA Picture ledge – RANARP Wall lamp – POÄNG Rocking-chair Birch veneer with vislanda black/white cushion and mismatched POÄNG Footstool in Birch veneer with stenli black/white cushion (I also had the POÄNG Rocking-chair and Footstool with my first daughter)
Again the practical elements of the design highlighted with the speech bubbles.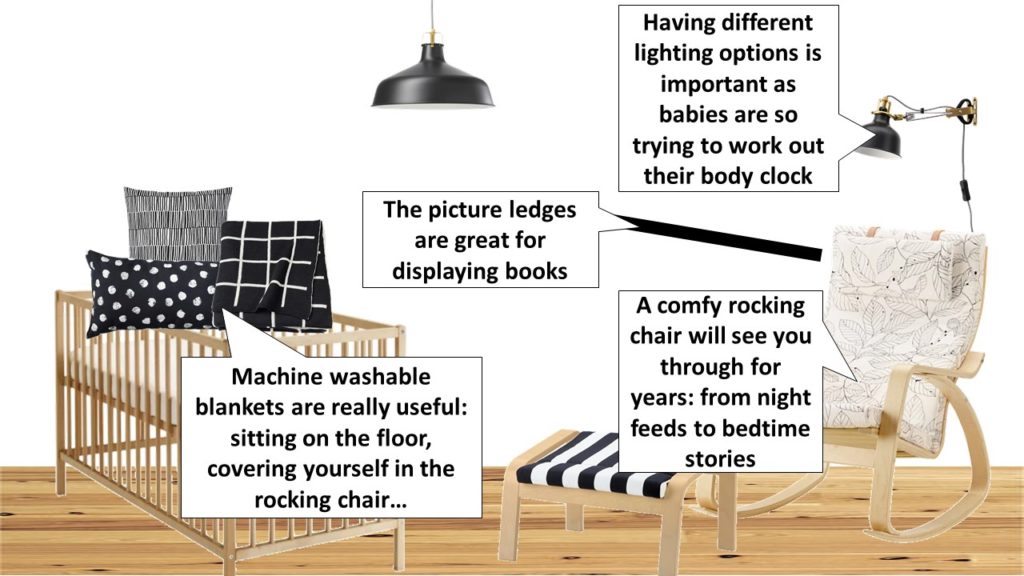 Now you're probably thinking that I've missed a 'pop of colour' in this design but… I think you do a monochrome design and let the colour that comes with baby brighten it up! As illustrated here with some IKEA toys and books.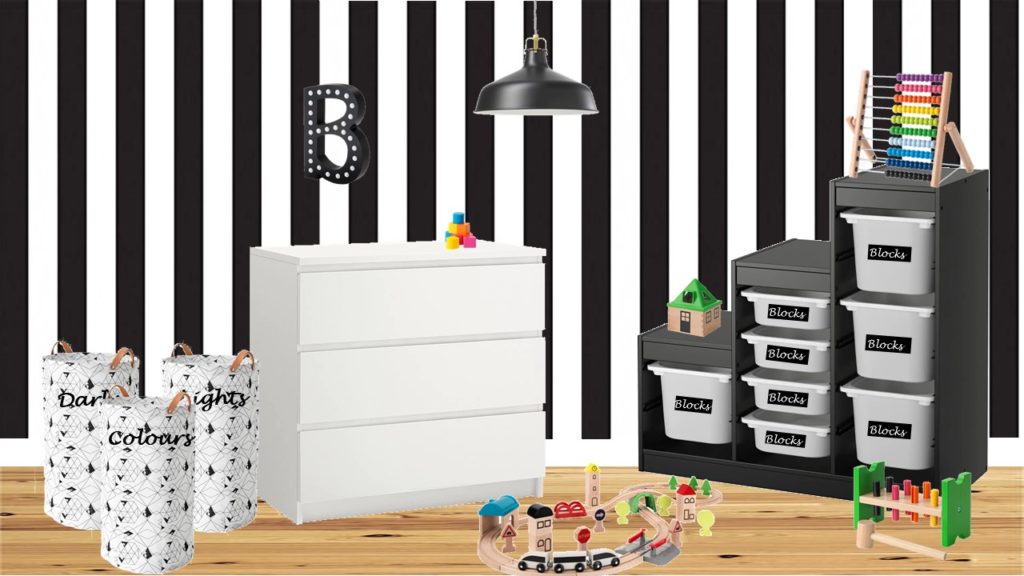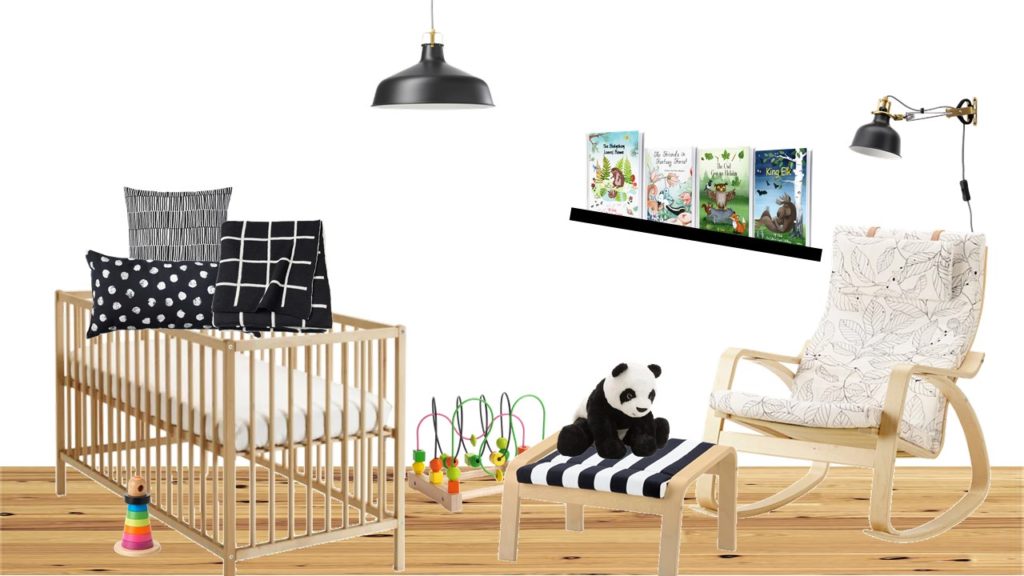 If you have the room, you could also include the LYCKSELE LÖVÅS Chair-bed (shown in with the Ebbarp black/white cover) which gives you the flexibility of sleeping in the nursery if you need to.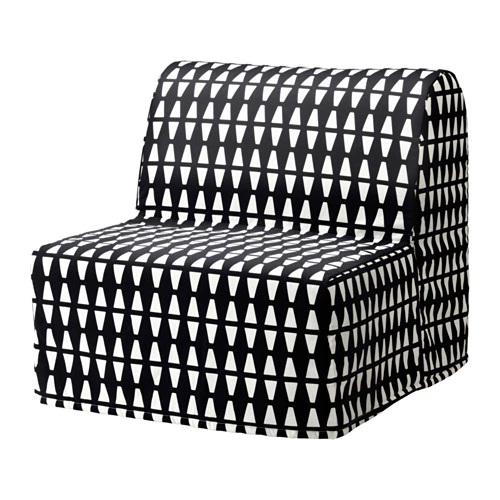 So what do you think? Are gender neutral kids' spaces a hit with you?
I hope you're inspired!
PS: not sponsored just inspired ?