Completely channelling my inner teenage girl in this room. My brief was a teen girl bedroom which could grow with her. The client's daughter had recently bought this picture IKEA BJÖRKSTA Almond blossom (originally by Vincent Van Gogh) which needed to be included, along with a touch of pink. Looking at this picture I instantly could see a Chinese inspired patterned room.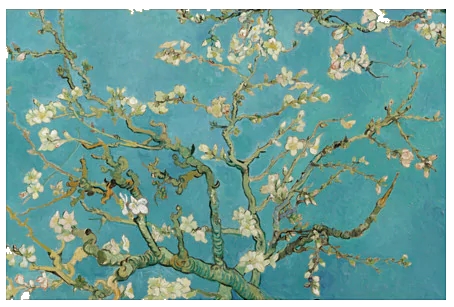 For the Chinese and pink to pop, I wanted a strong background colour. I recently saw this photo on thebooandtheboy The paint colour is Farrow&Ball Oval Room Blue (check out how this colour changes during the day with different light on Sanne's to die for Instagram account).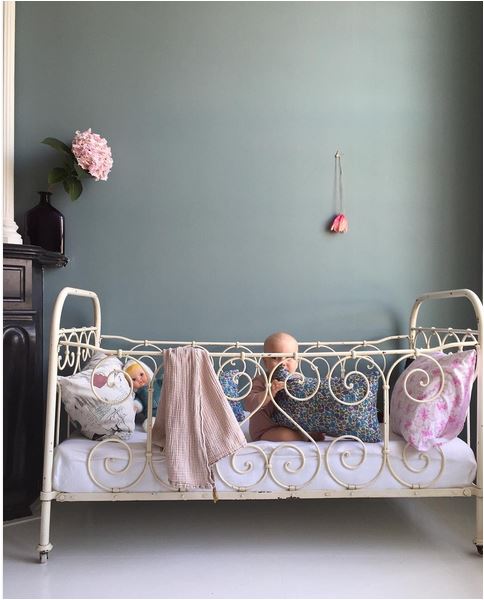 Here is the final styleboard: I love how the pattern and pops of colour really stand out against the paint colour but it still feels peaceful. I've shown it with a white ceiling, white skirting board, a grey carpet and of course some pre-loved items.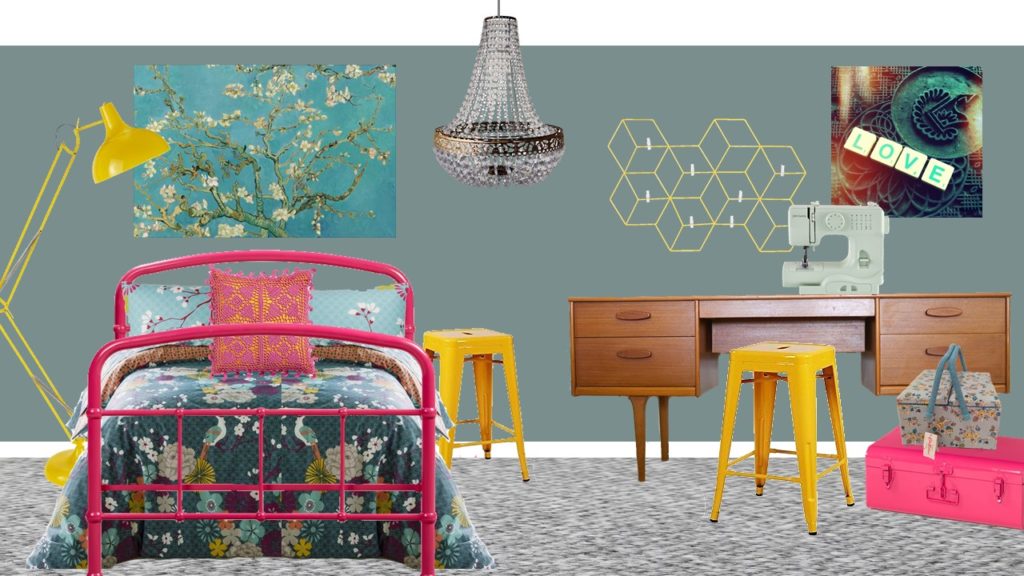 Left to right:
Floor lamp This yellow beauty is 180cm high and I love the play on scale.
Single Bed frame This is a great simple metal bed frame in a great colour. Pink is new but it is also available in grey, yellow, teal -which is more of a light blue-, black and white. They also do a package with the frame and a open coil sprung mattress which is great value -hopefully they will add the new pink frame to the package soon!
Mix of Chinese patterned bedding: I picked from the Miss China range which is currently on sale with an additional 30% off. In the styleboard I've used the duvet in teal, 2 pillow cases in blue and a pink crochet cushion.
Almond blossom canvas as mentioned above
2 Tolix inspired metal stools I love how versatile these are. Here they are shown as a bed side table and a stool for the desk but they could be used round the house and garden (we have them in white in our garden).
Victorian Chandelier Now this is such a find. It's from The Range – a shop I recently discovered in Reading. You have to look through their stock to find the gems but boy are they good. This chandelier is in fact a shade so no rewiring, you just fit it over your existing light. And it costs £25.99! Amazing.
Desk Now if you follow my blog you will know that I like investing in furniture that will last and I have a thing about retro scandi teak furniture. I LOVE this desk and this is the kind of furniture that will last and get moved round the house.
Photo montage frame As a teenager I loved having pictures, quotes and bits ripped out of magazines on the wall. This frame is a great way to keep this tidy but inspiring.
Love scrabble picture. This is a HMP original. Please comment below if you would like a copy of it in your home.
Pink metal trunk Homes need storage. I love these metal trunks and this one is in the sale with additional 30%. Steal.
Total spend of £518.57
The client mentioned that her daughter was starting to sew so I've included this in the room. The gorgeous sewing machine (shown here in peppermint – also available in dusty pink and cornflower blue) is a huge favourite of mine. I would recommend it to any beginner sewer and will definitely get my daughters one when they are a bit older. If you're more experienced, you can get the next model up which is the machine I have. The sewing box is from Cath Kidston and I have the same one in a different pattern. They are good sturdy boxes with an inner removable shelf.
I hope you're inspired!