When we bought our home No 1a, there was quite a considerable shed in the garden. The initial shed had received at some stage, not only an extension to the side and to the rear but also, a porch at the front. It even had a power cable connecting it to the house. We didn't want this extended shed taking up most of the garden but the original shed had potential and I decided that if it stayed intact and watertight, after its' extension was knocked down, we should keep it and turn it into a playhouse – or No 1b – for the girls.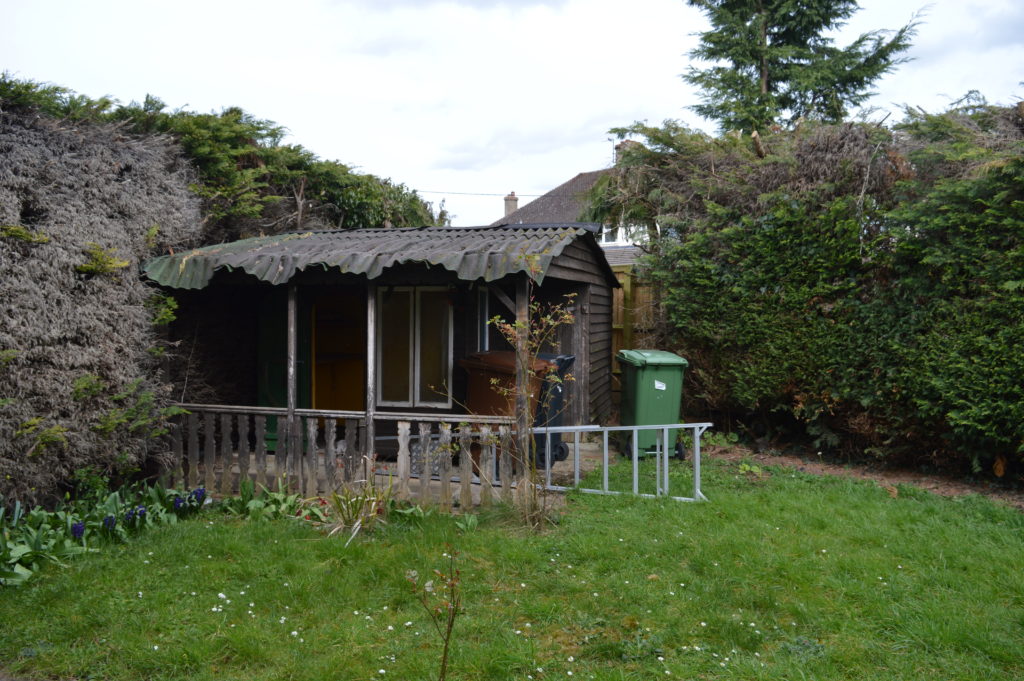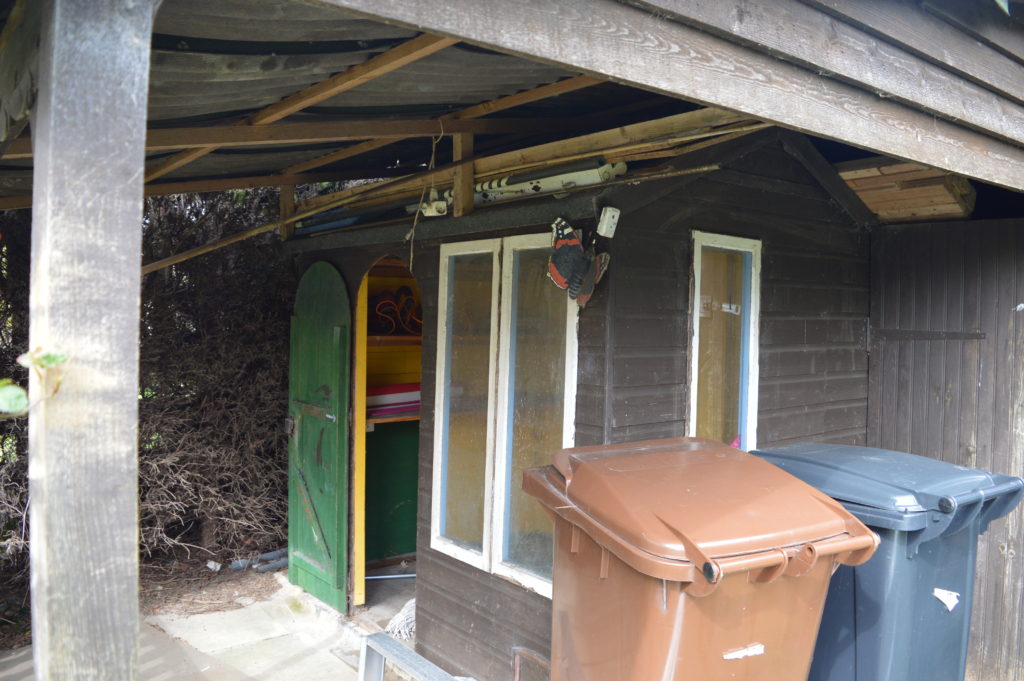 It did stay intact so when the garden was fenced, the guys doing the fencing kindly moved the shed to it's new location on a new base. We had hoped to move the porch with it but sadly it was rotten.
After waiting all winter for the sun to come out, this weekend my husband painted the inside and laid leftover vinyl on the floor so here's a tour of No 1b.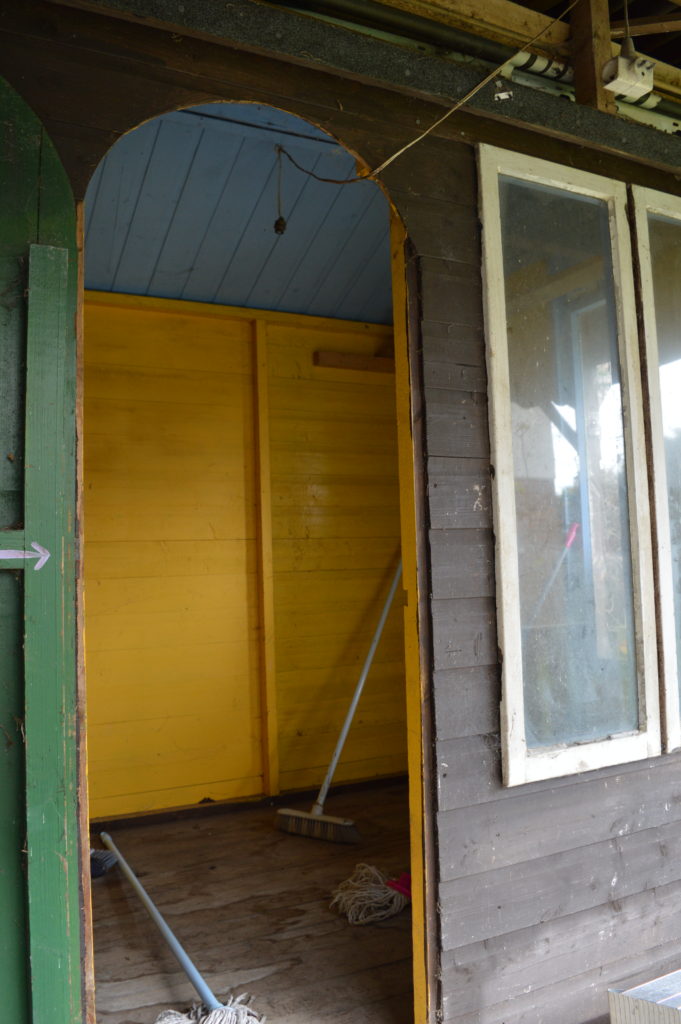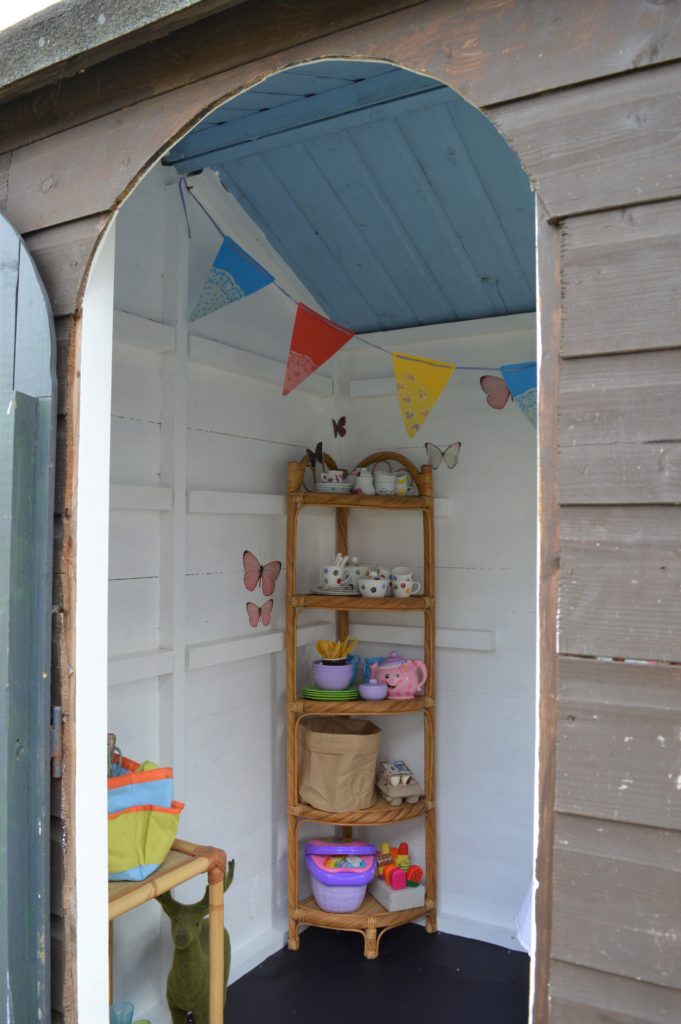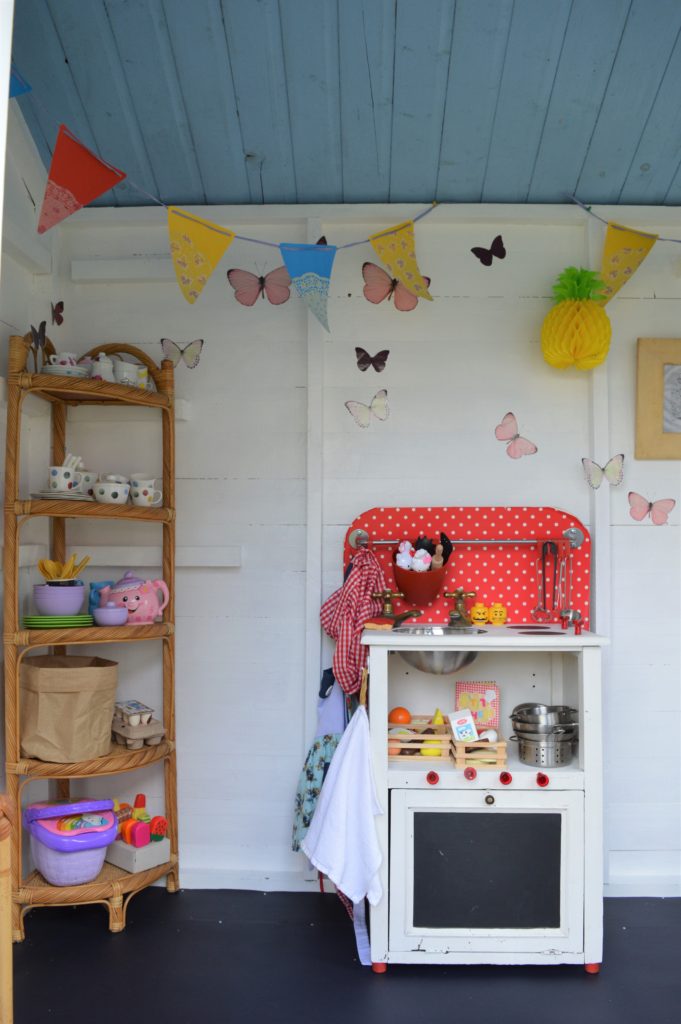 When my eldest saw it painted and looking like a 'real home', she said "now we need to pick which pictures we're going to hang on the walls!" The acorn doesn't fall far from the tree 😉 So we looked round the house and picked some pictures and decorations.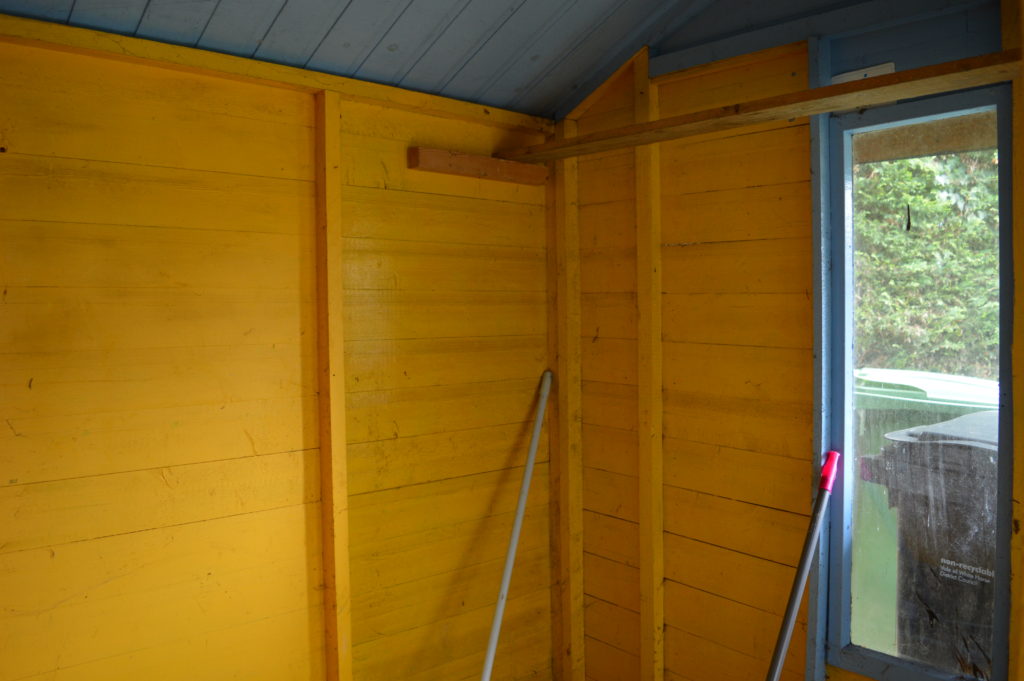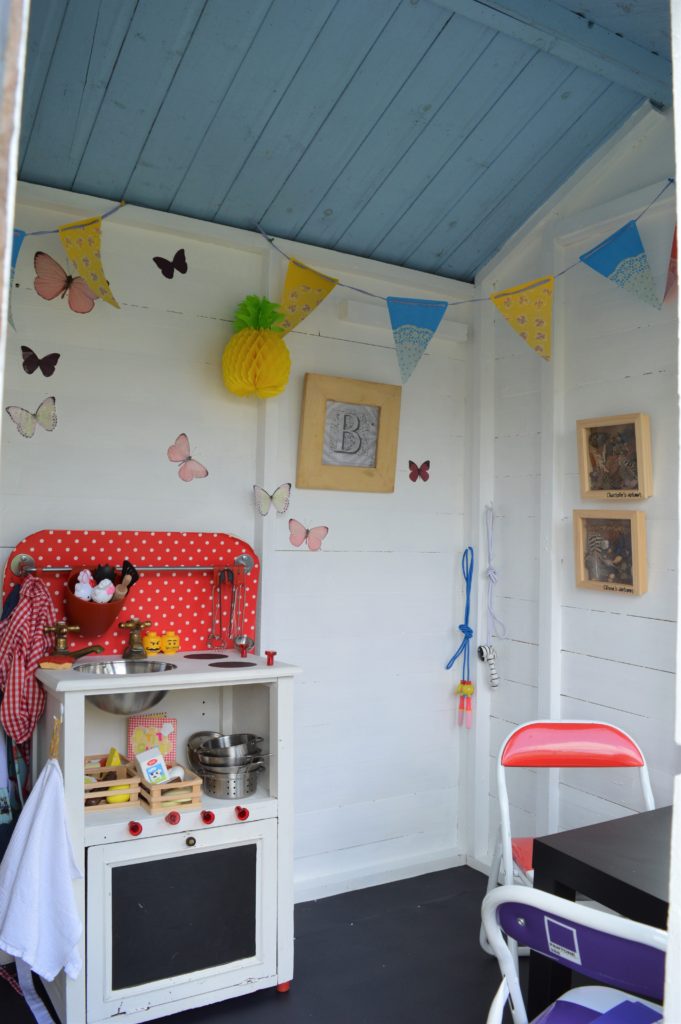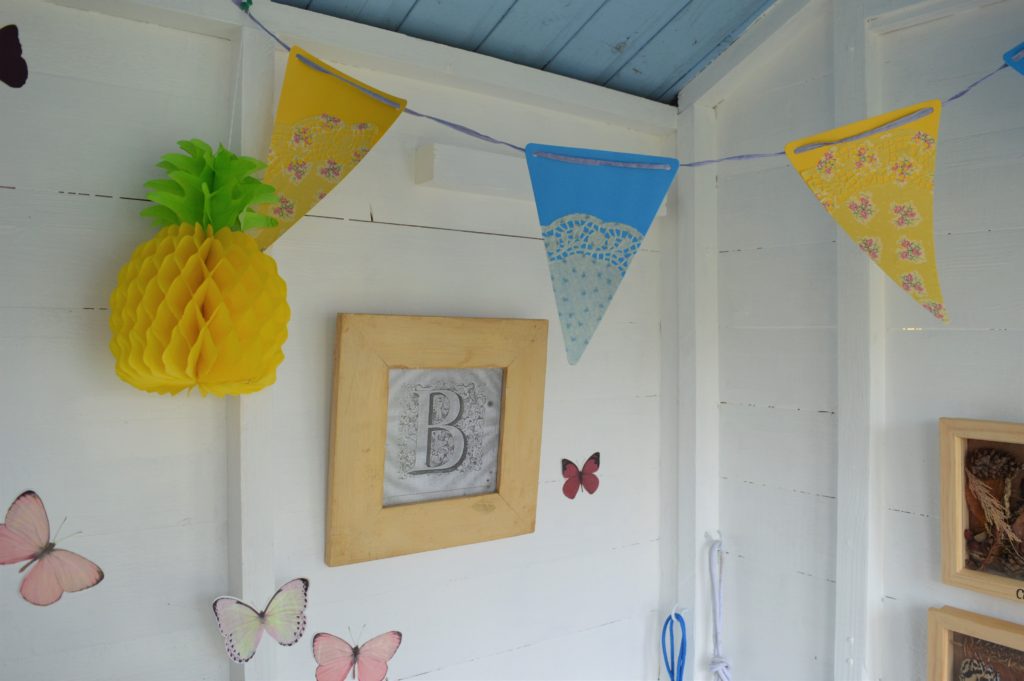 I made this play kitchen when my eldest was one and a half. It was originally a bedside cabinet (which I found on the street in London) which along with some bits and bobs, oh and some French brass taps we had kept from our flat in London, became the perfect play kitchen. Over the years it has been a firm favourite with the girls and it has stood up to 2 international re-locations!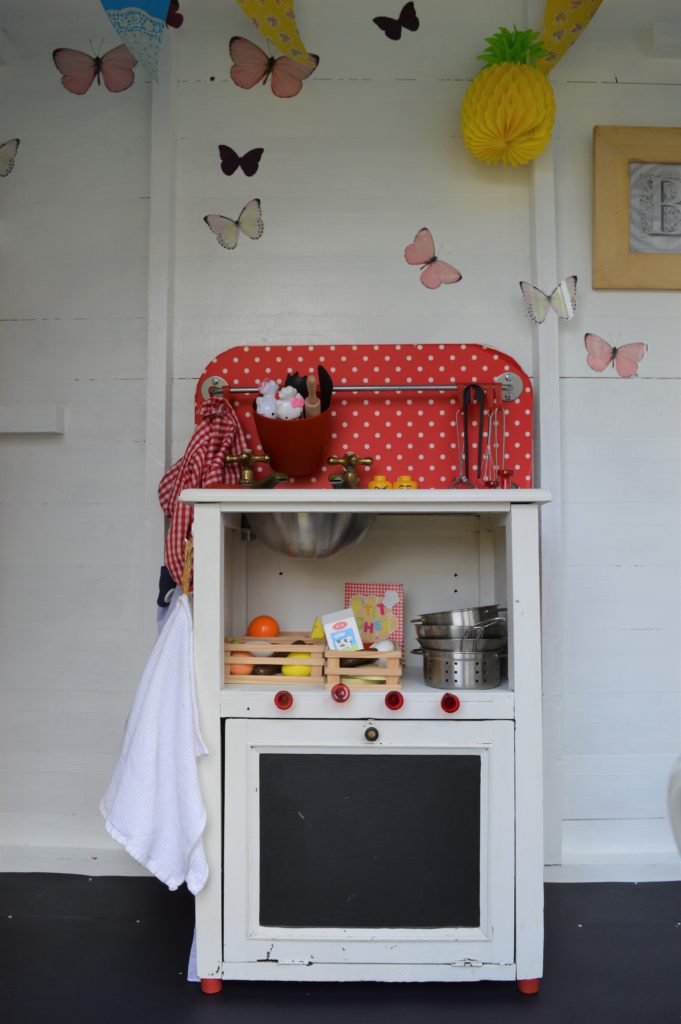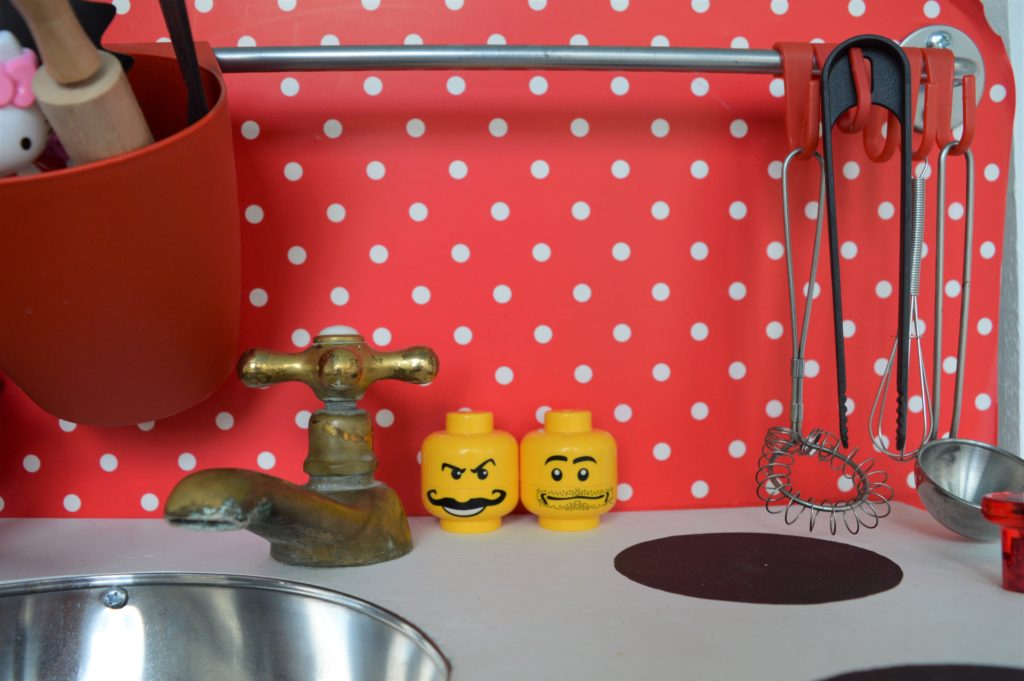 I love these mini Pantone fold up chairs. We got them in Dubai – along with a full size one – and they've been so useful. Sadly I put a knife through the purple one when unpacking it but I managed to find some matching duck tape to hold it together!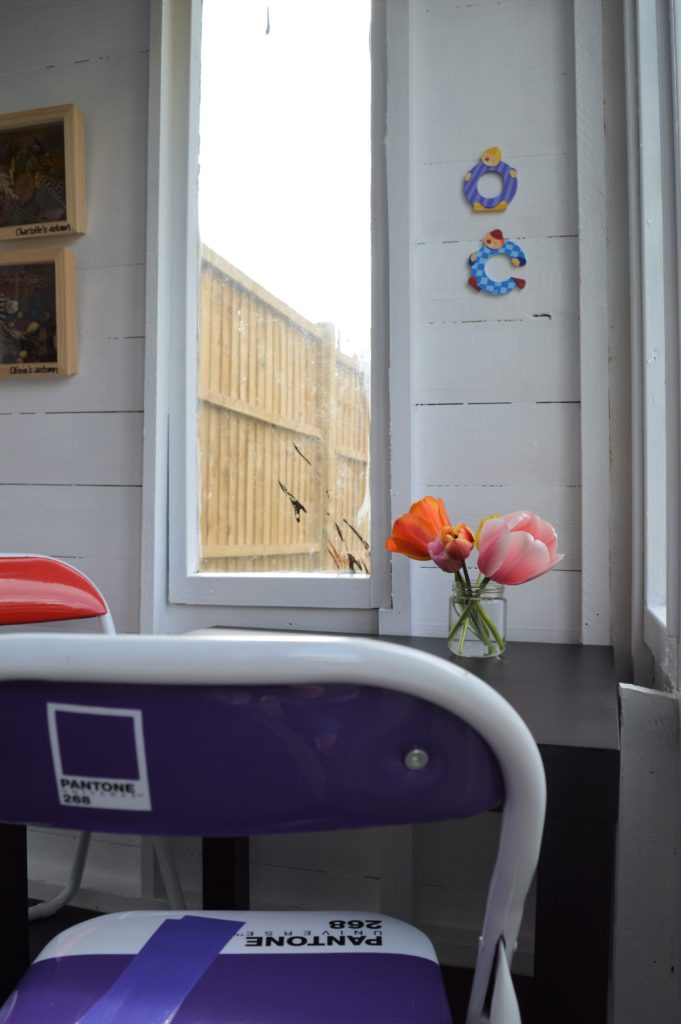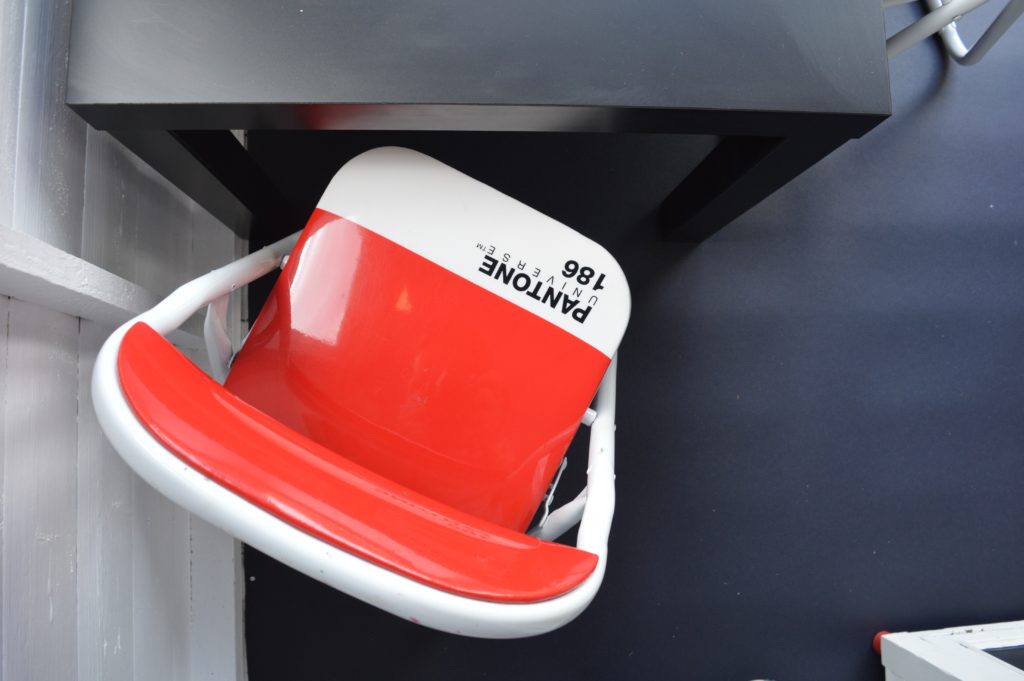 These shadow boxes were my solution to our first autumn in the UK as the girls kept wanted to keep 'treasure' from our walks exploring Oxfordshire. We dried their favourite bits and put them in. They were very keen to put them up in their new home. I love the pop of blue from the Peacock feathers.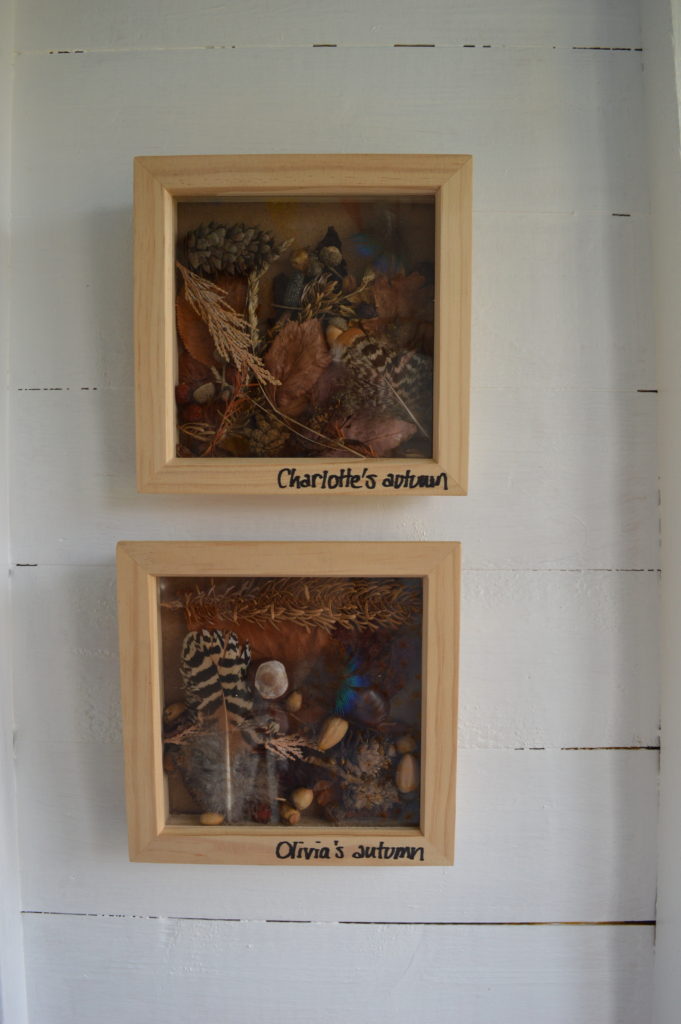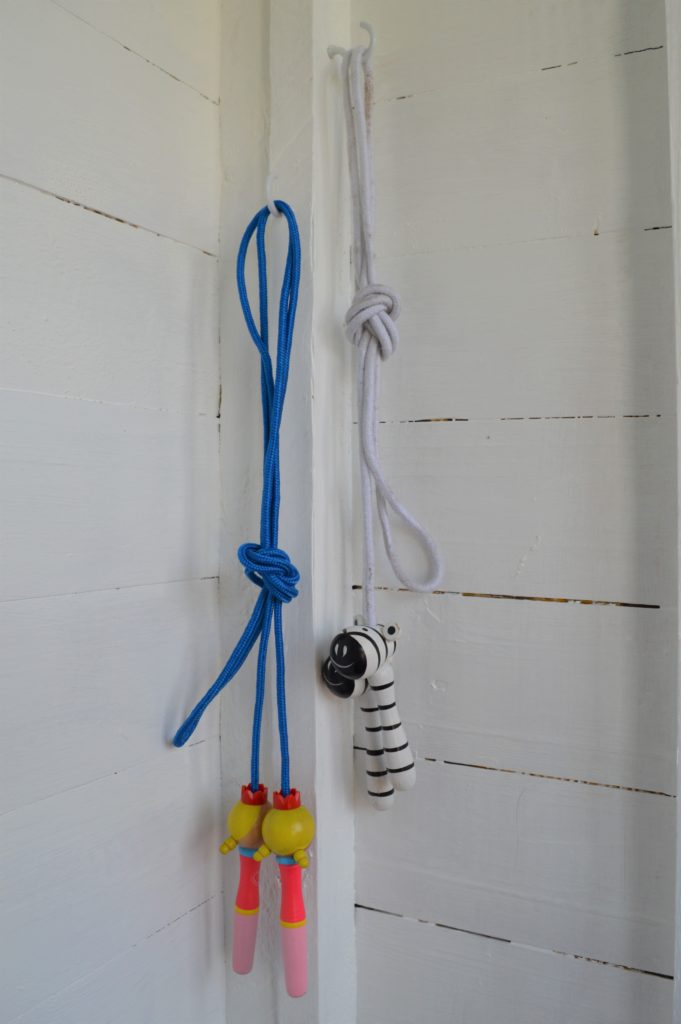 The play kitchen and chairs we already had. I got the pre-loved LACK table – perfect for kids – on Facebook. And I found the retro rattan shelves at my local charity shop. The butterfly stickers were from my girls' bedroom in Oxford and the bunting we made last year for Easter. So the whole thing has cost us a pot of eggshell paint, £22 of pre-loved furniture and some elbow grease!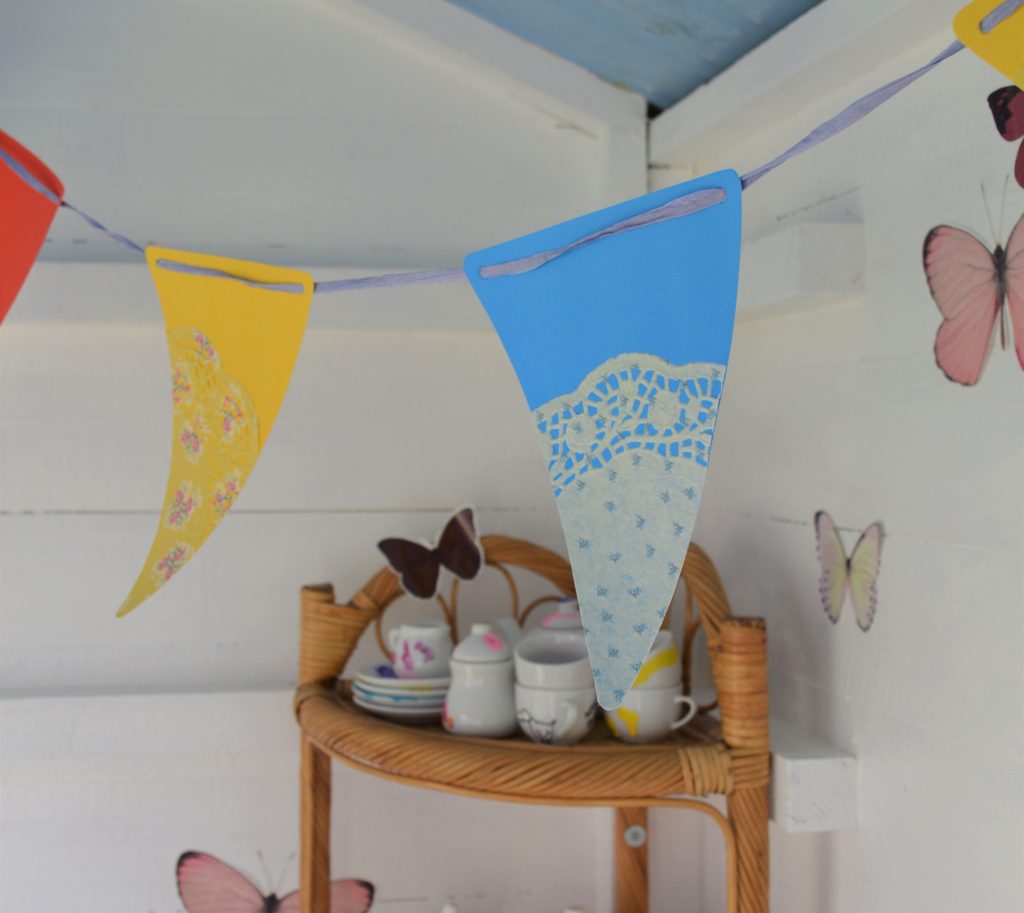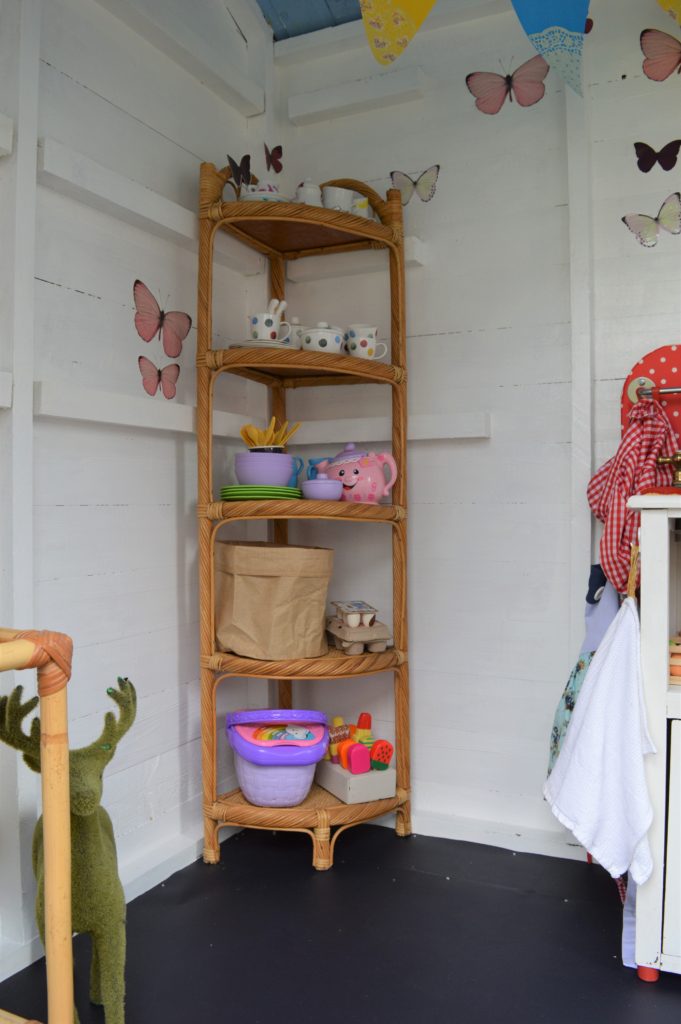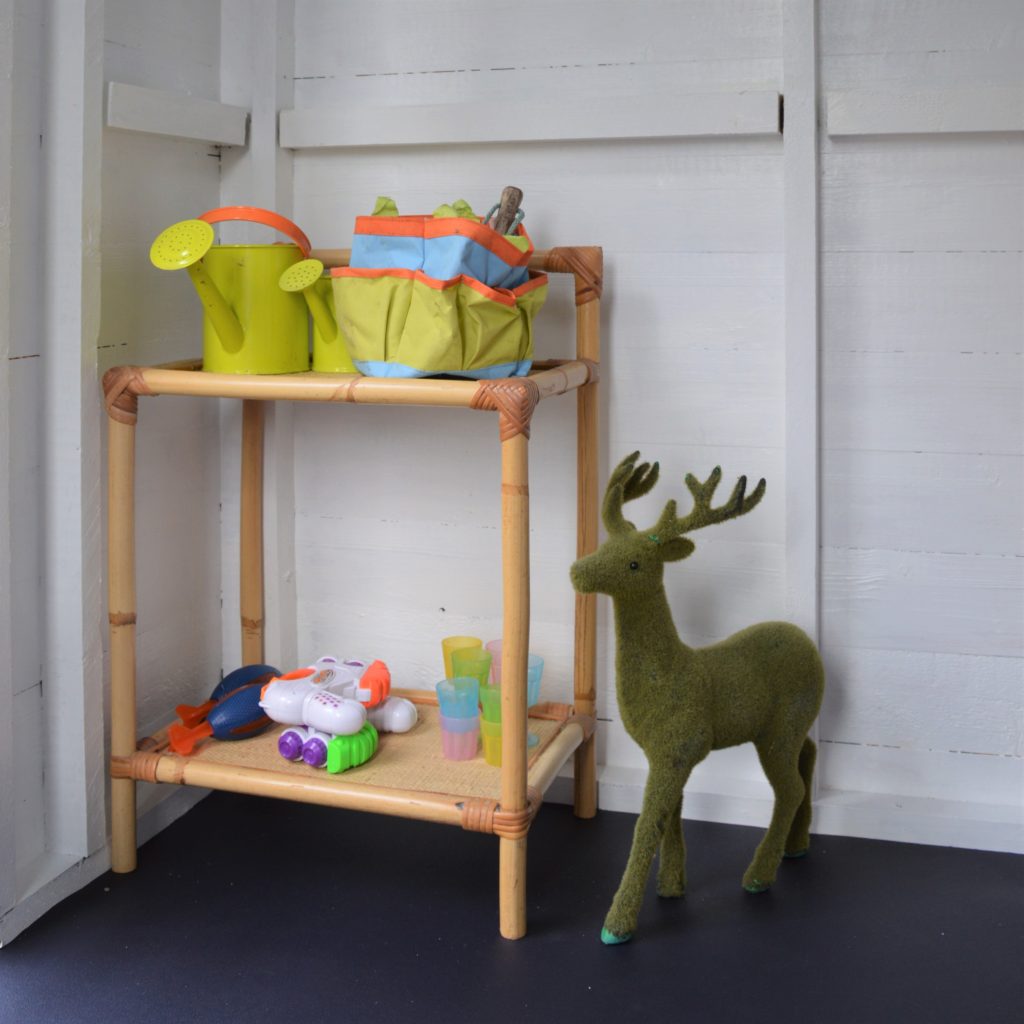 I have such fond memories of having a Wendy house as a little girl. I remember my mum made flowery curtains for it. And having just returned from having dinner in No 1b with the girls – the fish crumble was questionable but there was copious amounts of tea so I was kept happy – I can tell that they will be making lots of fond memories in there too!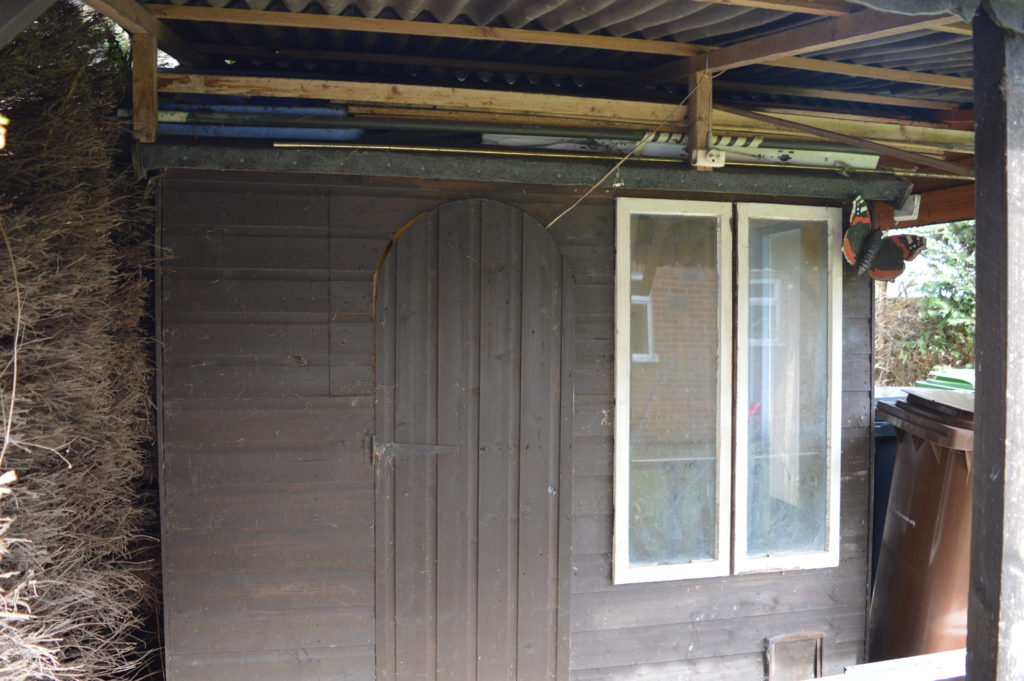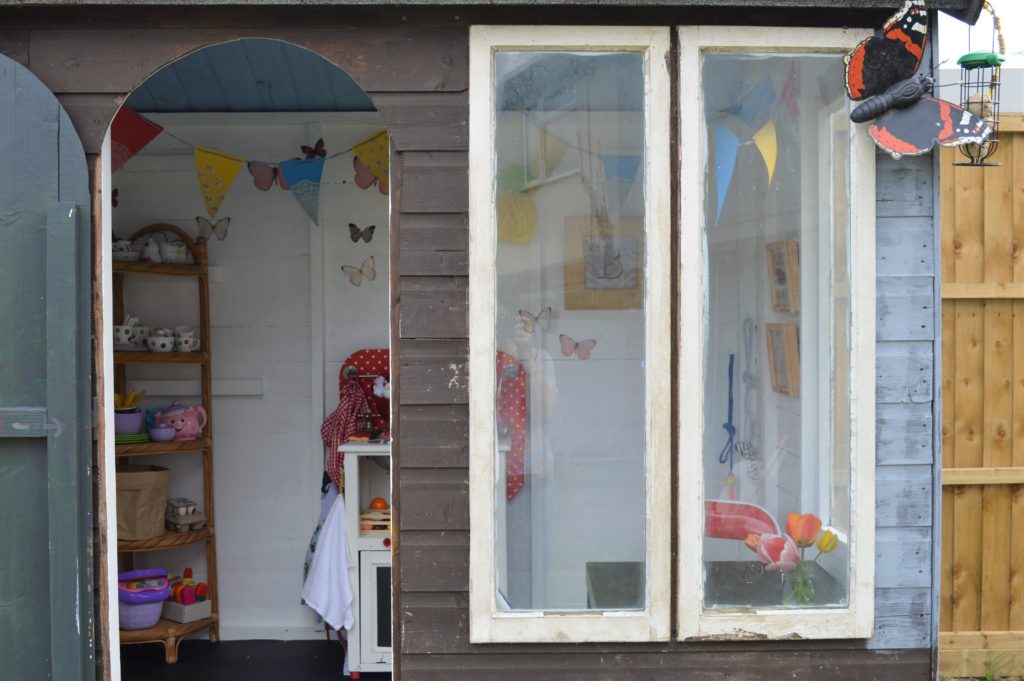 As you can see the outside – like our house – is still a work in progress: there's a deck to build with decking tiles we have from the house we rented in Oxford and I need to finish painting the outside but No 1b is already a happy home.
I hope you're inspired!