I've been looking for a reasonably priced outdoor corner sofa since last summer and then this Aldi special buy caught my eye. Within 4 days it was delivered, 30 mins later it was assembled and I was sat on it having a cuppa. Don't you love it!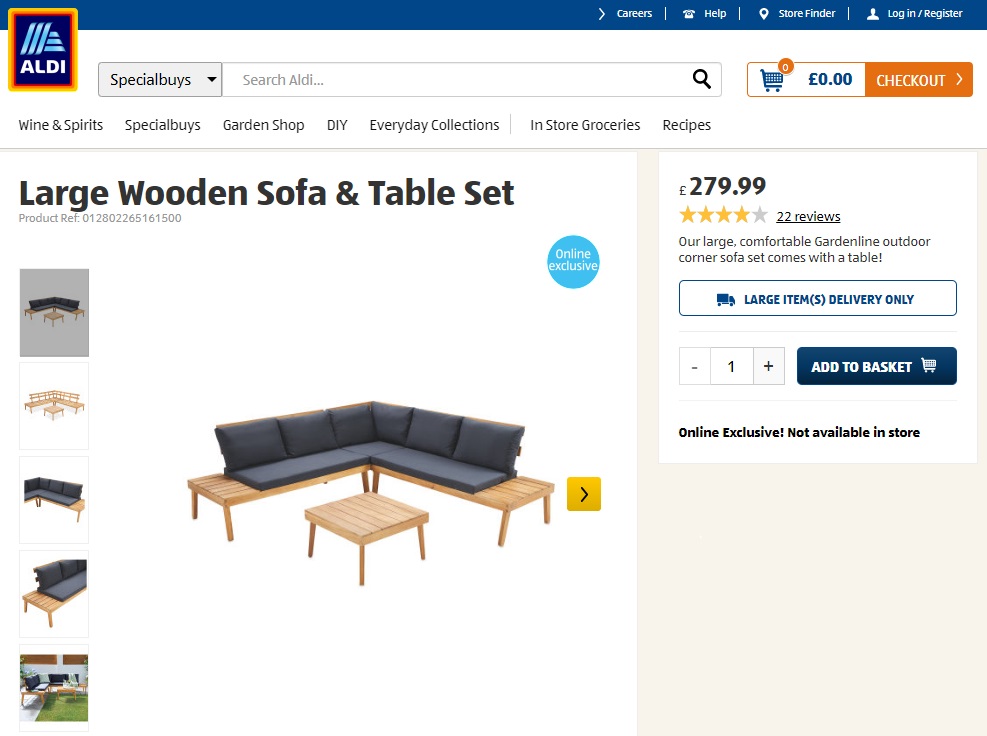 I had picked out some H&M organic cotton cushion covers to add some colour to the sofa but I decided to add some pattern to the table – the plain wood table on the deck felt like too much wood. I was inspired by our FAB HAB recycled plastic outdoor rug which has an Aztec pattern.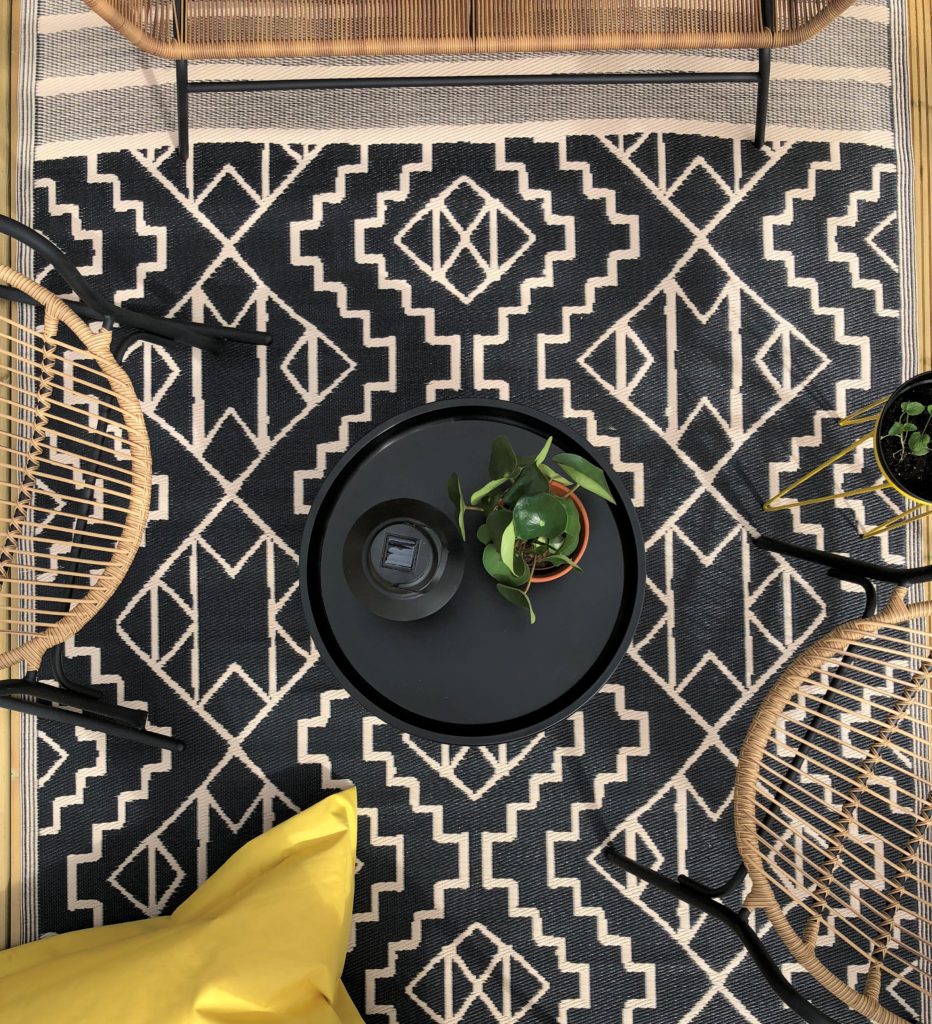 The sofa comes with very dark grey cushions.  I happened to have a half full pot of Cuprinol Garden Shades in Urban Slate in the shed (leftover from painting the girls' playhouse aka the old shed) which is the perfect match.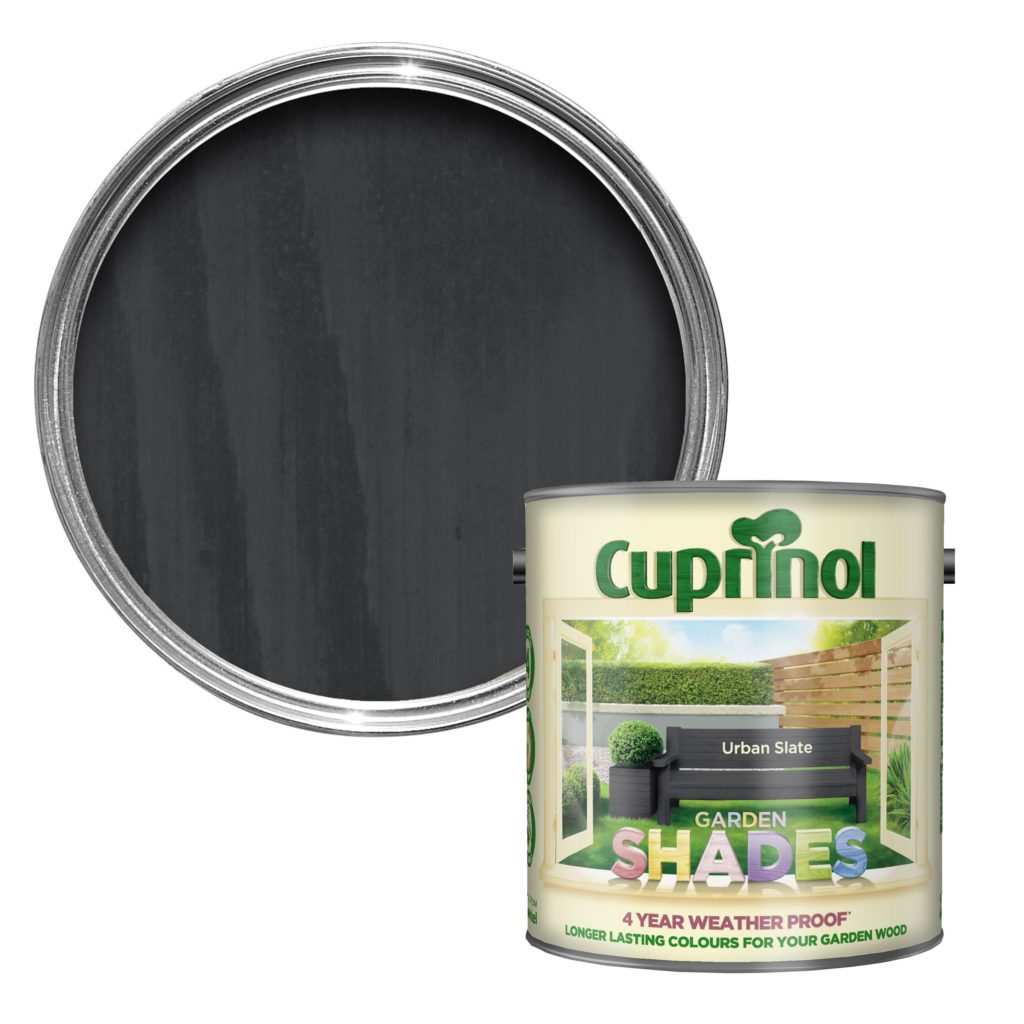 To paint the Aztec pattern you will need:
the table you want to paint – this table wasn't varnished or oiled so I didn't need to prep it but if yours is, sand it first
outdoor paint like Cuprinol Garden Shades (I use it as it protects and colours the wood, no need to oil or seal it afterwards and you can use it on wood, terracotta, brick and stone)
masking tape (I always recommend FrogTape)
a paint brush
a ruler and pencil
*Please note none of these recommendations are paid for, they are my personal and professional opinion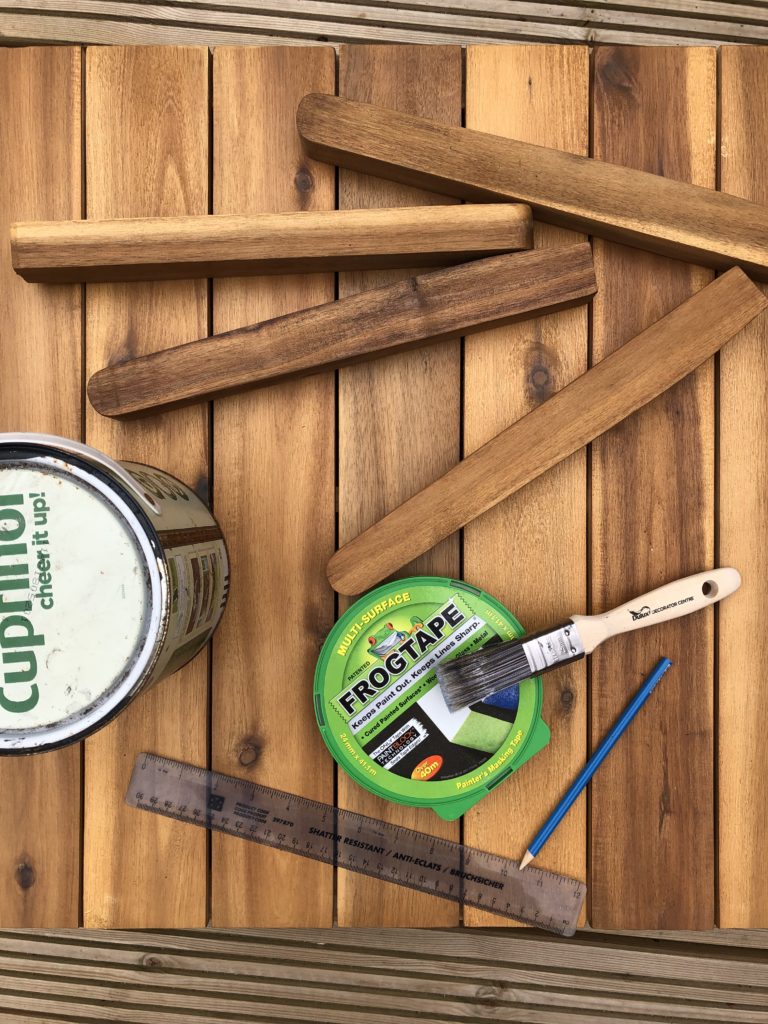 Starting with the pattern. As I said, I was inspired by the Aztec pattern on the rug so I loosely copied it. I only measured and marked one spot (the middle of the sides) and did the rest by eye but if you don't have an in built spirit level (that's what my husband says I have), take your time and measure out your pattern. You need to get this bit right. And remember the areas you cover with the masking tape will be bare wood.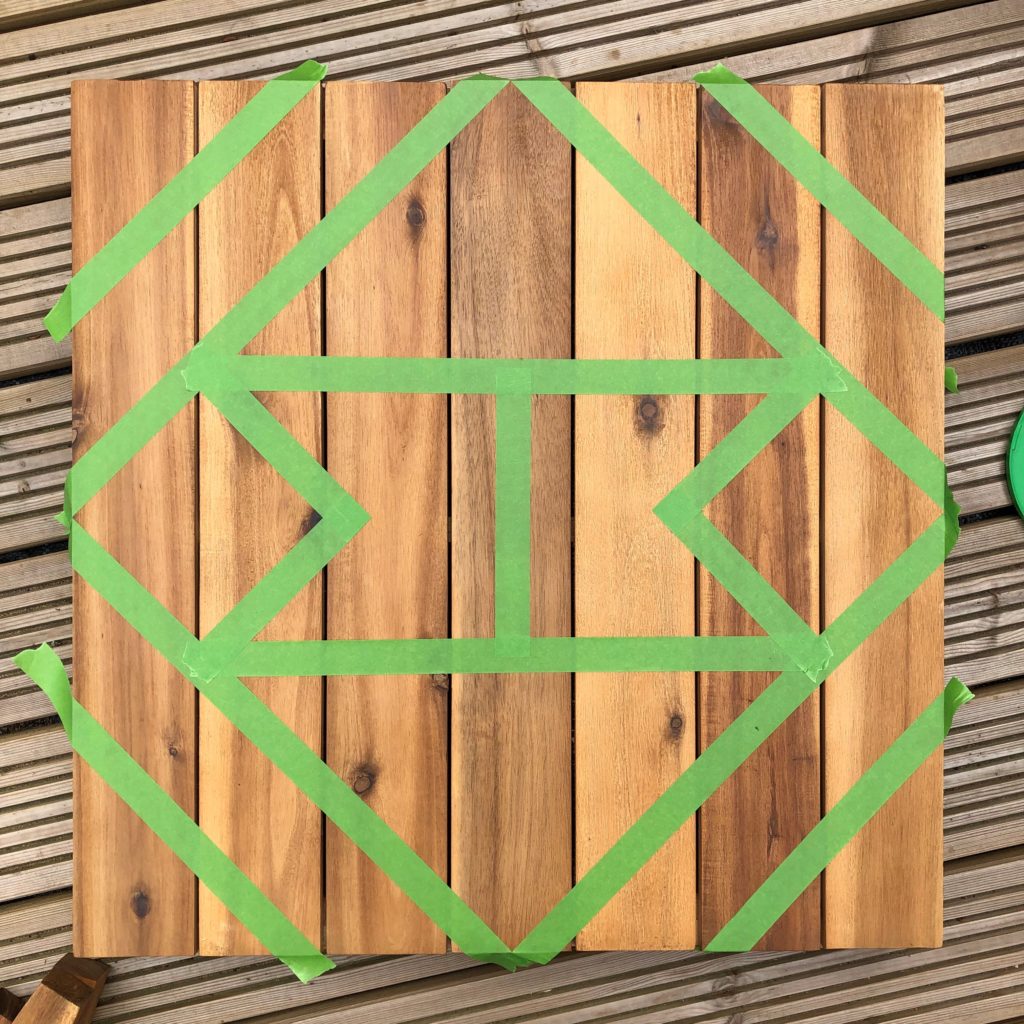 Super important: push down all the edges of the masking tape either with your finger or a credit card. This is how you avoid the paint bleeding. This is especially important as Cuprinol Garden Shades is more a stain than a paint so it's really liquid.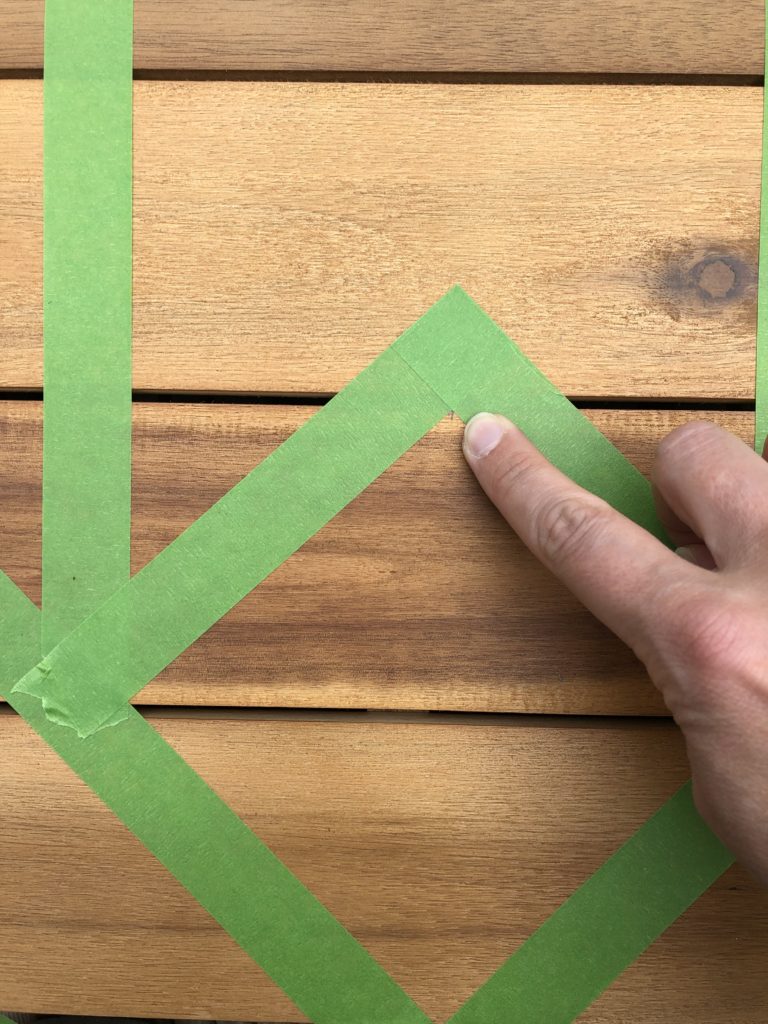 Once you're happy with the pattern and you've checked your edges, it's time to paint. Don't overload your paint brush and paint away from the masking tape. FrogTape is great but even it will bleed if you paint into it.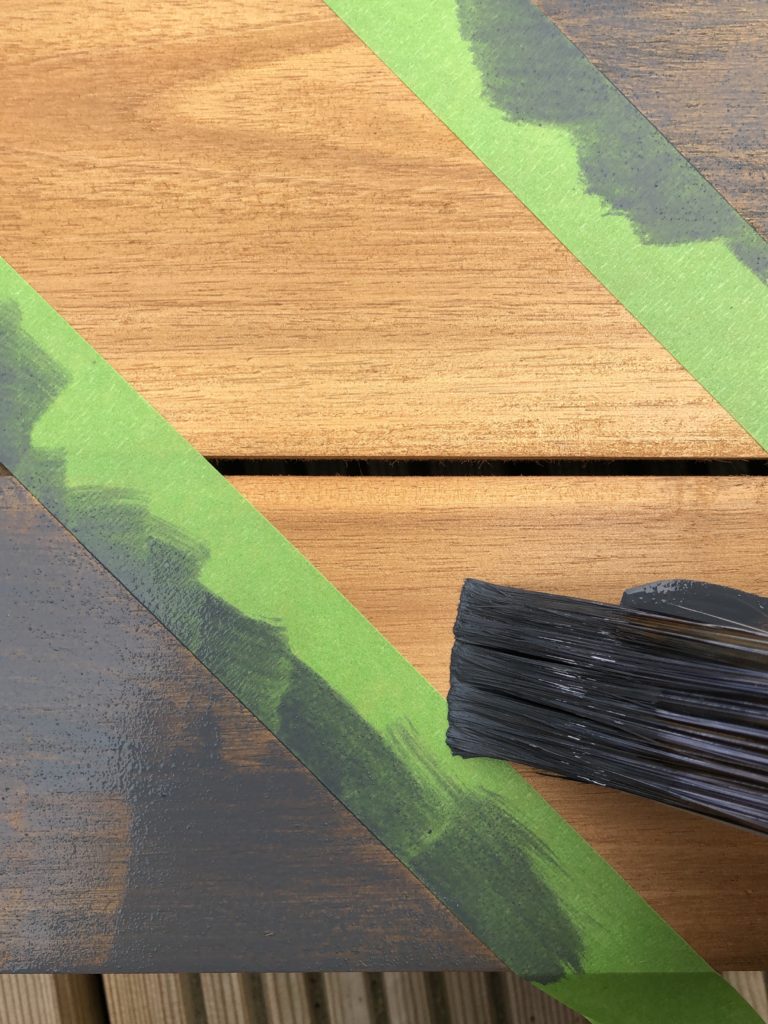 I did 2 coats. It was sunny and hot, so I did them without a wait in between (just touch to see if it's dry). Then the fun bit: remove the masking tape. My girls loved doing this.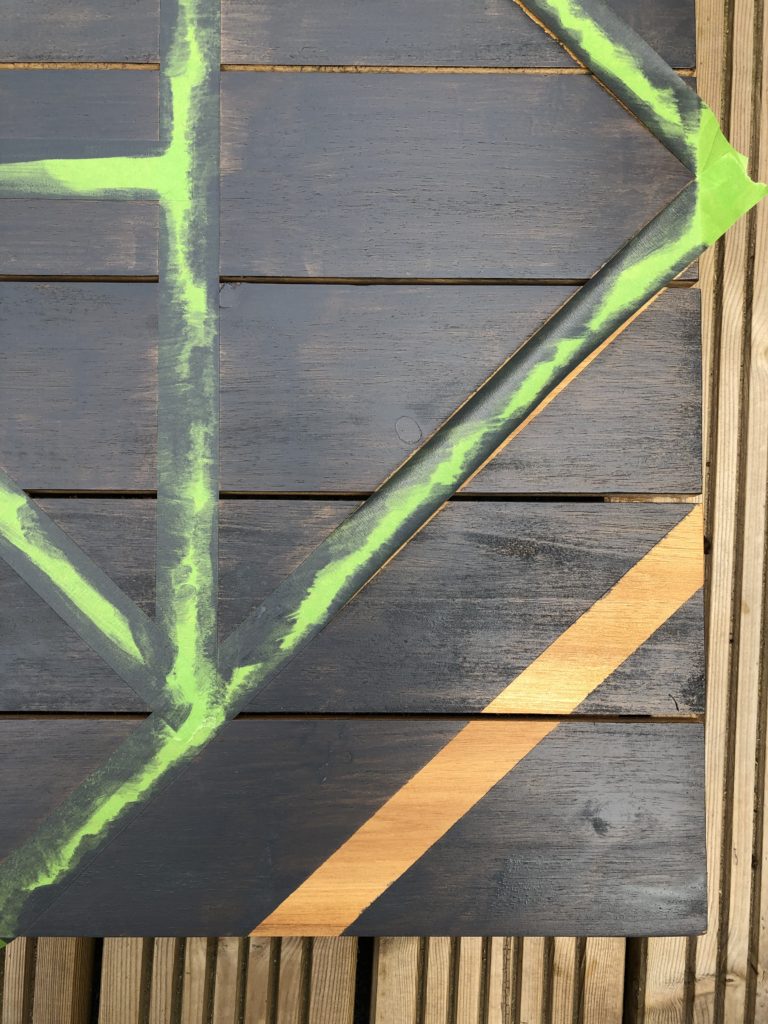 Et voilà!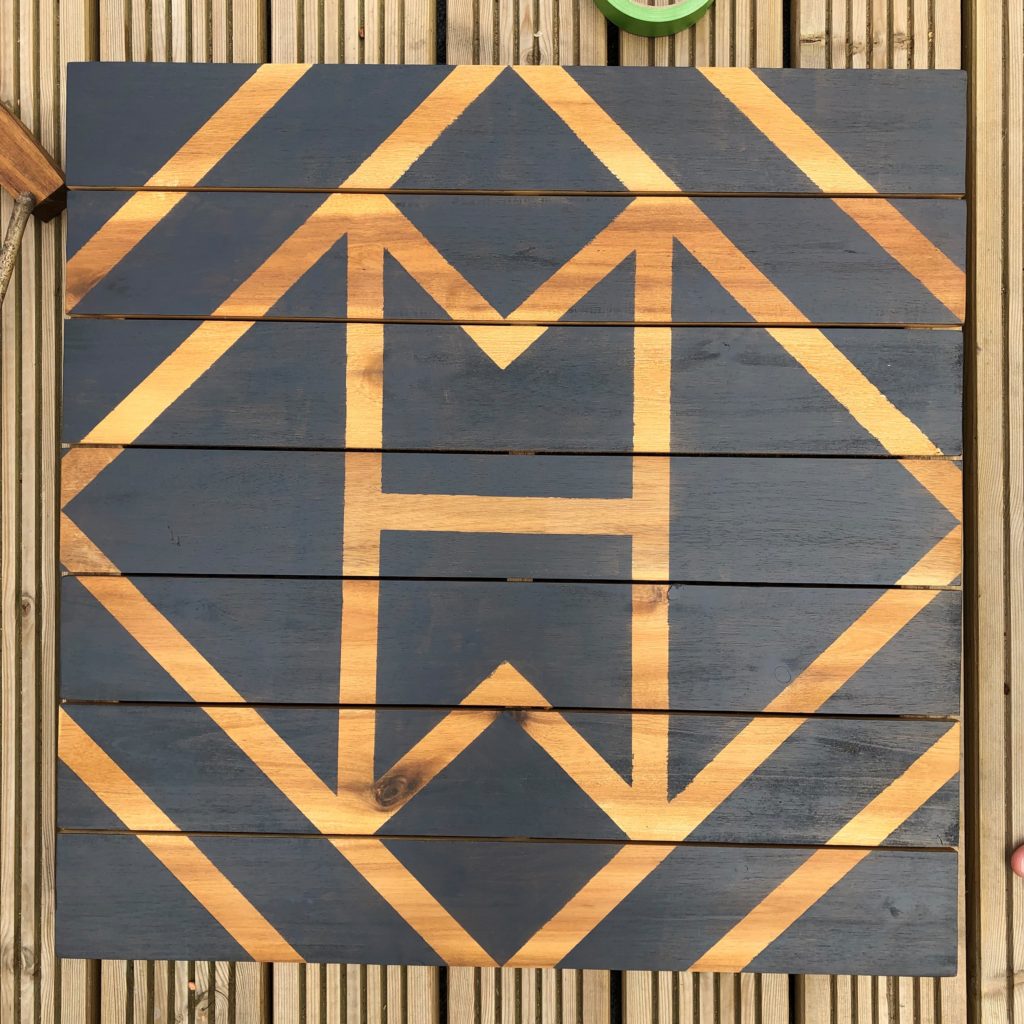 Here it is on the rug which inspired it.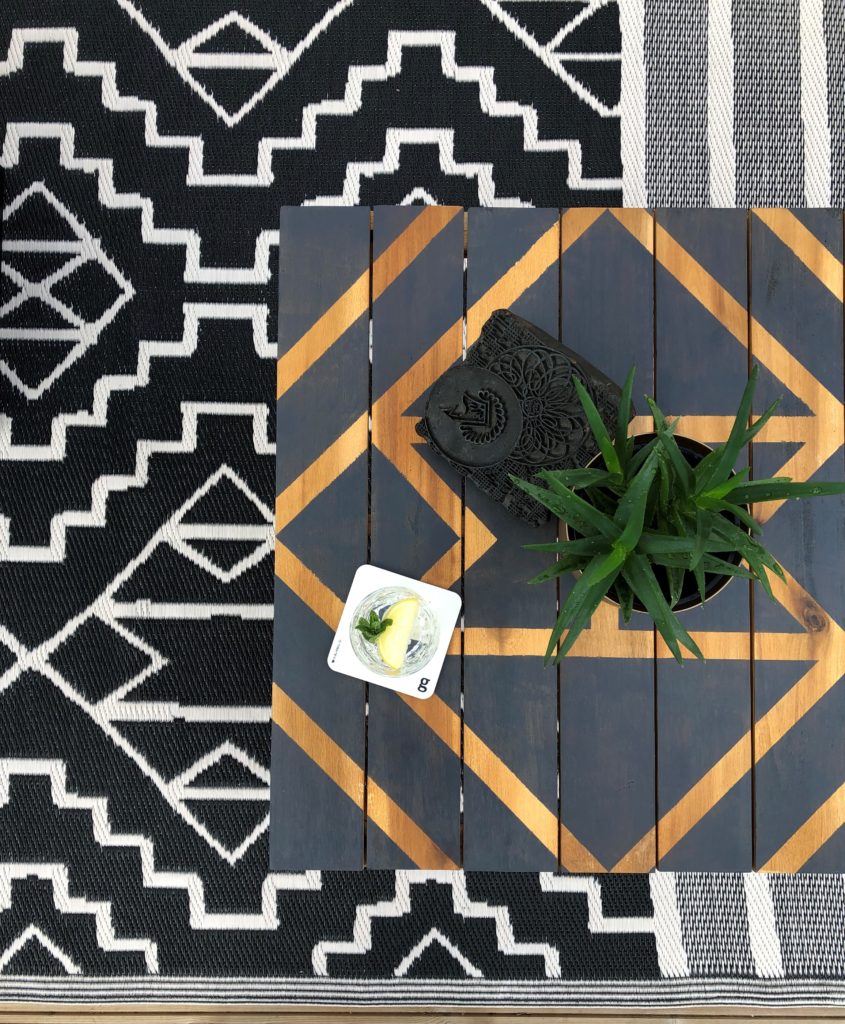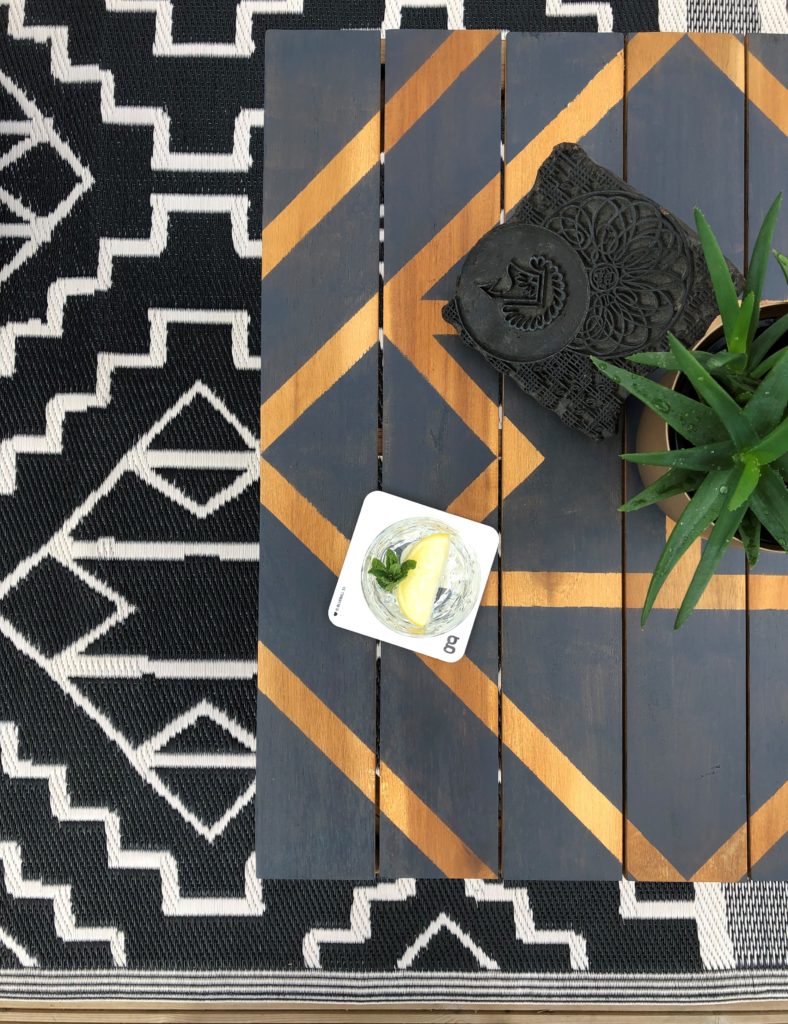 This is the sofa with the table. As you can see the cushions bring some colour and the table brings some pattern. Total project cost: £299.90 (£283.94 inc P&P for the sofa + £15.96 for the 4 cushion covers (I keep old pillows to use as cushion inserts) + I already had the paint but you could do it with 2 tester pots which are £1.99 for 50ml)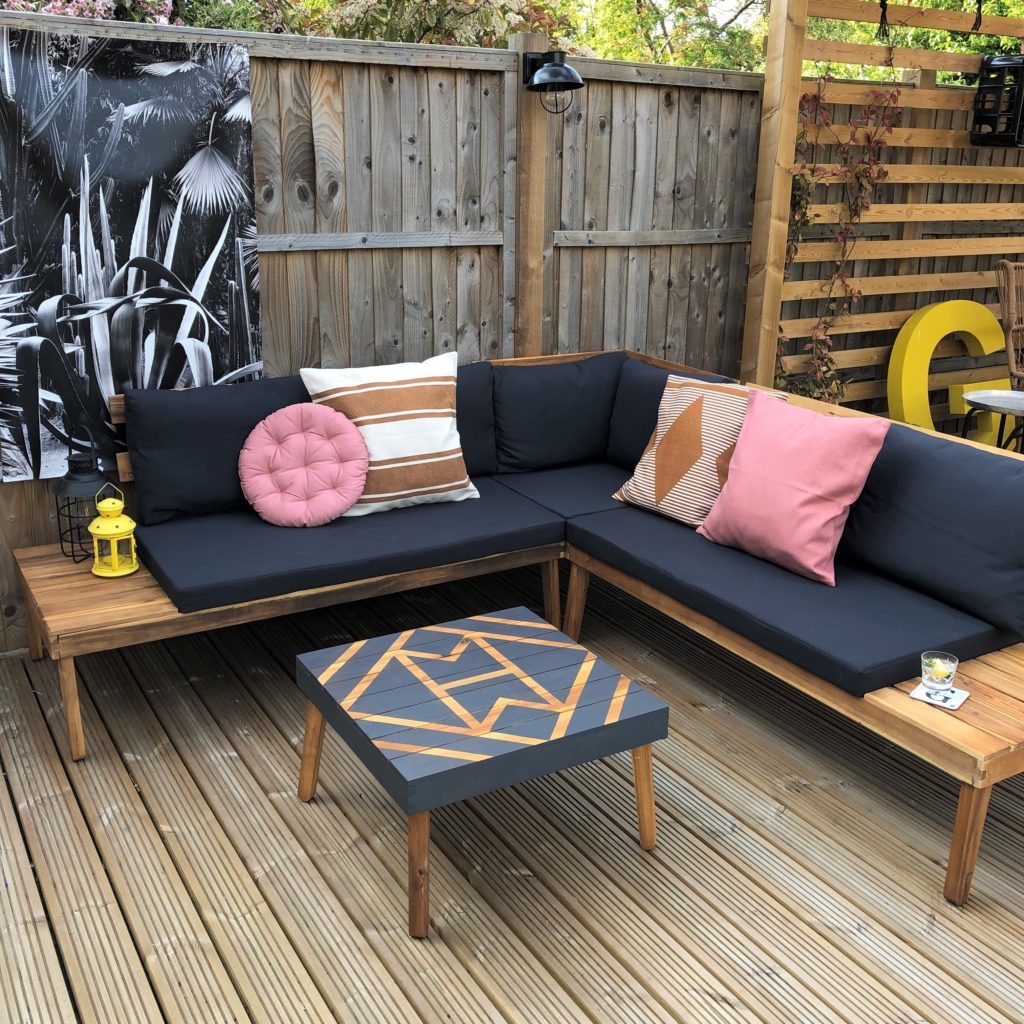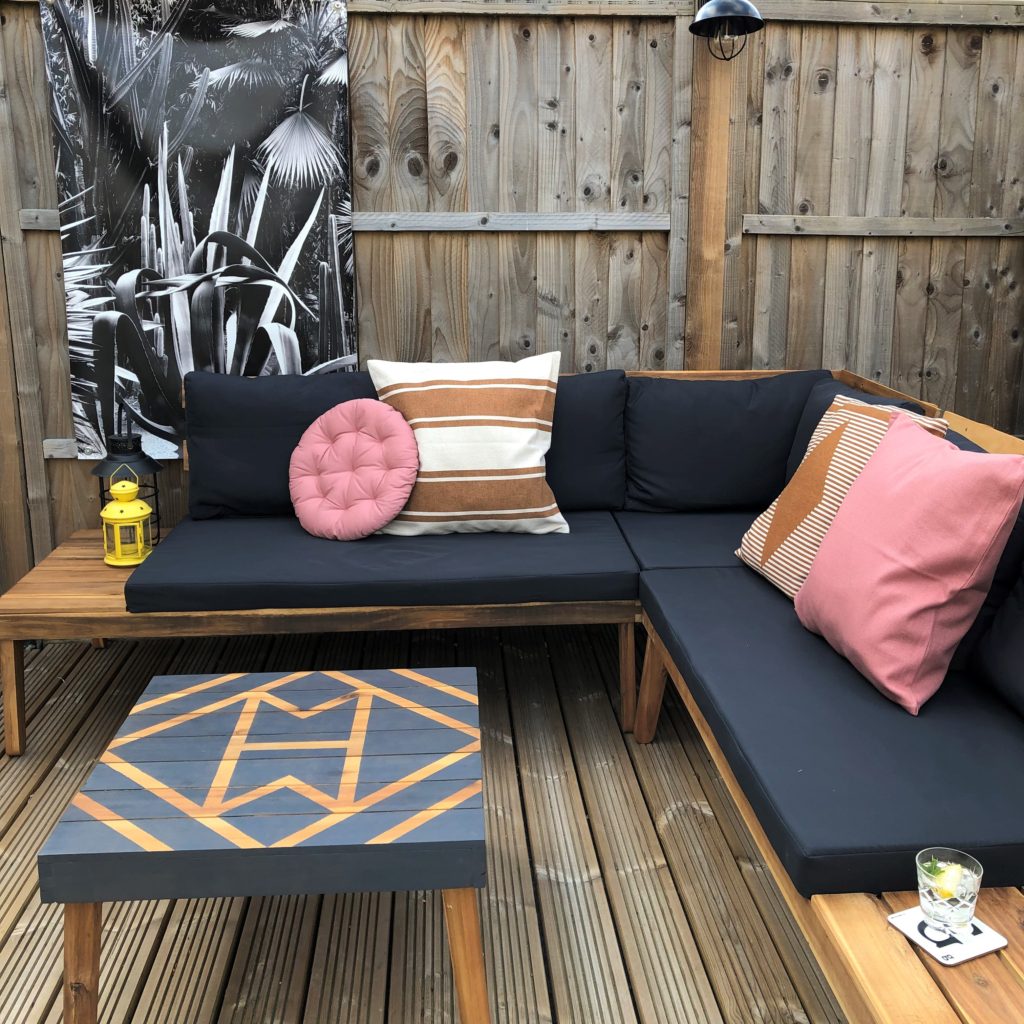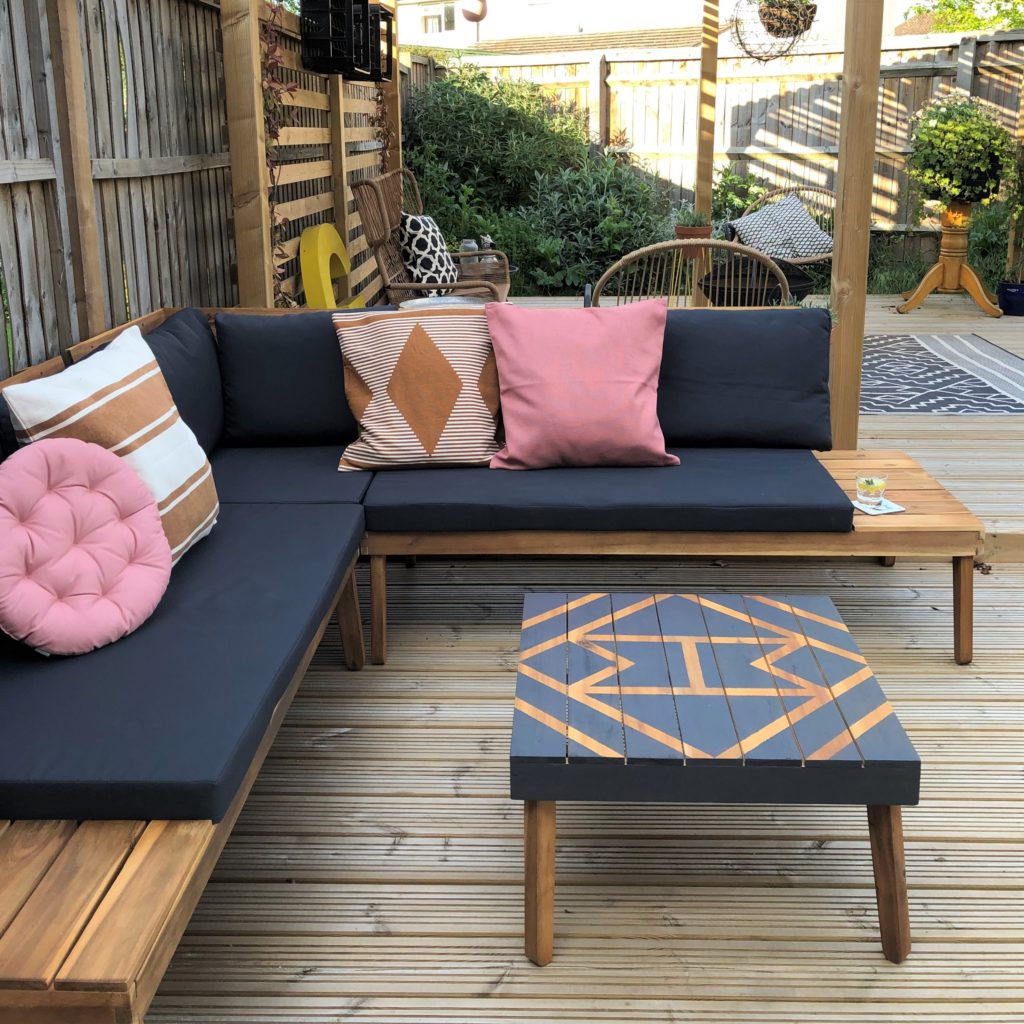 Cuprinol Garden Shades doesn't need any sealing so I just painted the edges and put it out. If the shed is anything to go by, it should be good for a few years before it needs touching up – or sanding and creating a new pattern.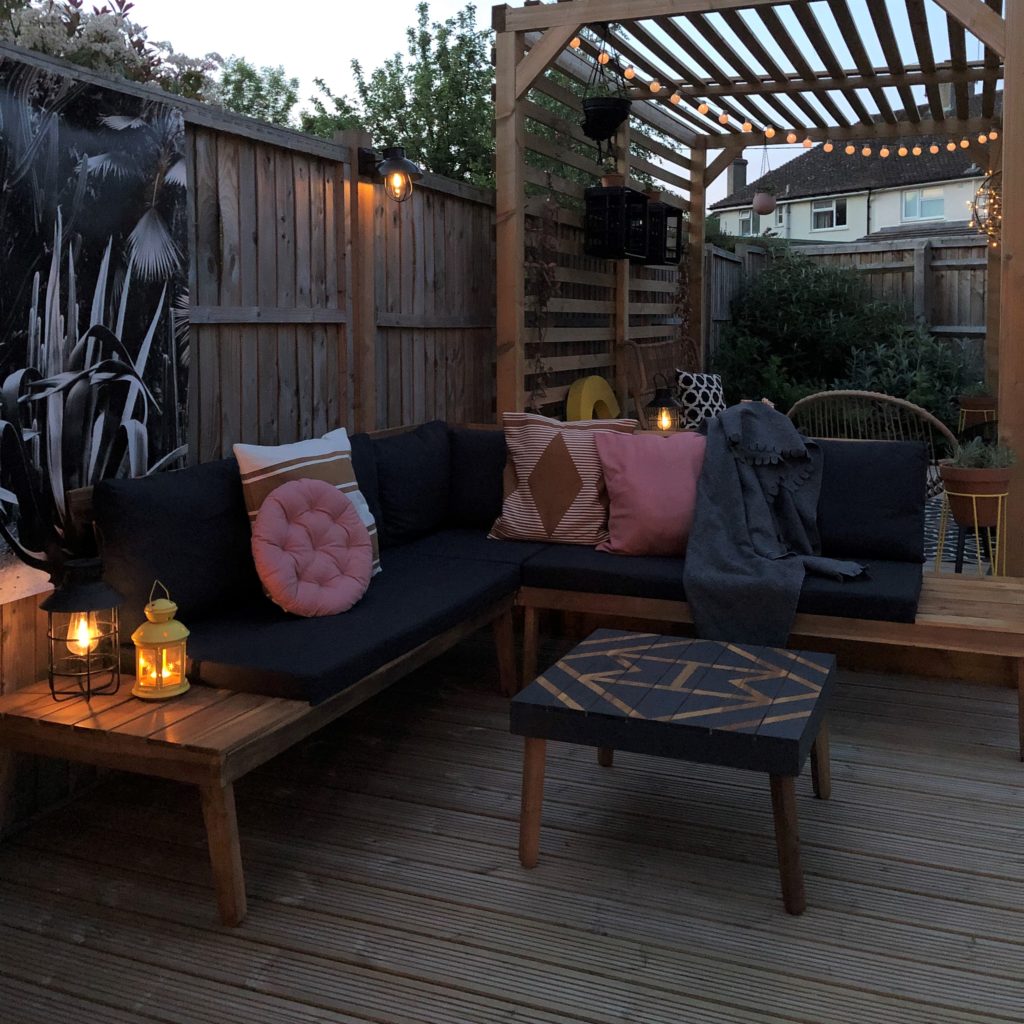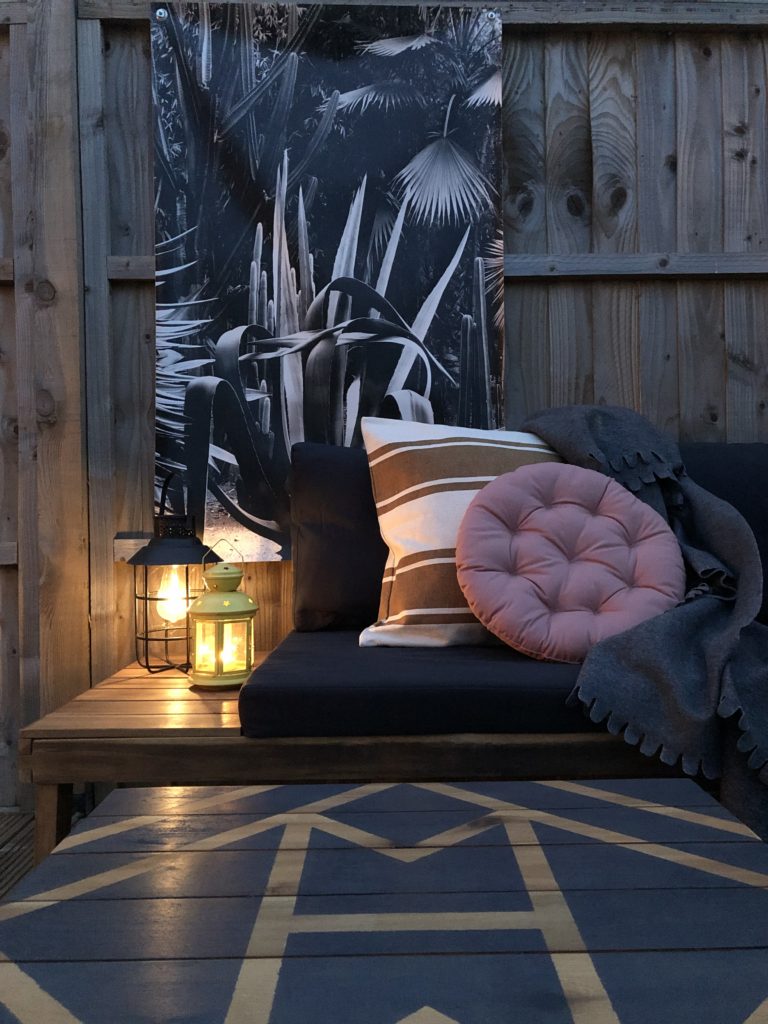 Pin this image to Pinterest to find this post later.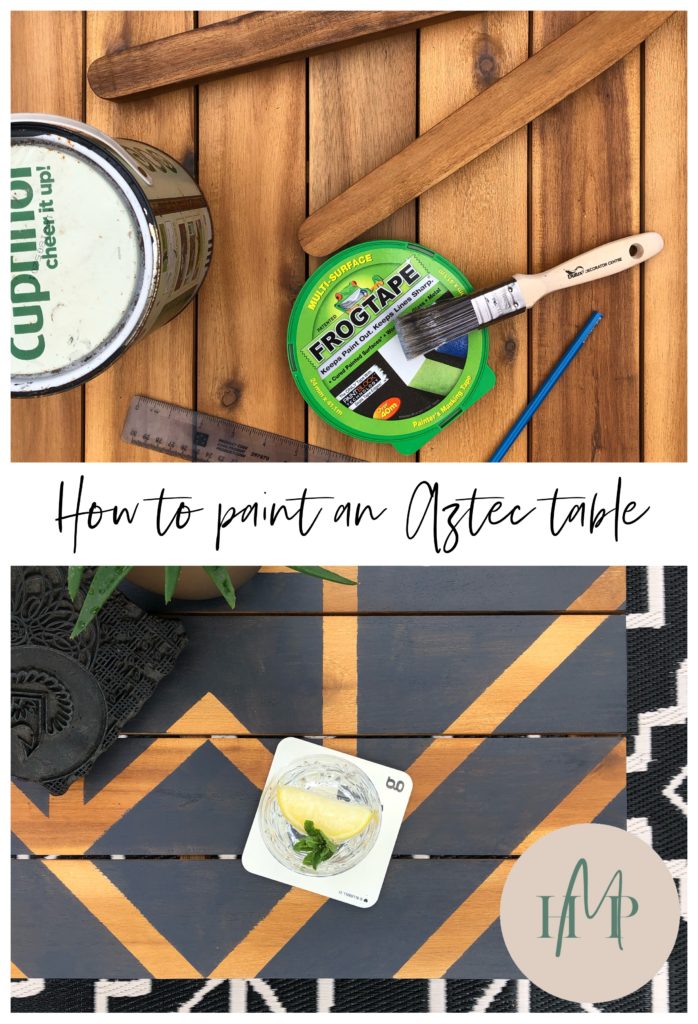 Please comment below if you have any questions and please share your inspired home made productions on social media with the tag #homemadeproductions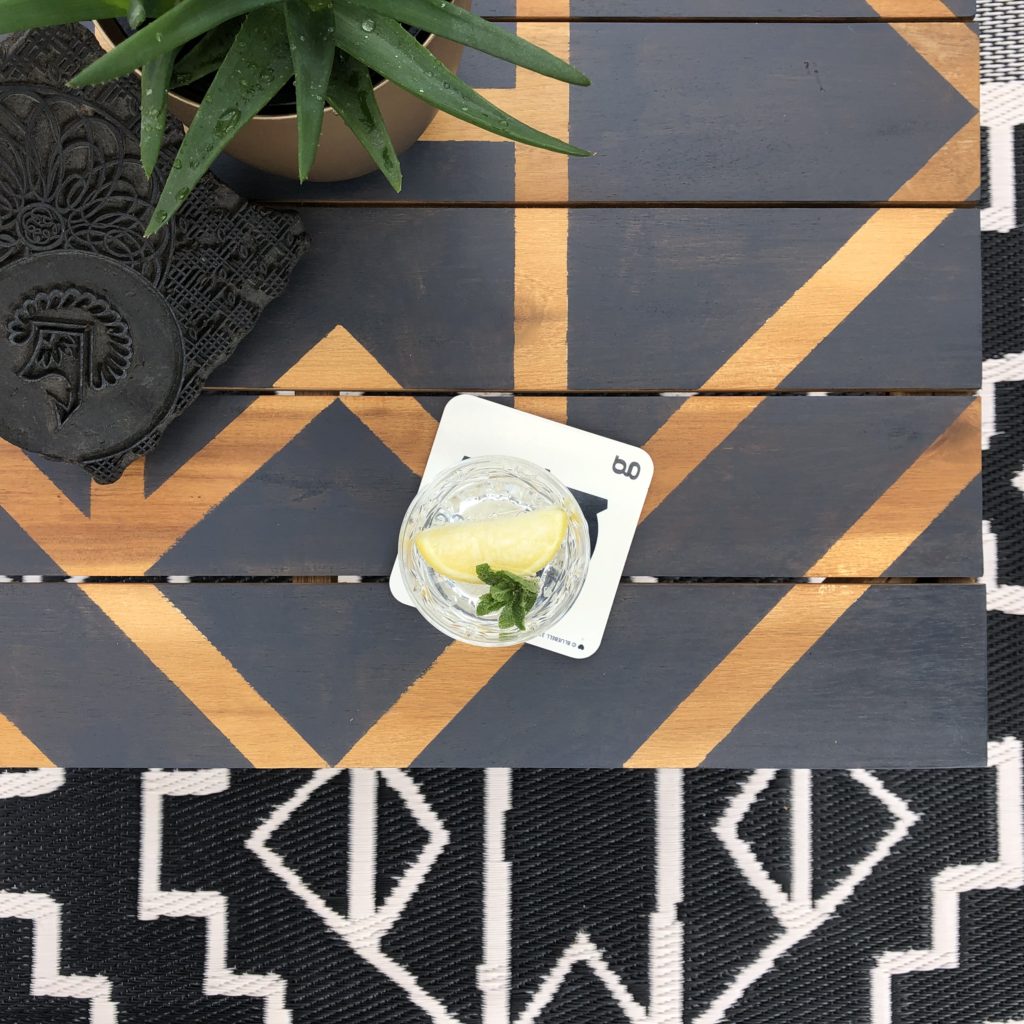 Happy making!