When my husband and I moved to Dubai, UAE we decided that we would invest in a new bed. Off we went to a Middle East favourite THE One and we fell in love with a bed with a lovely high white curved headboard. We decided to buy it in Super King. Actually being Dubai, I'm not sure it even came in a smaller size but in as you can see in the photo below it was in perfect proportion with our master bedroom.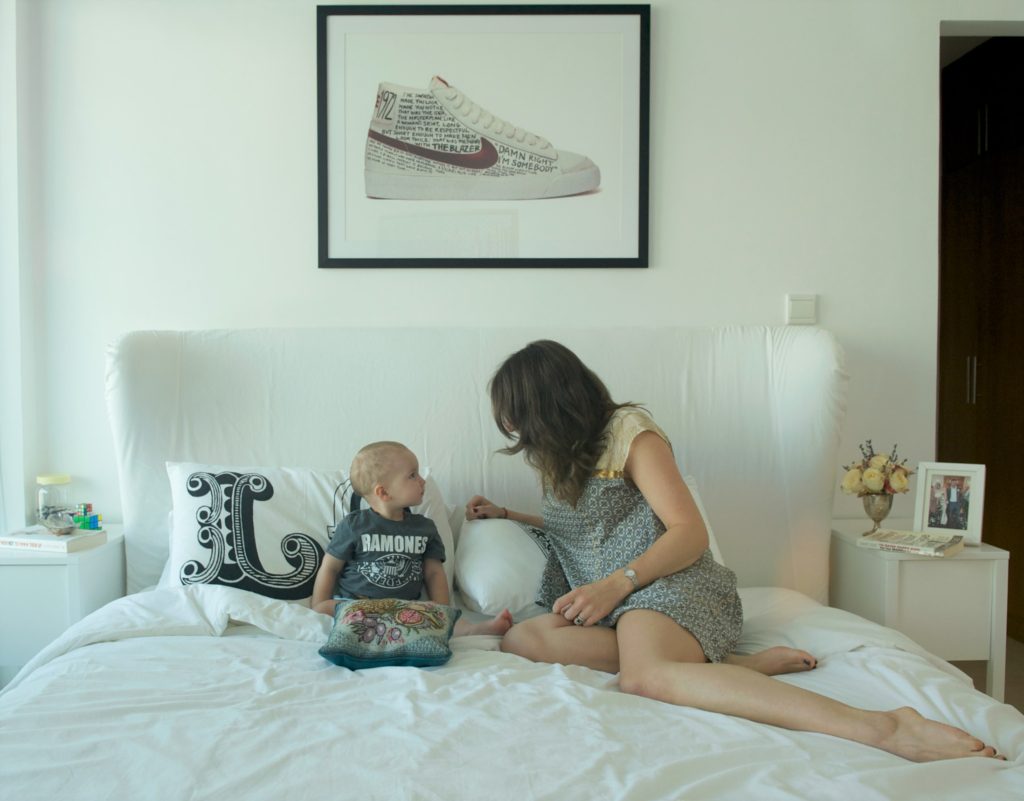 Photograph by Heather Chuter for tuesdayschild.me
Fast forward to Toronto, Canada and the removal men laughed at us when they saw our bed. In the end it did fit into the bedroom as you can see below, but the sacrifice was that we couldn't close the door to the bedroom. We had the same problem when we moved to Oxford, UK  and the mattress even broke one of the banisters on the way up.
Photograph by Kristin Sjaarda for my Toronto house tour.
So when it came to our new home, the Super King bed was definetely the starting point of our master bedroom design! Orginally the room had a section cut out of it for the family bathroom next to it and had old school built in wardrobes. The family bathroom was made smaller and became our en-suite, also giving the room better proportions. And the built in wardrobes were modernised and designed by me to include a bedside space for my husband.
As you can see in the two photos above and here, we have always used the IKEA NORDLI bedside tables; at only 30 cm wide they are perfect for tight spaces (or to go with massive beds!) and being IKEA, they have a great modern feature that you can run your phone charger cable through them. We got the smoke (a grey blue colour) retro lamps whilst we lived in Dubai. In our bedroom in Toronto I decided not to use them and use pendant lights instead as the space was so tight and I wanted to lift the eye up. I love their retro shape and have used them in various colours in my room designs for clients.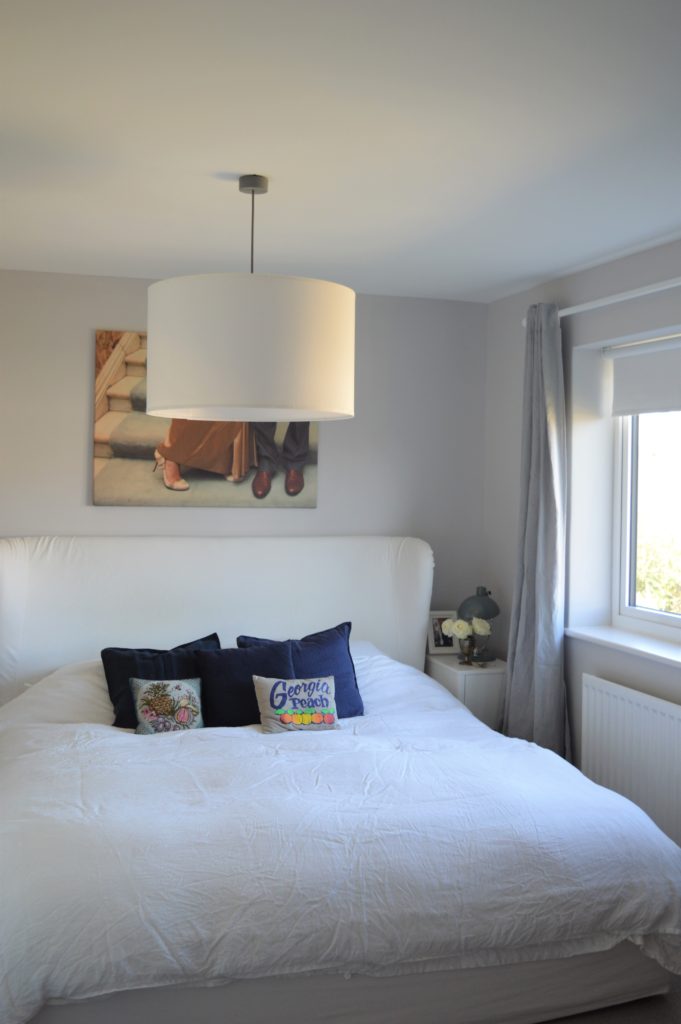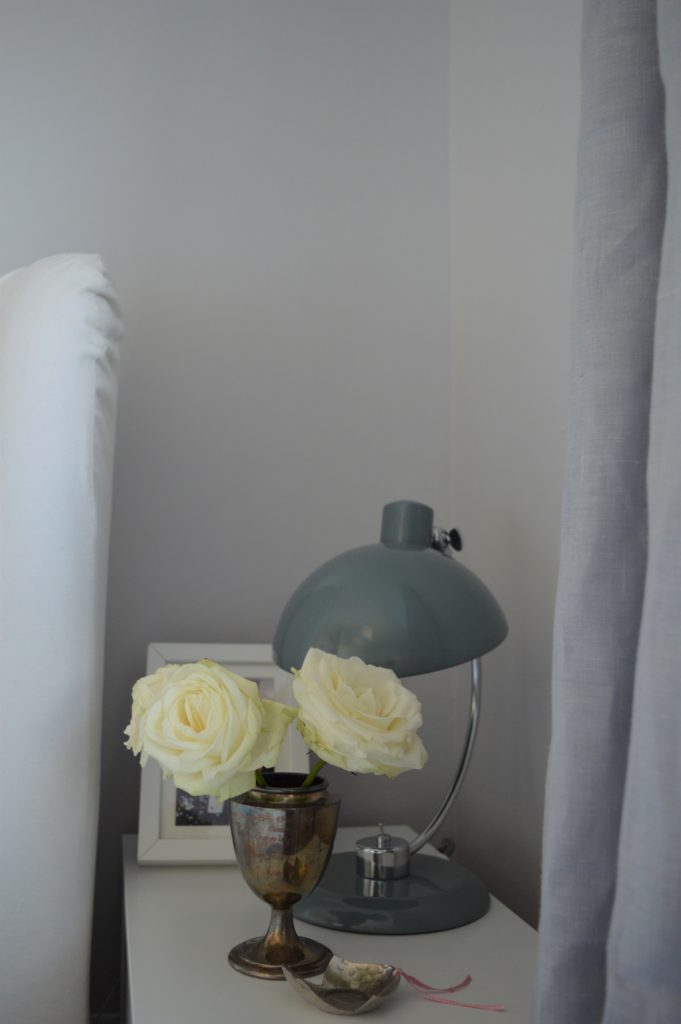 The room is painted by favourite grey Dulux Night Jewels 5. You can read about how I picked the grey here. My dressing table is a mid-century desk I bought on kijiji in Toronto (kijiji is an online Canadian Classifieds). It is covered in paint marks including the good morning print you can see below; I did debate cleaning it up but I've fallen in love with the marks. I curated a collection of pictures above of women and painted a mirror left in the house to match the walls – and of course when I sit down, I add to the collection of women on the wall!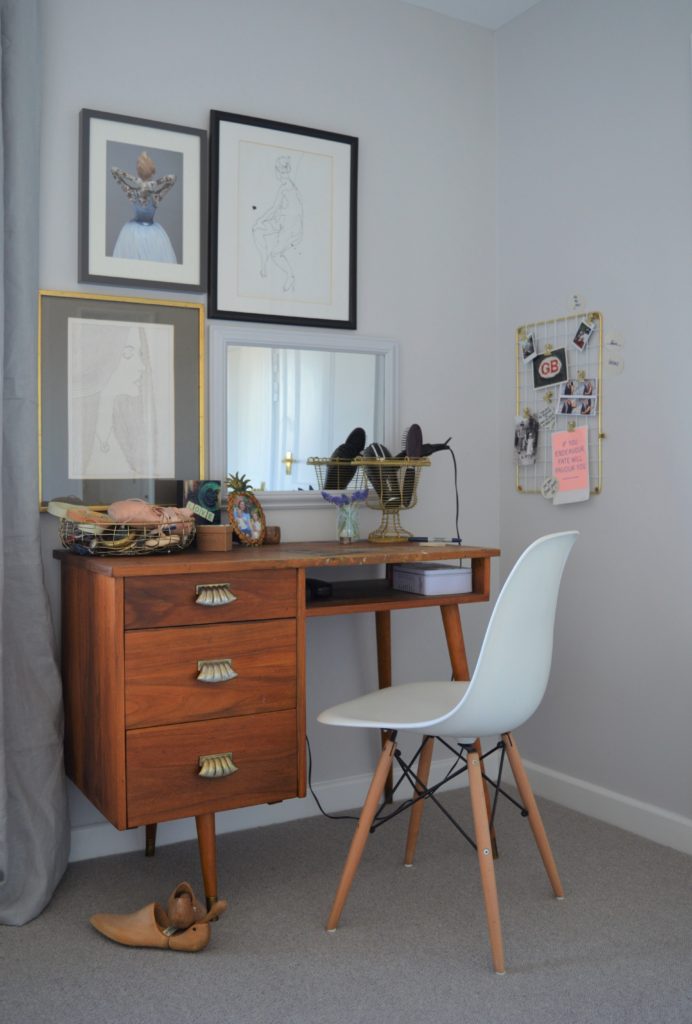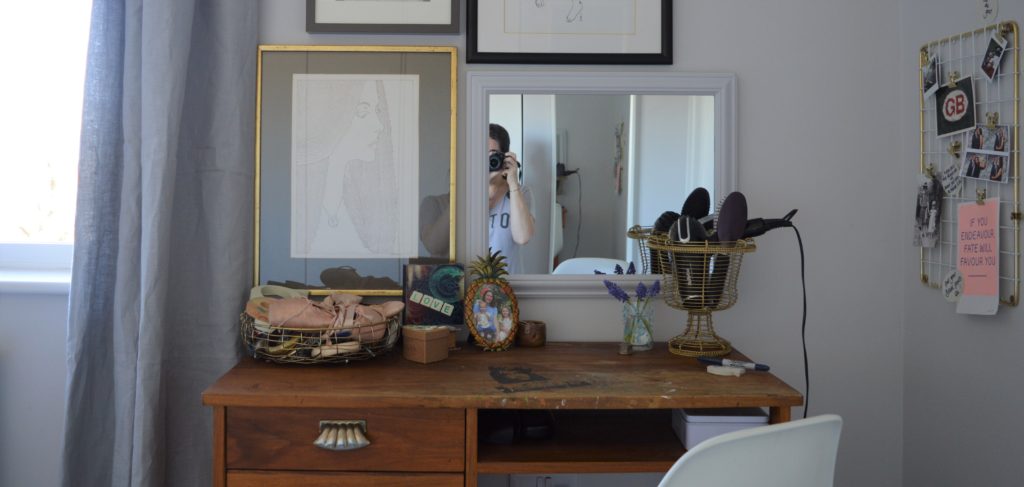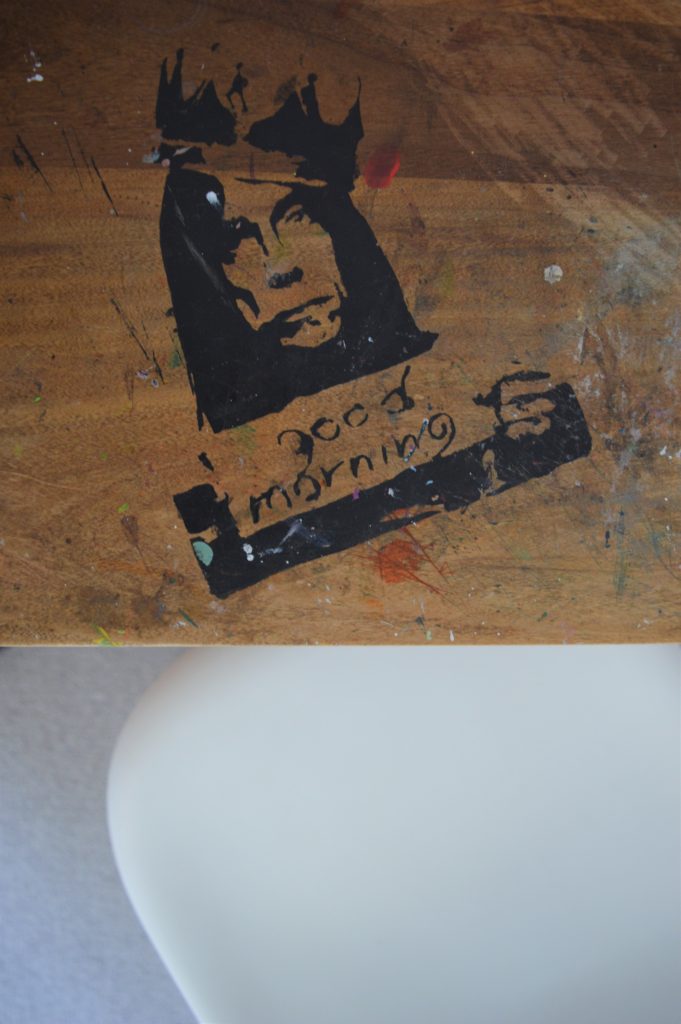 I came across this clip board at Sainsburys whilst doing a quick food shop. I thought I would be perfect as an inspiration board next to my dressing table. As it should be, it's a work in progress.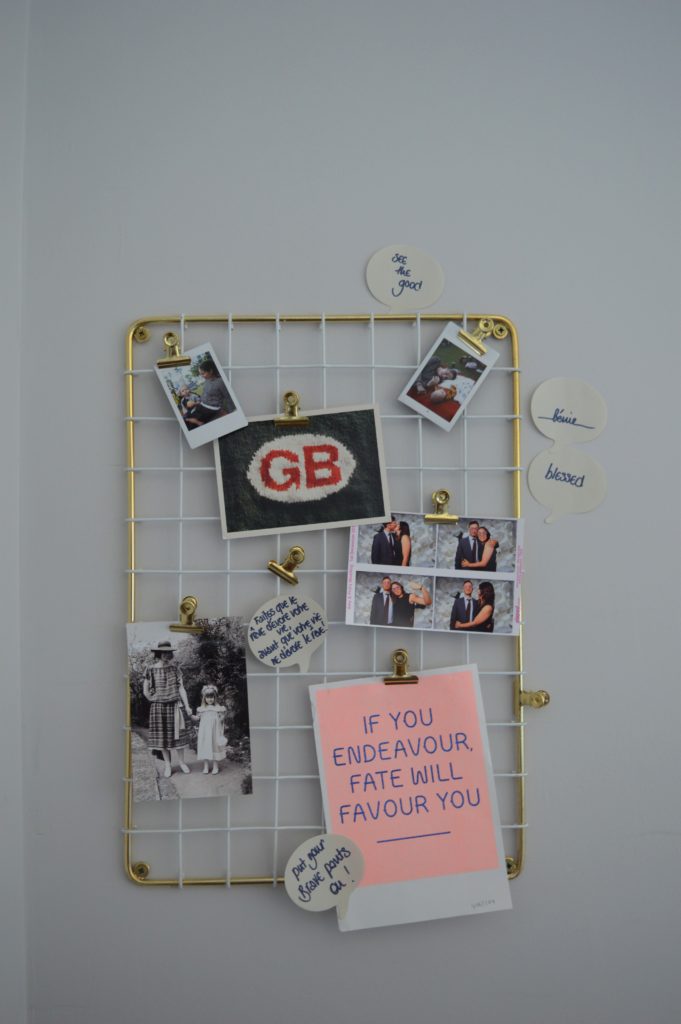 So as I said, I had the old built in wardrobes removed and replaced them with this IKEA PAX built in which I designed. My husband and I are both tall so I decided to take it up to the ceiling to allow shoe storage space below. As you come into the room you discover the shelves at the end which serve as my husband's bedside table.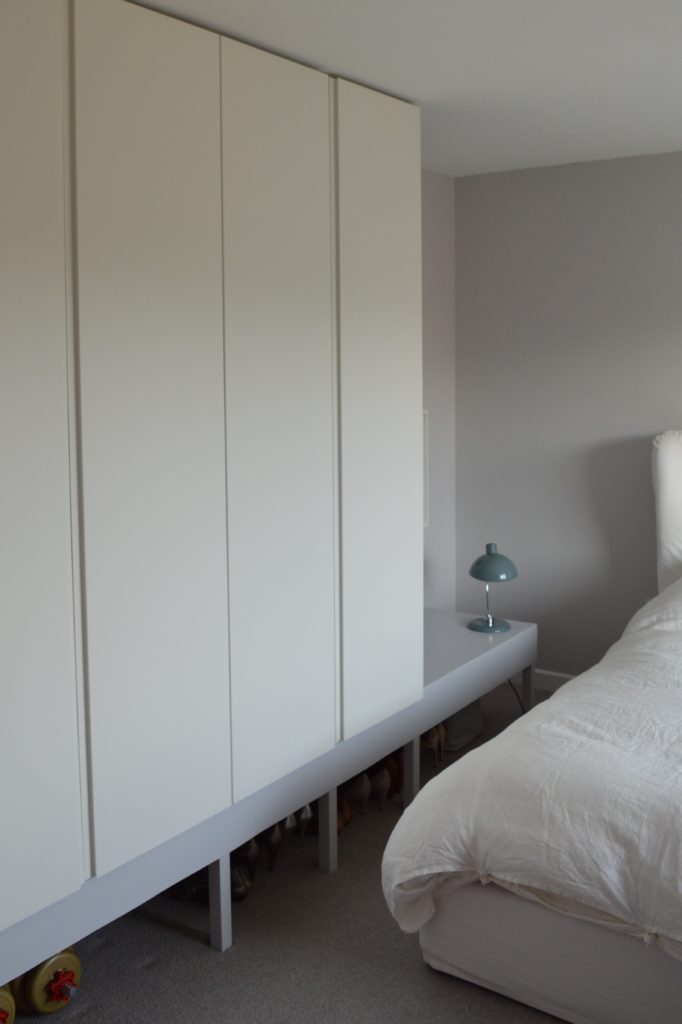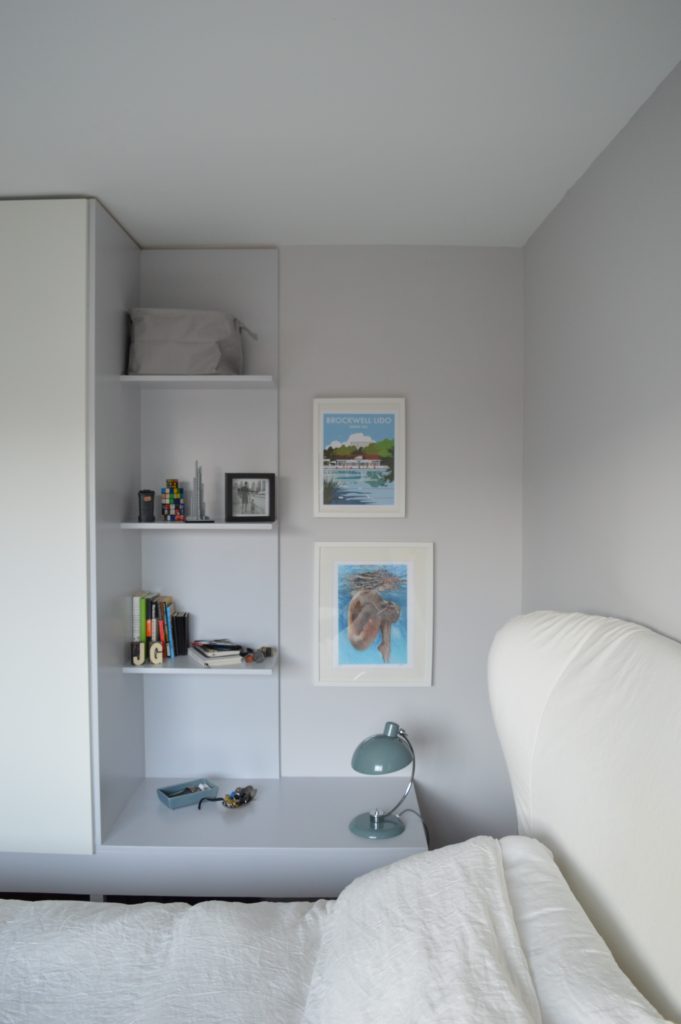 You might have noticed the cushions on the bed. The needle point pineapple cushion was made by my grandmother. I remember her making it. It has an open pomegranate and a bee on it and I love it. The Georgia Peach cushion was made by my mum from an old tee shirt of mine. The canvas is a detail from our wedding photo. Having these much loved touches make it our home.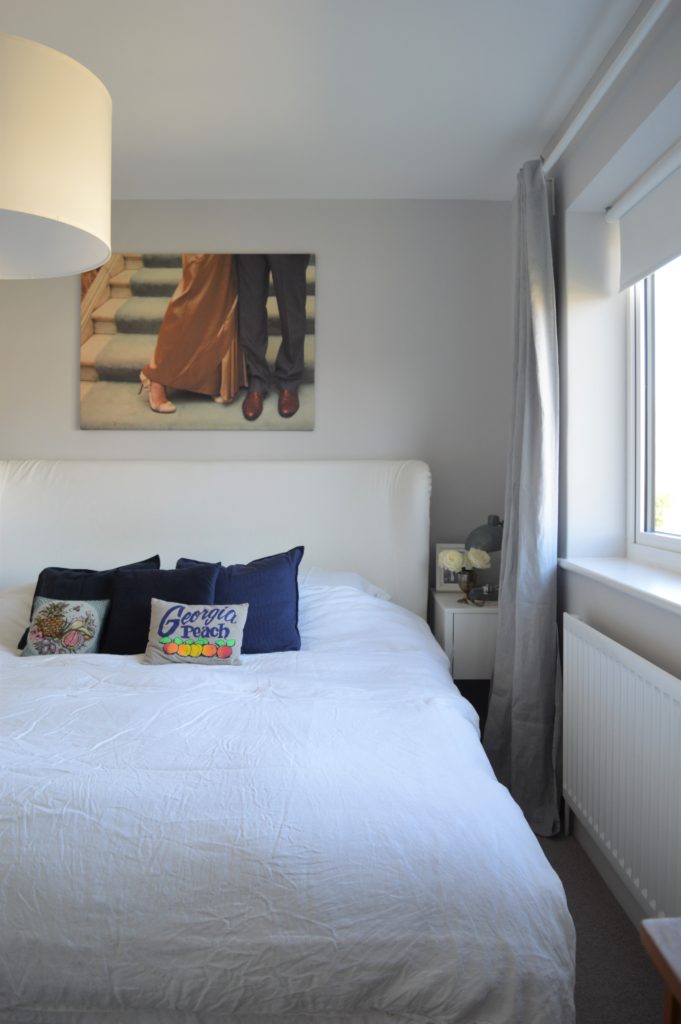 I hope you're inspired!