So just before Christmas my eldest asked if she could have her own bedroom as her Christmas present. Gulp. It turned out she thought their Pineapple sundae bedroom was too 'young' for her and she wanted a 'big girl' bedroom! She's 6. Anyway I'm not one to shy away from client feedback and if a 'big girl' bedroom would keep them sharing, I was game. Who am I kidding, I didn't need any convincing to redesign their bedroom! I pitched a bold floral wallpaper, pink with a hint of gold to her and she was sold. So here it is. I photographed it in February but I wasn't 100% sure about the photographs – it's a hard room to get the light right – but really, I need to stop being so hard on myself.
This stunning wallpaper is Clarke & Clarke Botanica Floretta in Blush and Charcoal, it's big painted blooms with little hidden insects and it's absolutely to die for. I matched it with Dulux Pink Nevada 6 which is the perfect soft pink.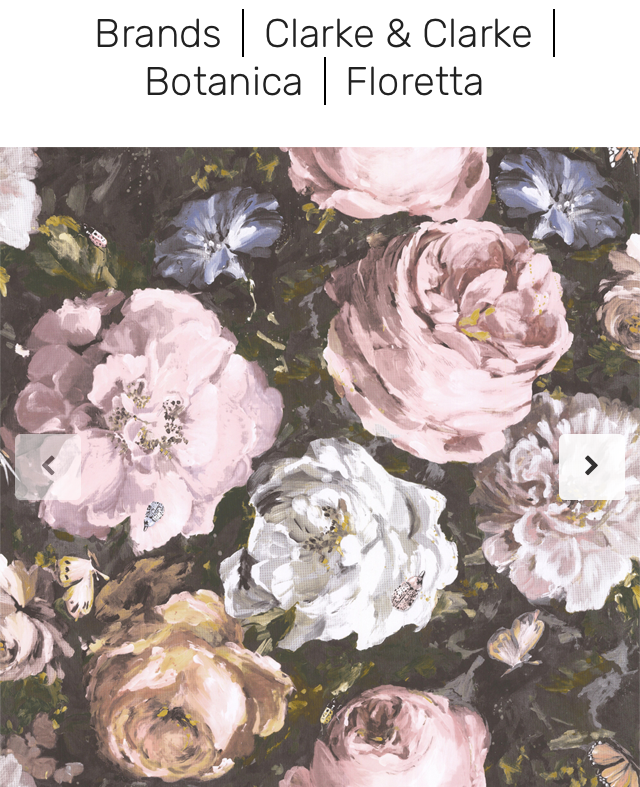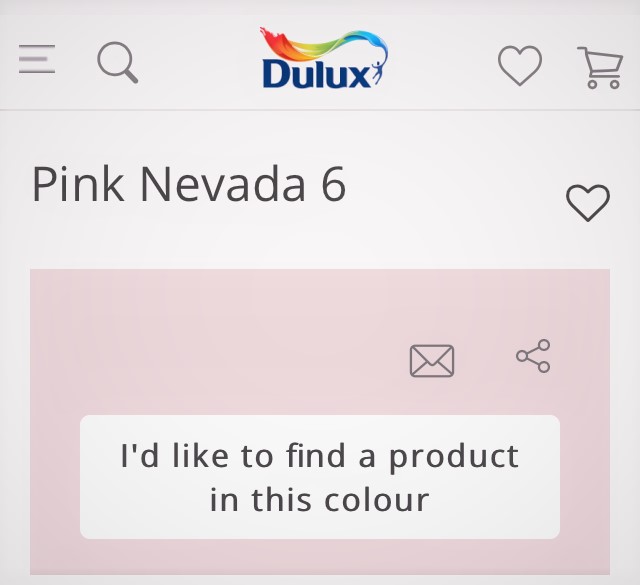 Welcome to big girl floral heaven!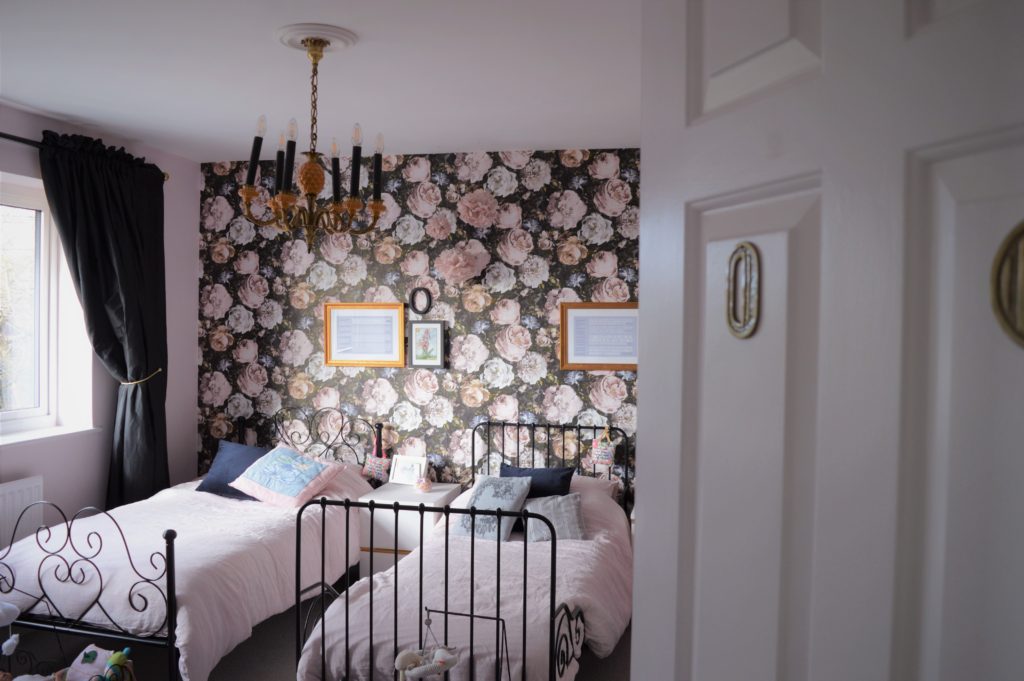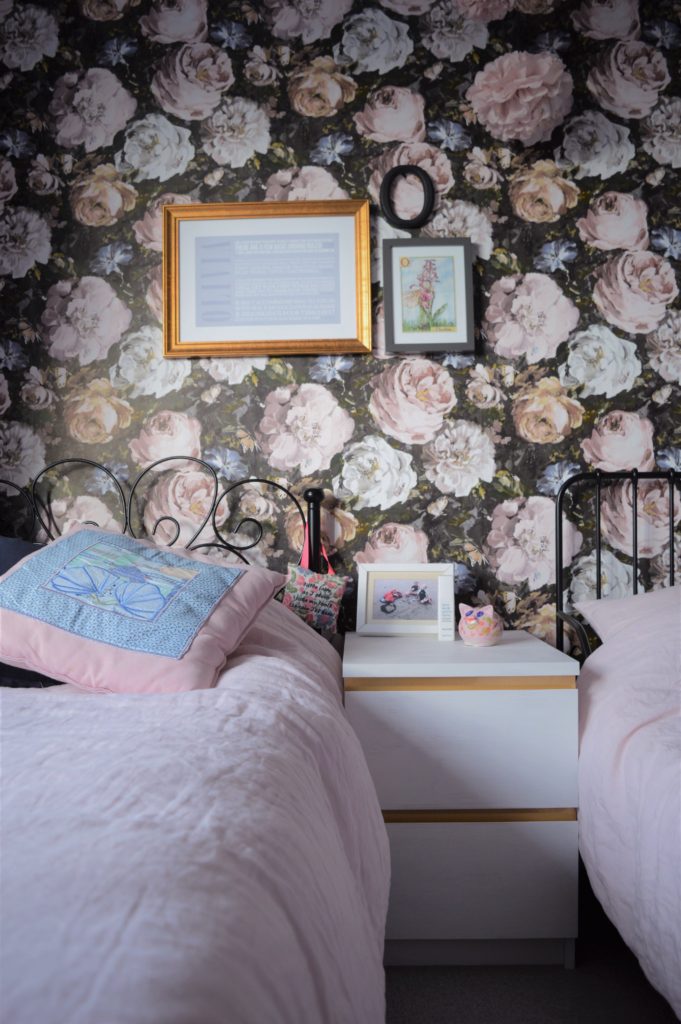 According to my daughters, I'm a magician as by hanging these dusty pink pompoms from the ceiling, it looks like the wallpaper is coming alive.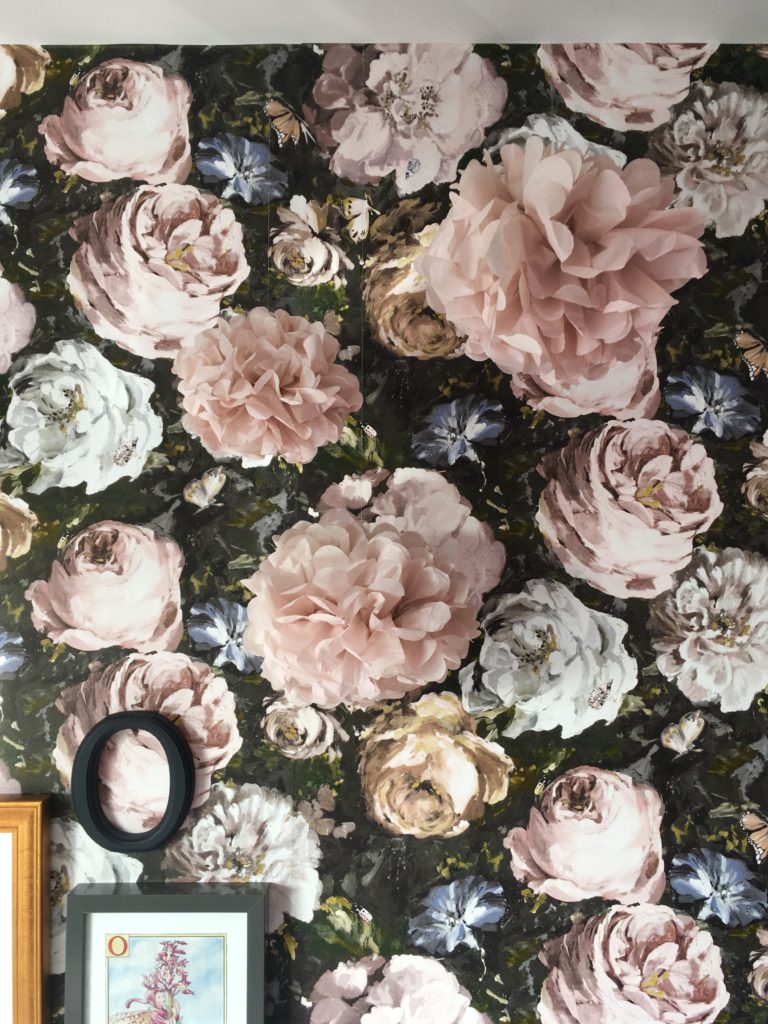 In true HMP spirit, I reused nearly everything in the room. These IKEA MALM chest of drawers (and bedside tables) got a coat of Annie Sloan Pure chalk paint and some gold stick on paper. For more photos check out this post.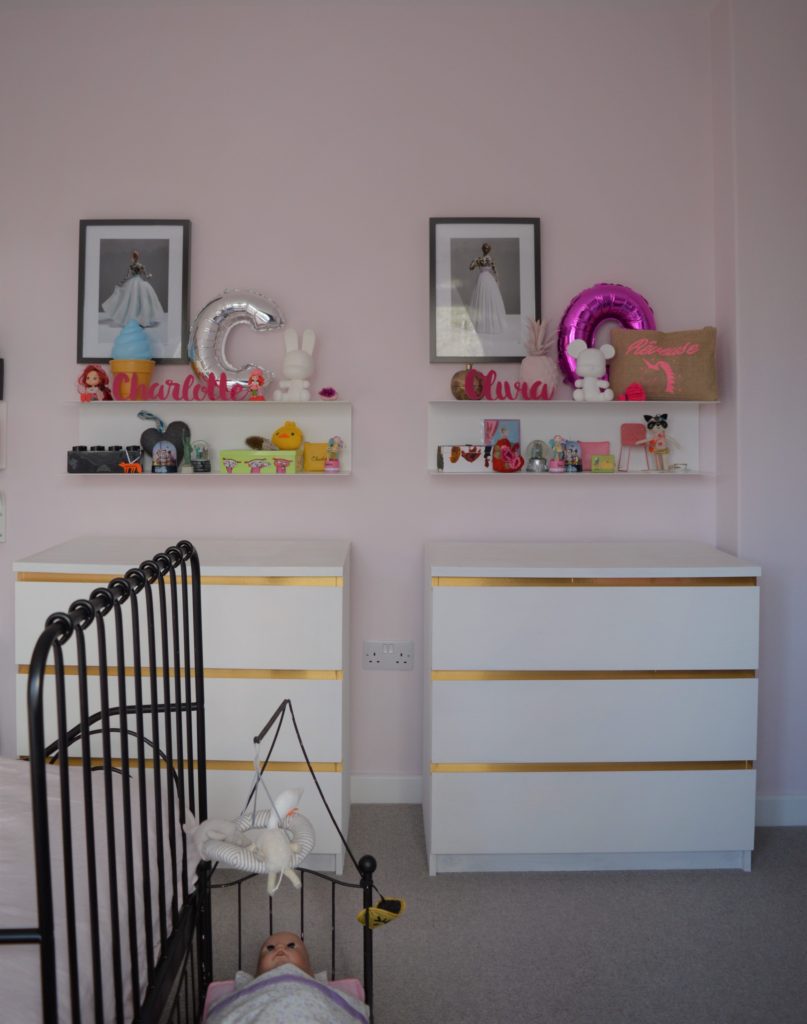 I did buy the IKEA BOTKYRKA shelves. The girls wanted to display more of their treasures. They are the same width as the MALM chest of drawers.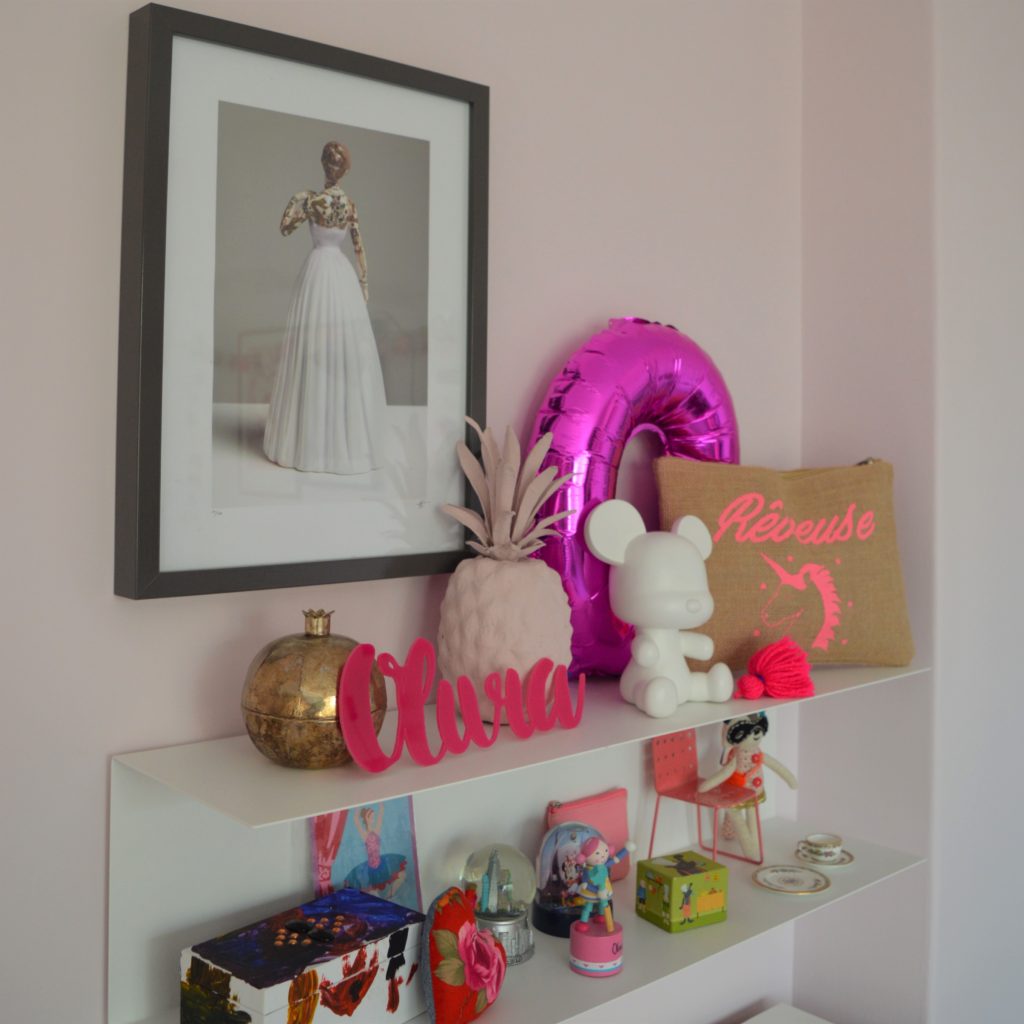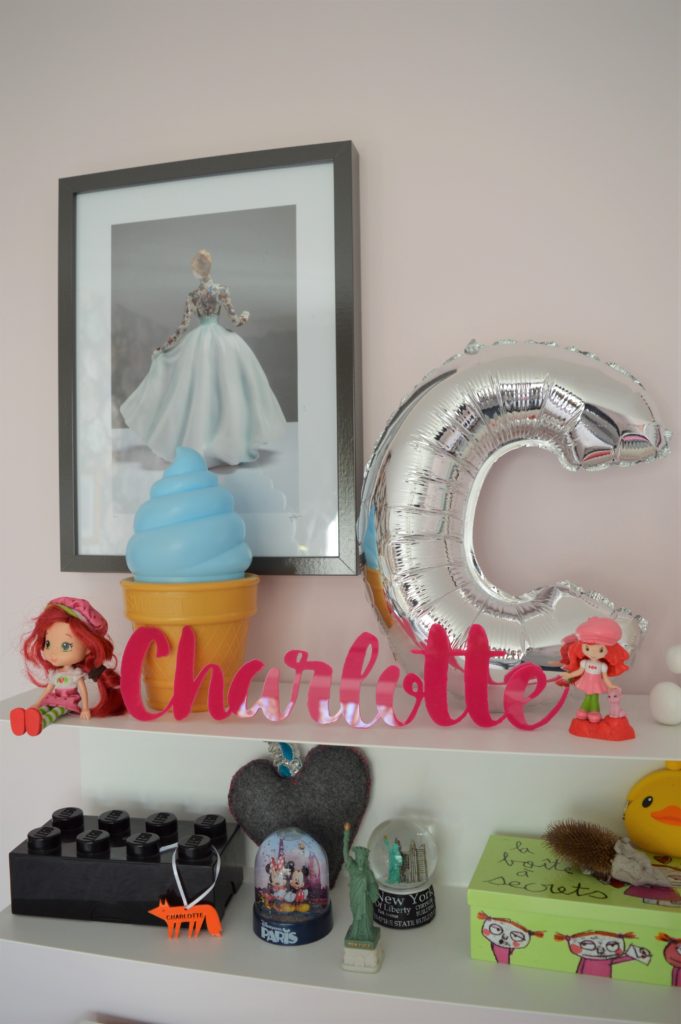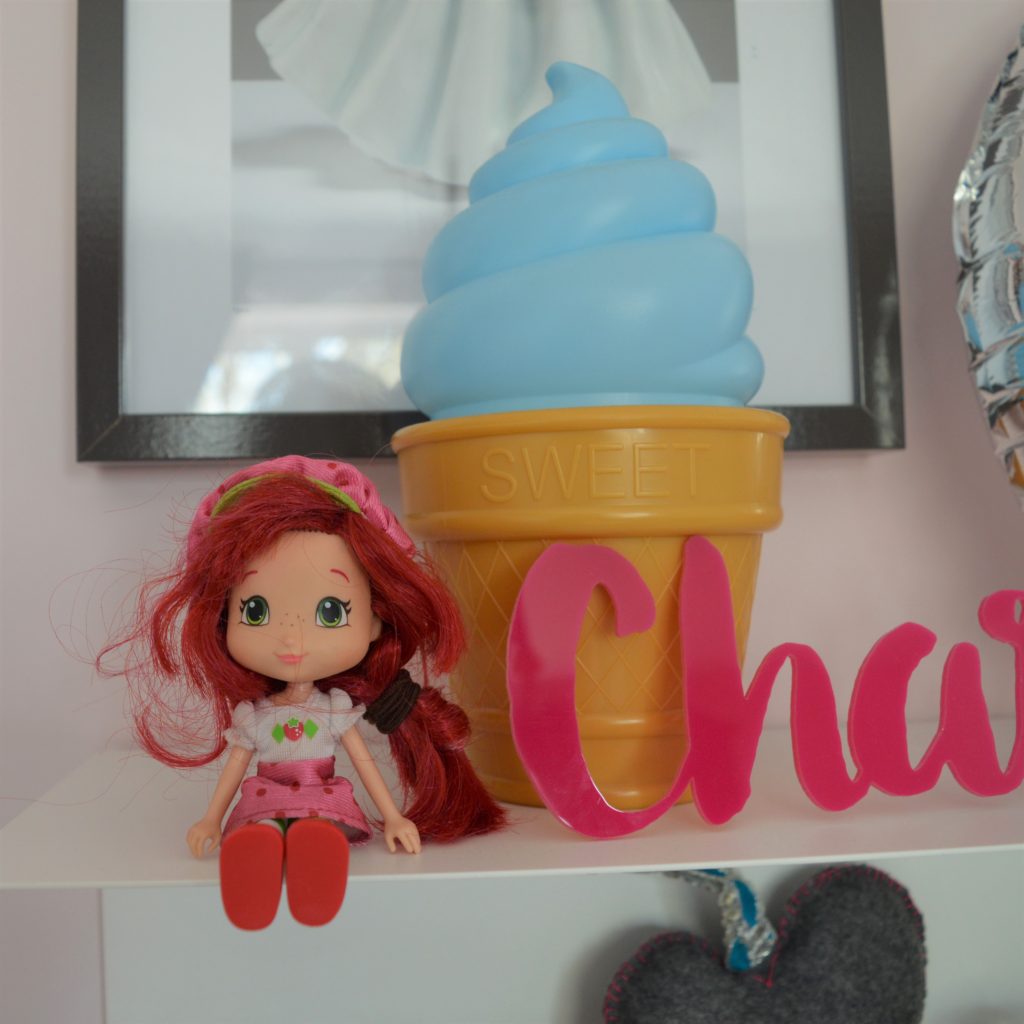 I also created a bigger dressing up area as their collections only gets bigger. I found this Wonder Woman quote: "It's about what you believe. And I believe in love. Only love will truly save the world." and had it made as a gold foil print.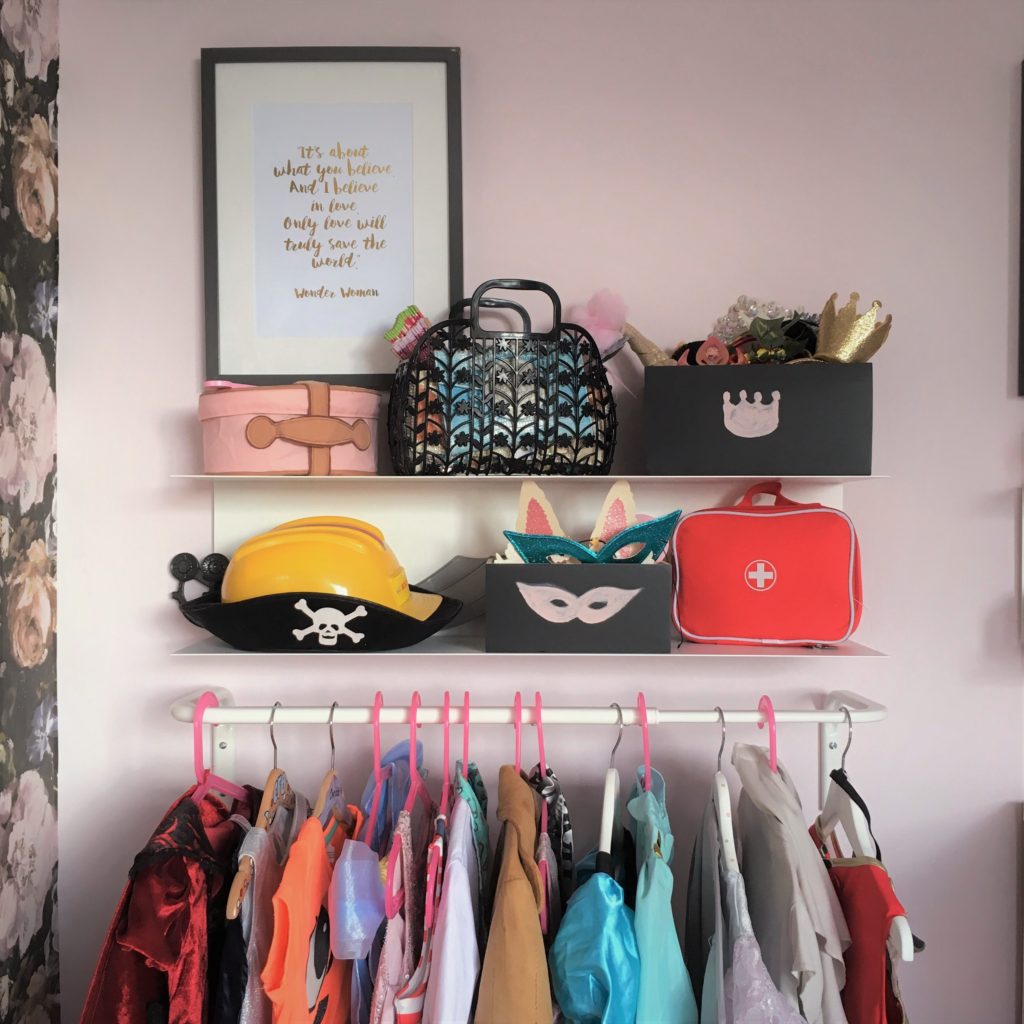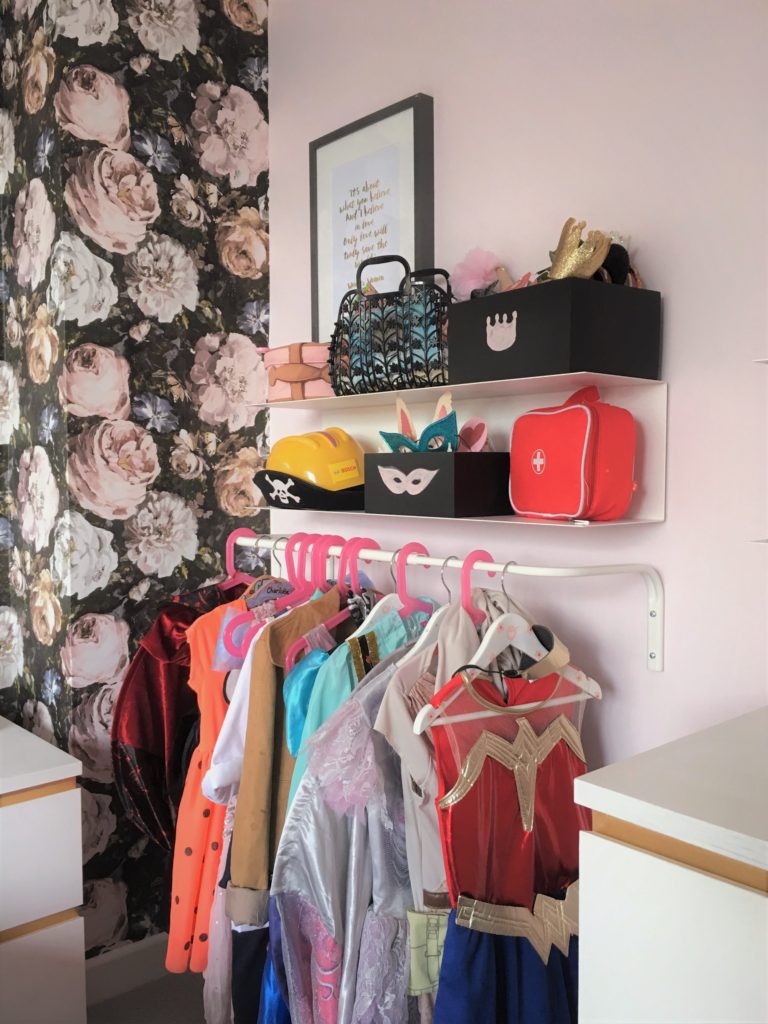 The day bed is the same as before, I just swapped the mattresses over to have the pink one on top. The black silk curtains were added last summer after I found them in a local antique shop along with the curtain tie backs (which I spray painted gold). It was one big curtain but my mum kindly turned it into a pair and joined the linen pair that was there so we could use it in the kitchen.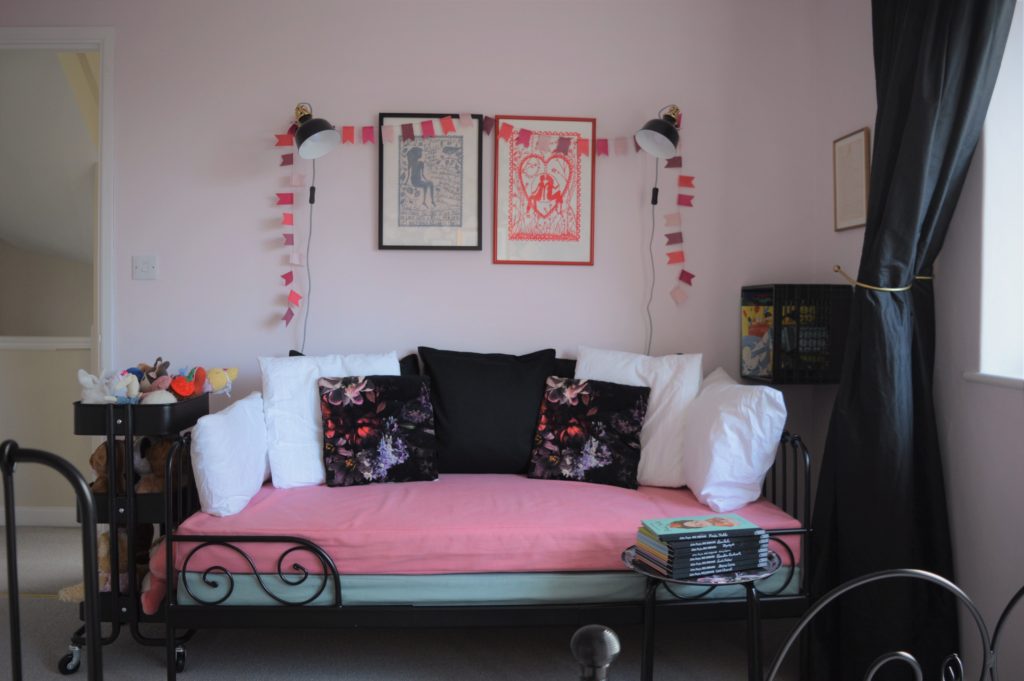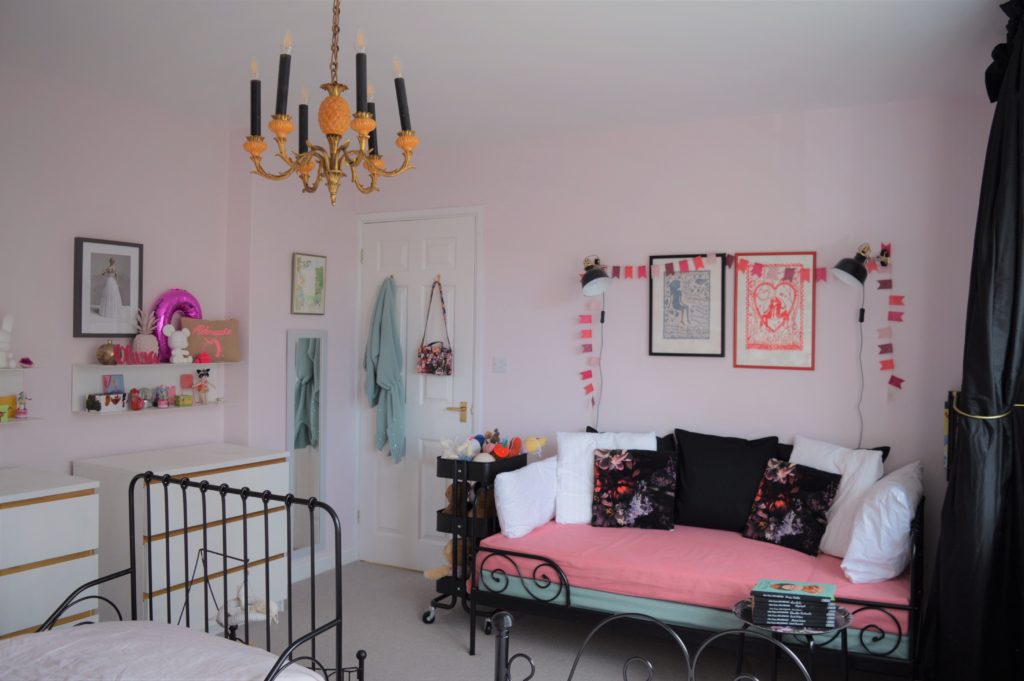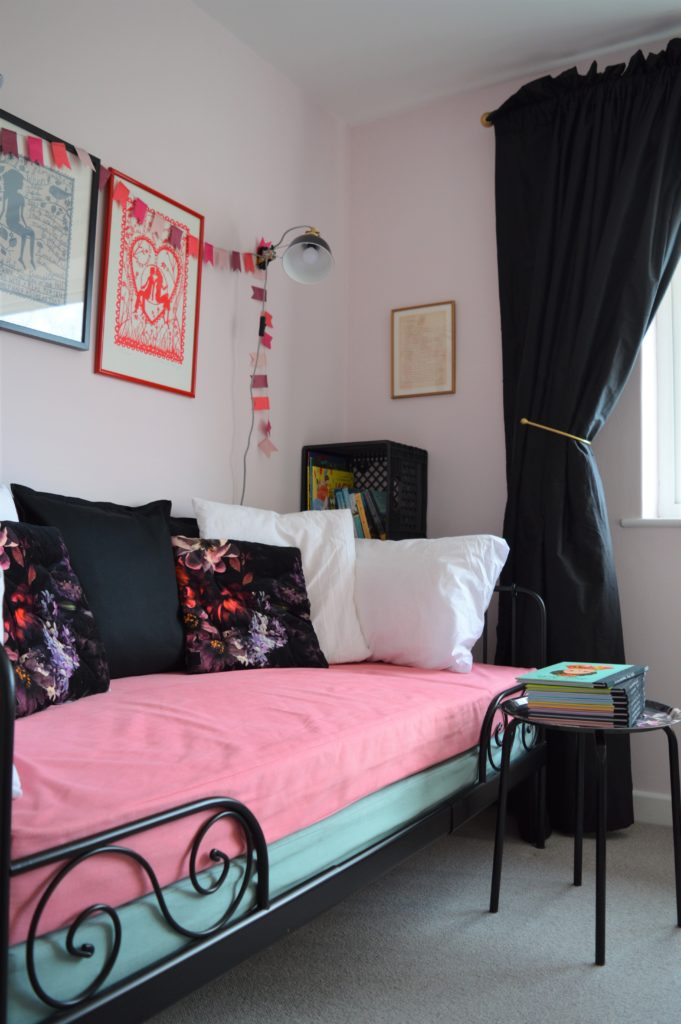 I added a table for bedtime story books which I made with the IKEA MARIUS stool we kept on the landing for difficult bedtimes.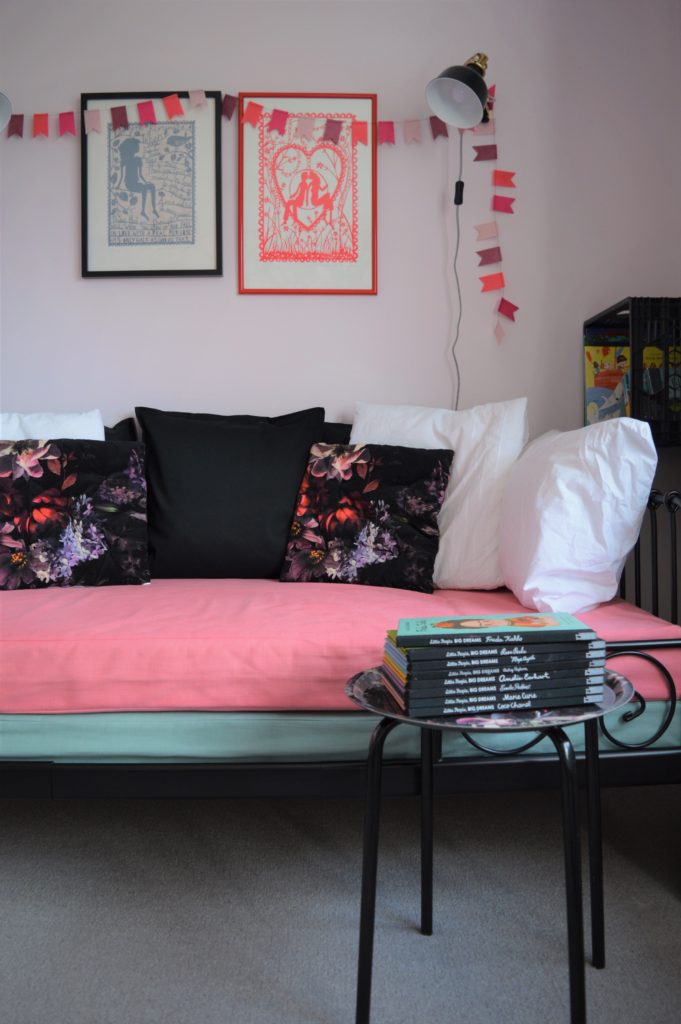 Luckily they are not too old and still want their dolls in their matching beds!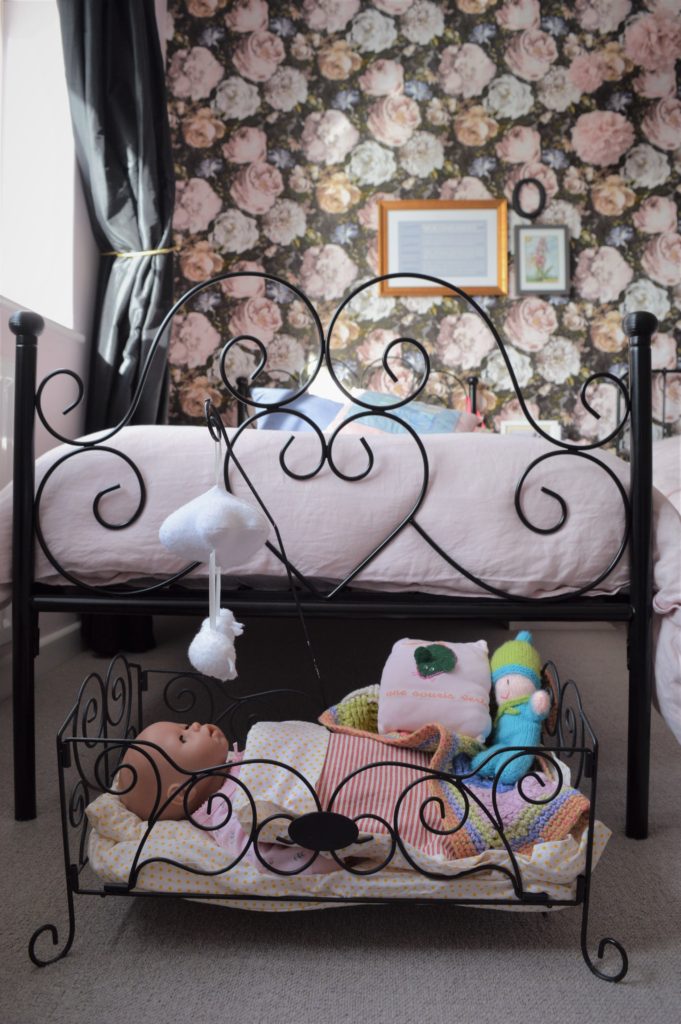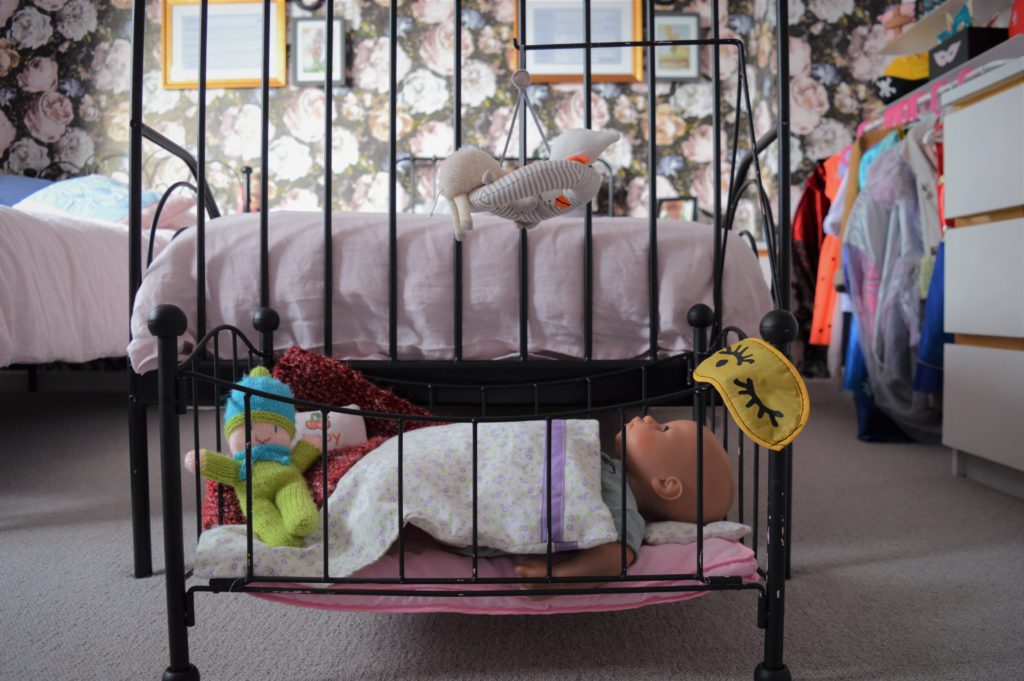 I hope you're inspired!