If you follow my blog you will know that I love William Morris and Annie Sloan chalk paint Christmas baubles, so I decided to create a whole Christmas collection of decorations using both. Last year we bought a house in France and we were planning to spend Christmas there so I thought it would be amazing to create a completely home made/upcycled set of decorations for the new house. I did this in January as lots of people throw out their decorations (!?) so you can get them for free, you can get items to upcycle in the sales and I had some long dark winter evenings to fill.
Above is what I started with. I spent £10. I made the NOEL sign with vintage William Morris Blackthorn curtains (more on how below) for a Christmas shop display. The material inspired my colour palette. I picked 3 tester pots of Annie Sloan chalk paint: Coco, Tilton and Barcelona Orange. Beautiful retro colours which all look stunning with Christmas tree green. The red matte baubles you can see are from a colour block Christmas tree I did two years ago (you can see it here).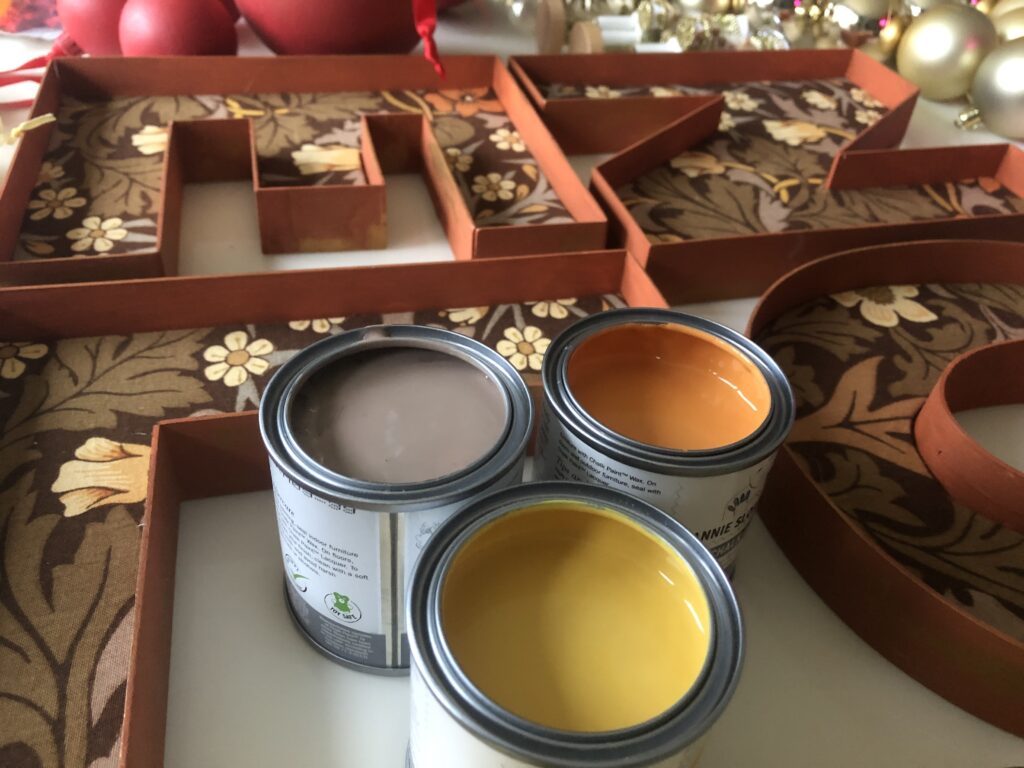 So I started by painting the baubles. I used my half and half paint technique: paint half of the bauble and once you've done them all, that half is dry enough to hold to paint the other half. No prep, just 2 coats of Chalk paint and then a clear coat of wax.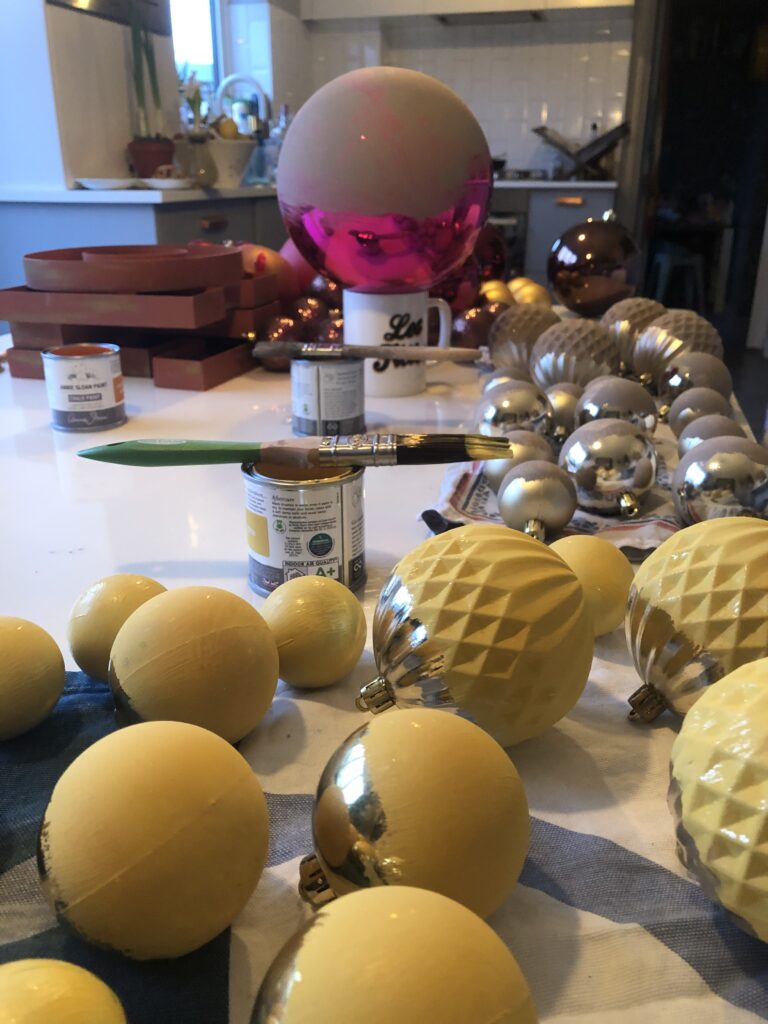 I then wanted to add some William Morris to the baubles. Using the off cuts from the vintage Blackthorn curtains, I cut out the leaves and flowers.
Then using Mod Podge matte I stuck them to the painted and waxed baubles.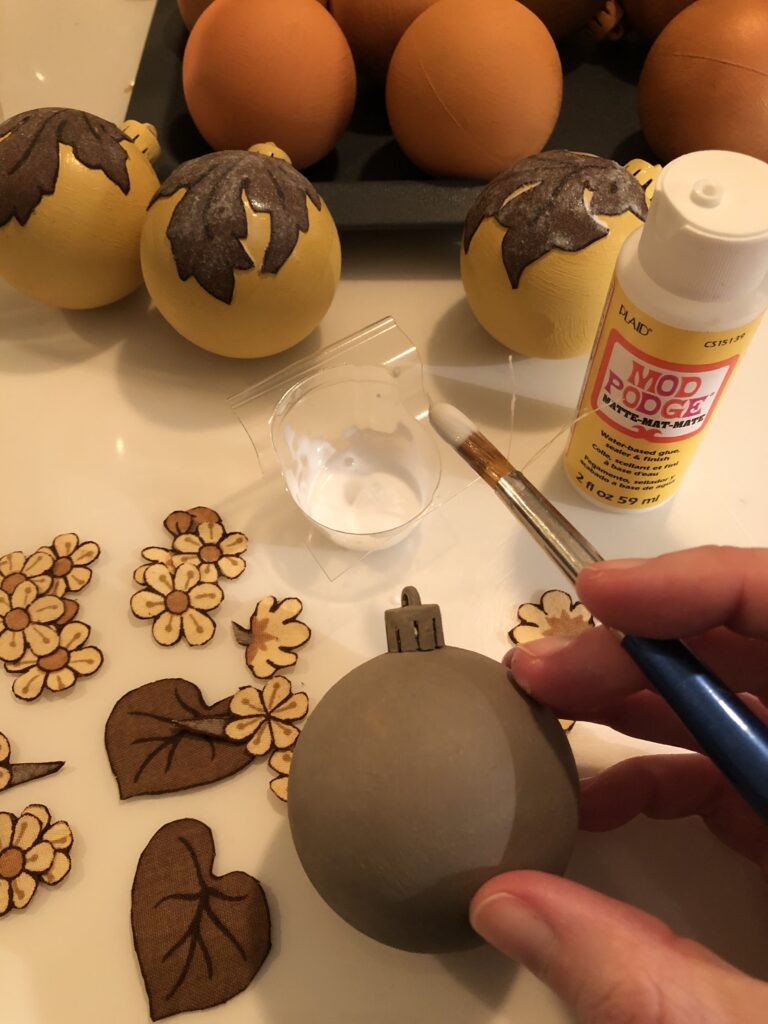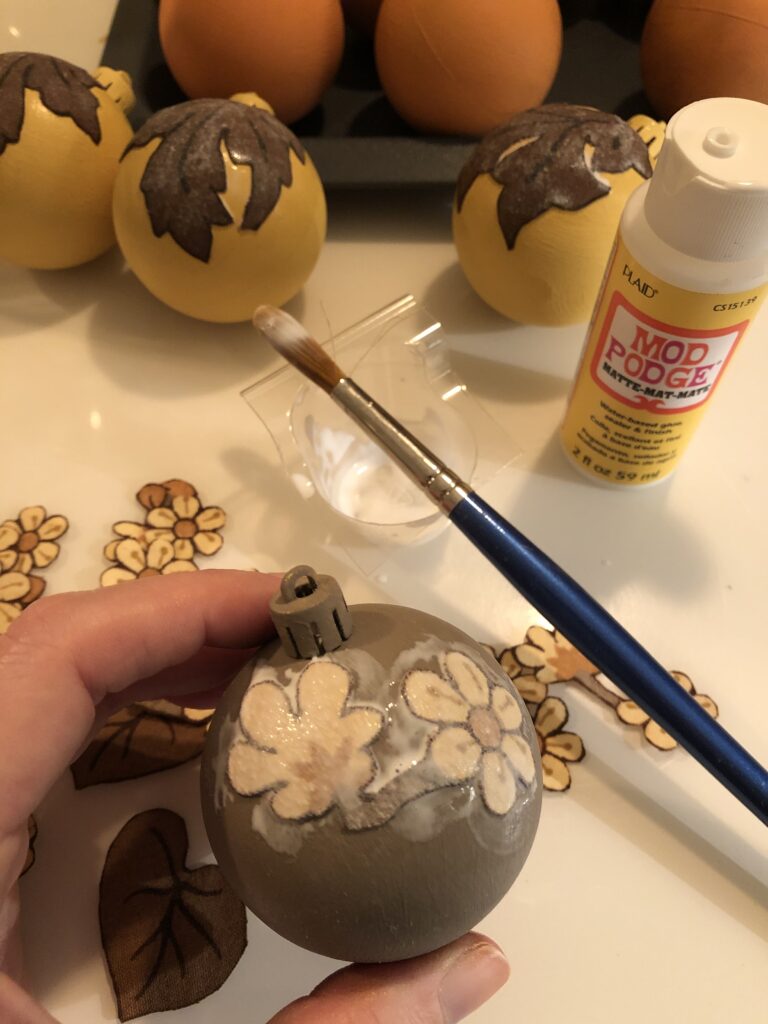 Now you could make star decorations like these but they were so cheap in the sale, I thought it would be much easier. Using the star as a template, I cut out the Blackthorn and using spray adhesive I stuck the material to the star.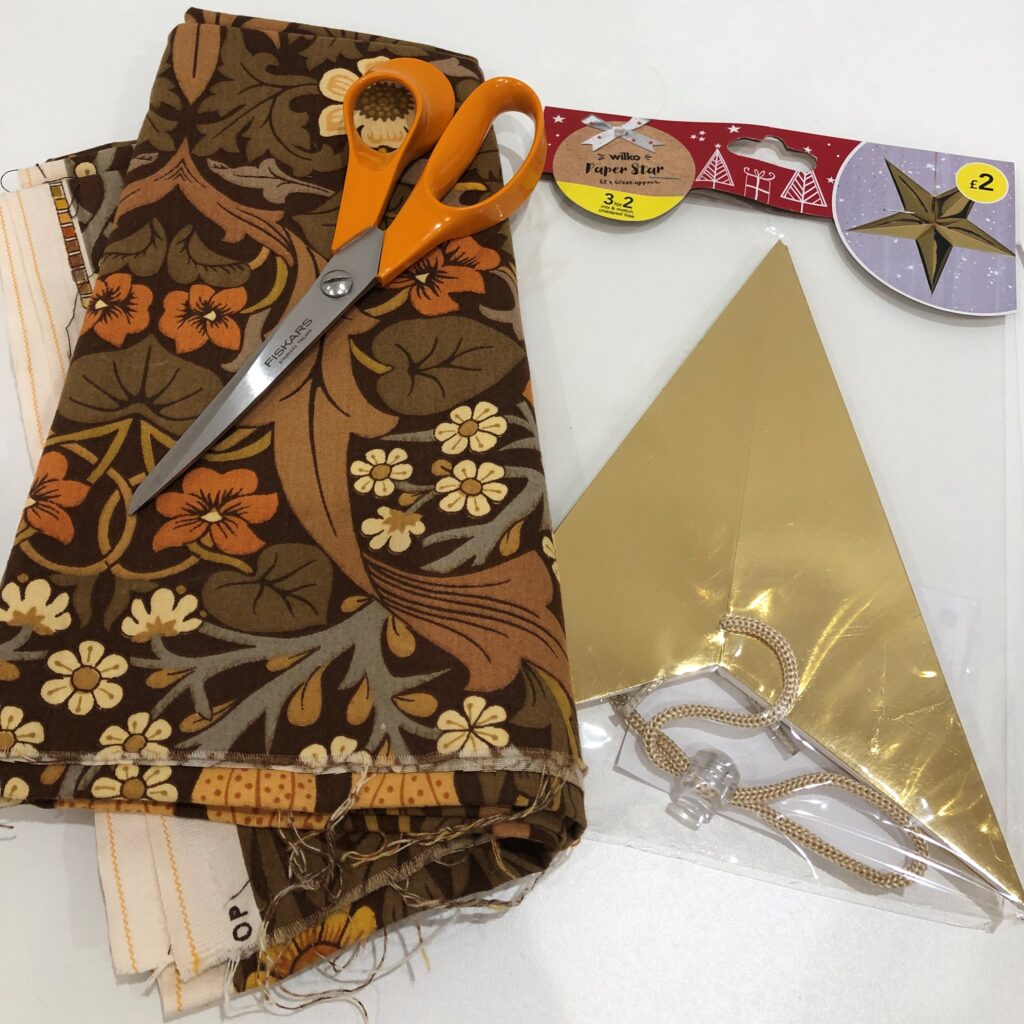 As you can see, I was better with the alignment the second time round! I forgot to photograph the lametta tassels but I just covered the tops of them with velvet ribbon.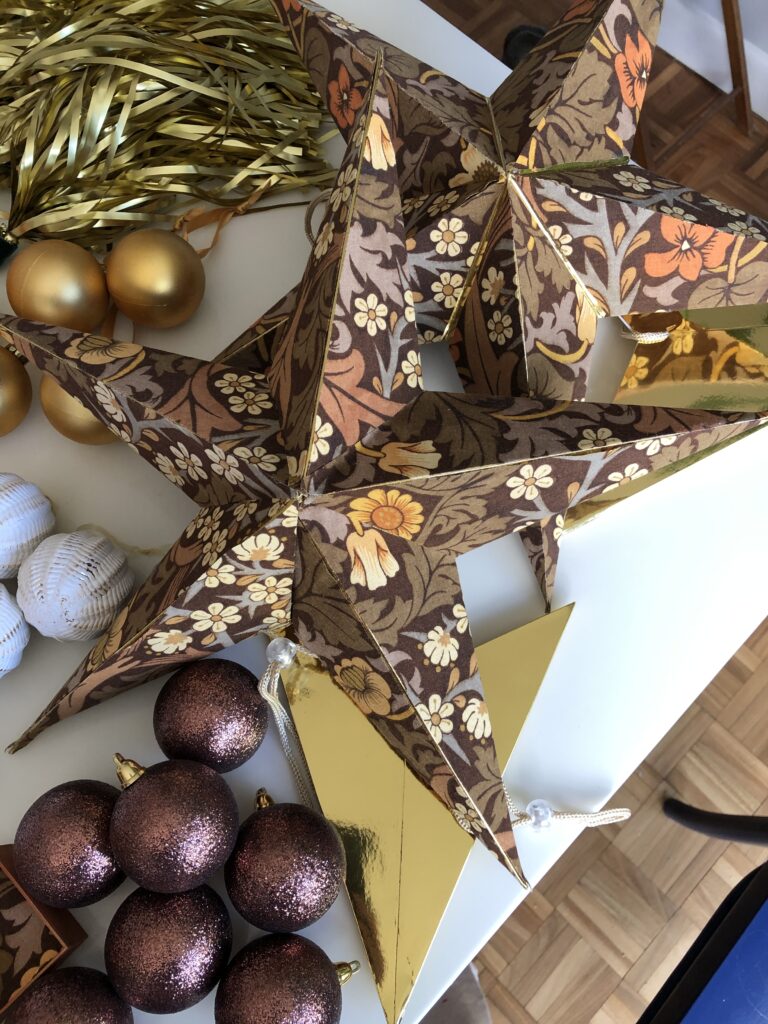 The NOEL sign was my most popular Instagram post last year when I was selling them in a local shop. You can read my easy how to here.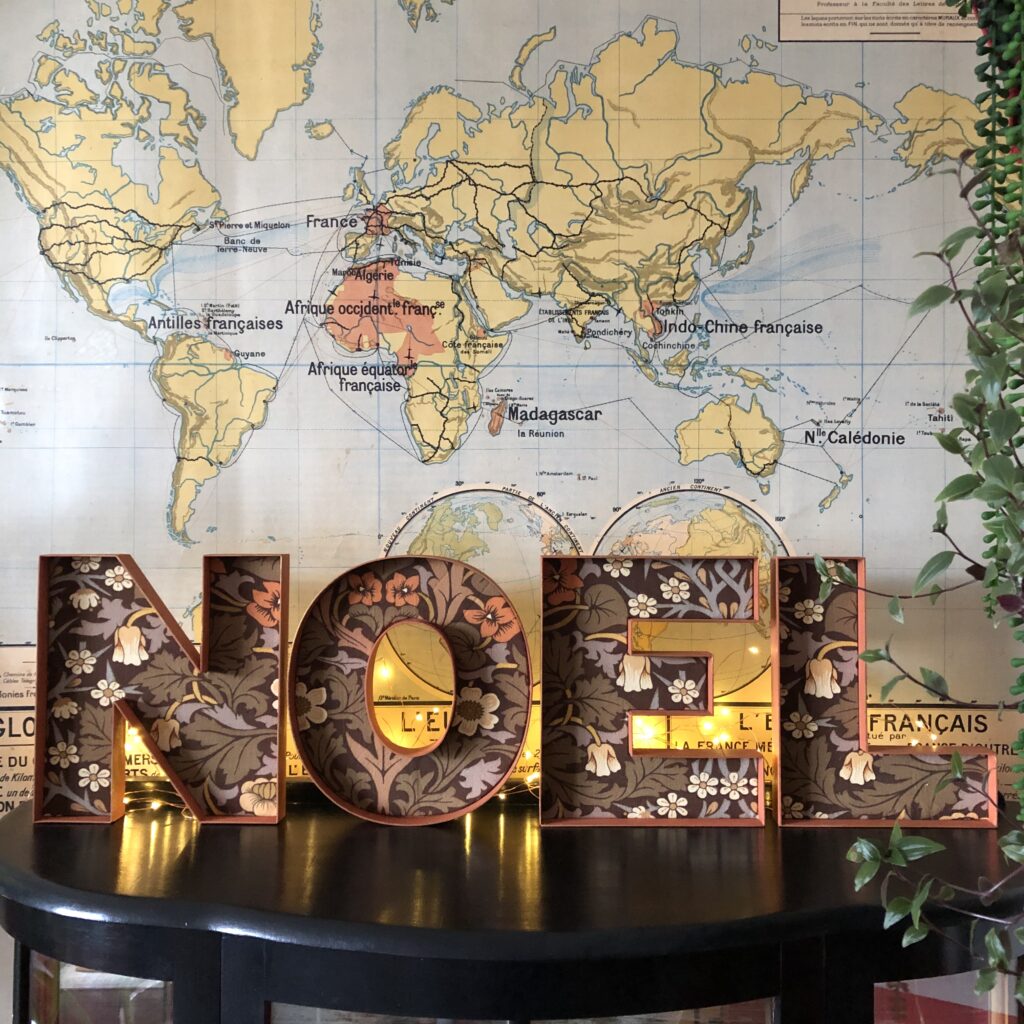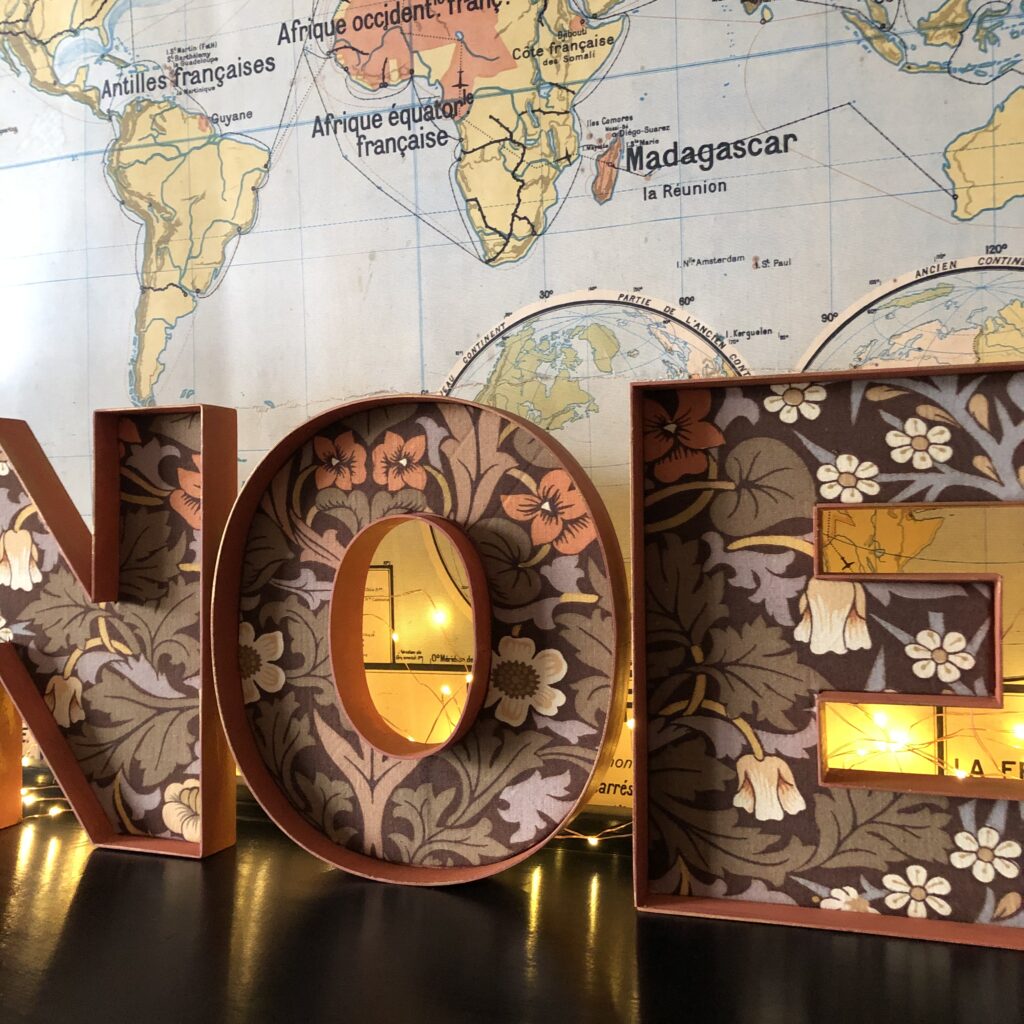 Et voilà! A completely home made/upcycled set of decorations inspired by William Morris Blackthorn and my love of Annie Sloan paint. Doesn't it look more cohesive now?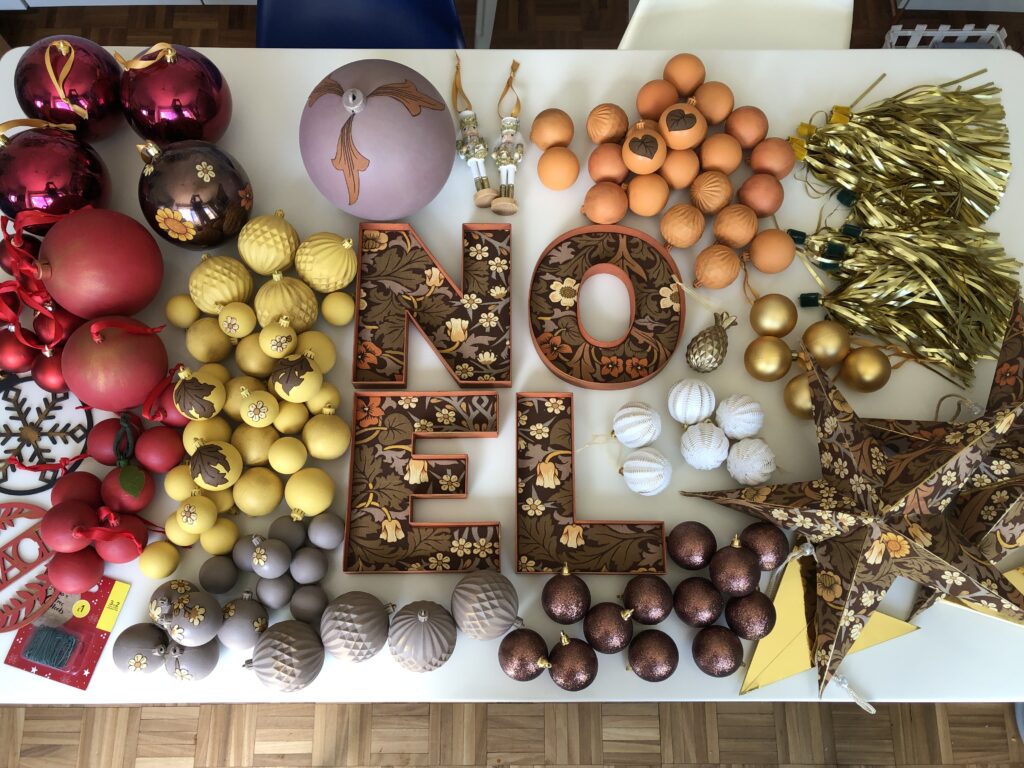 Lots of texture and it all works together.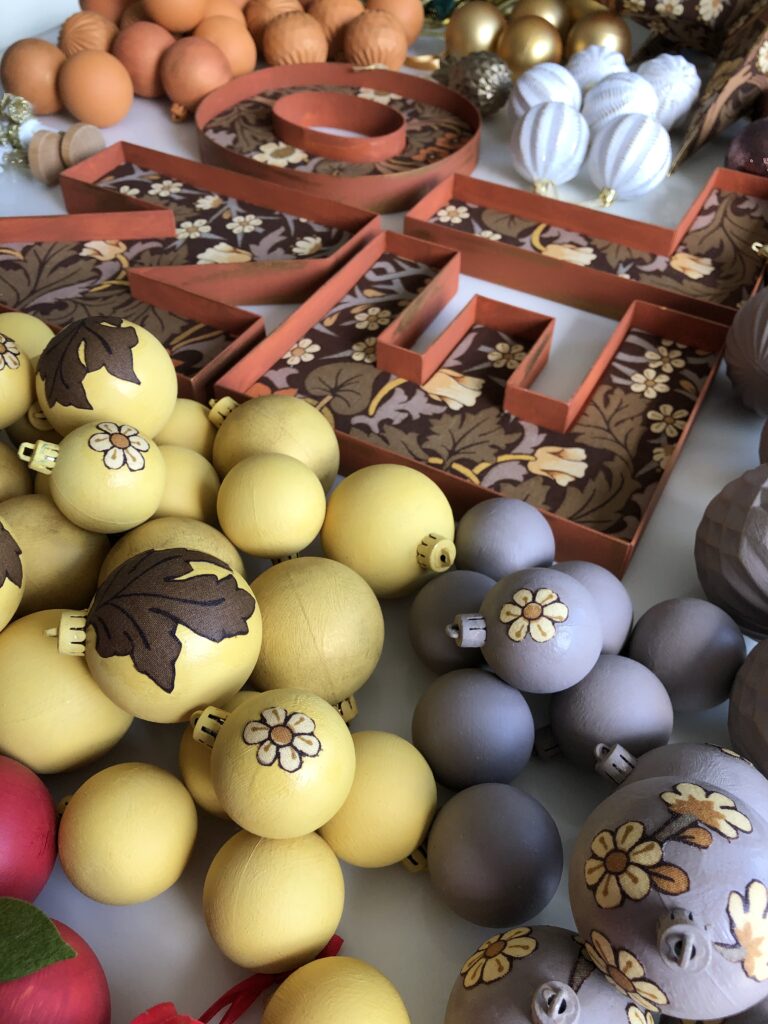 So I couldn't help myself and in July, much to the amusement of my kids, I put up the Christmas tree to see the whole collection.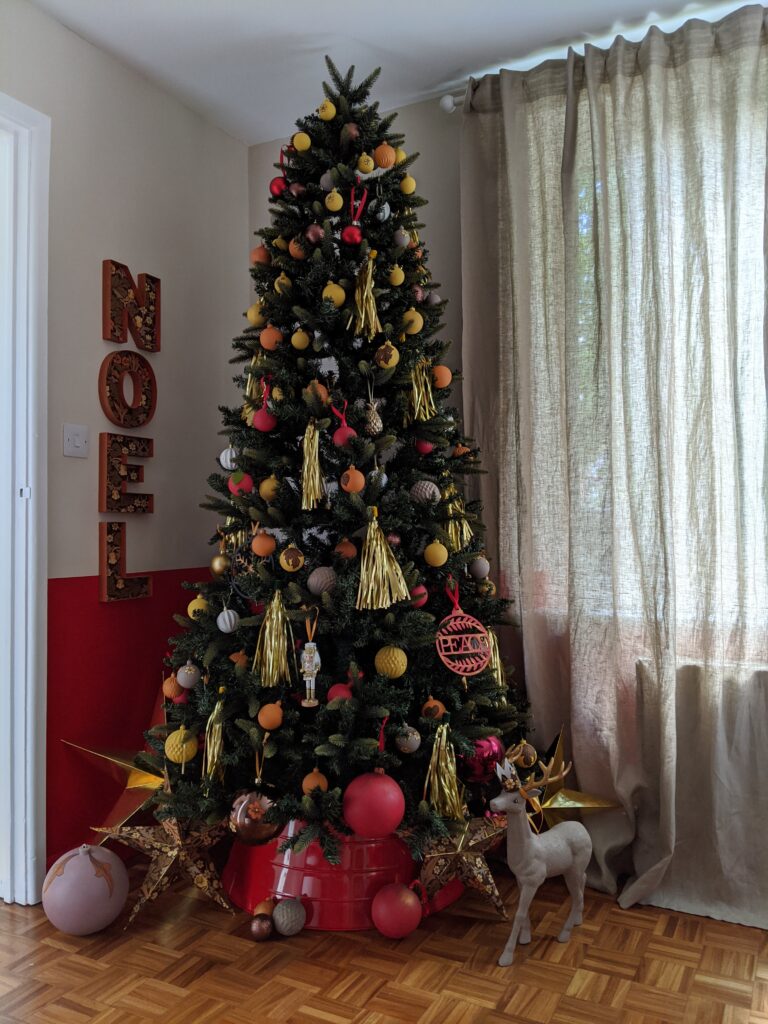 I love how they look together and especially against the Christmas tree green.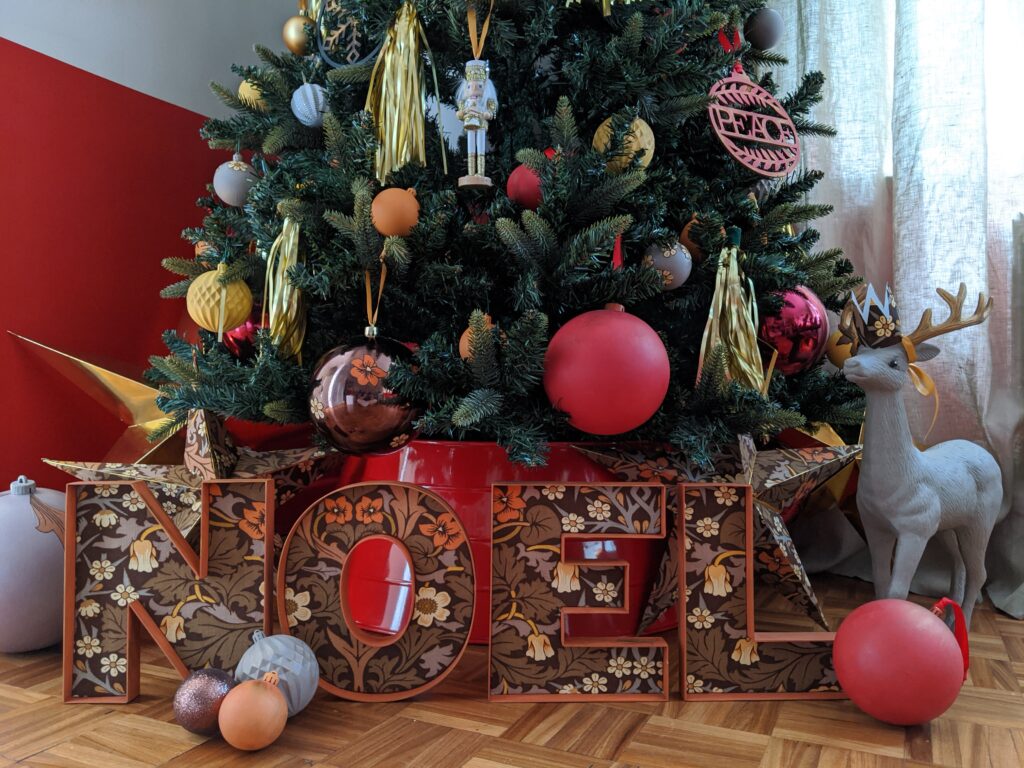 I nearly forgot the cute little deer. You can read how I saved him from my garden and gave him a new Christmas life here.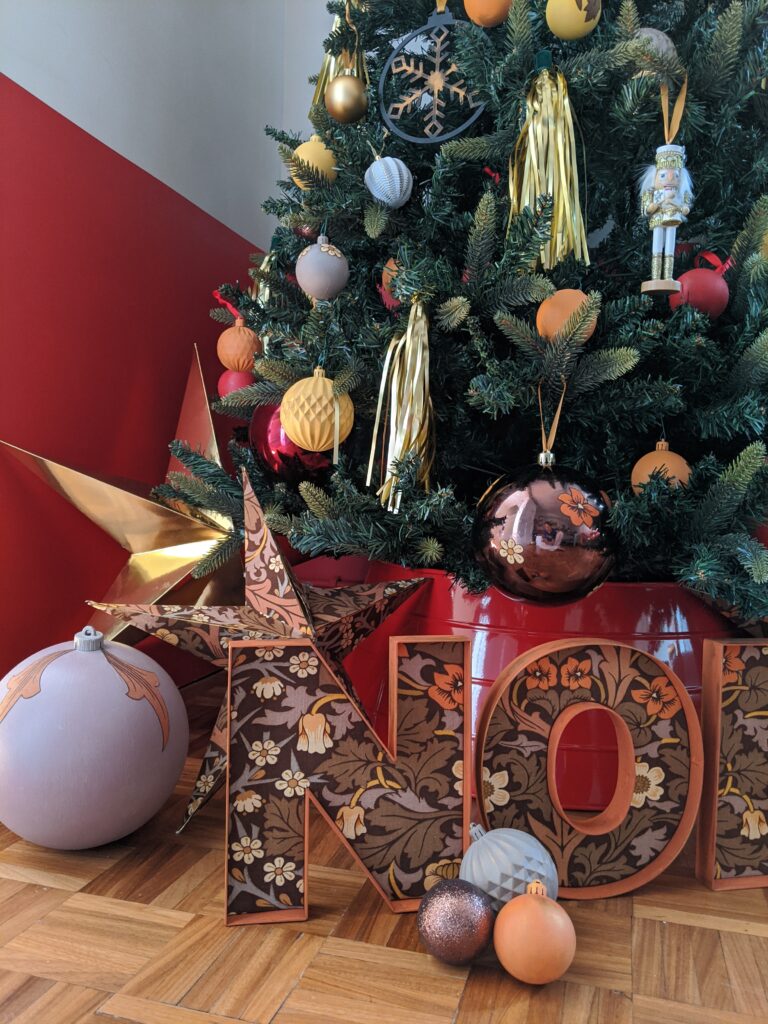 I can't wait to put up these decorations in our house in France. Hopefully Christmas 2021!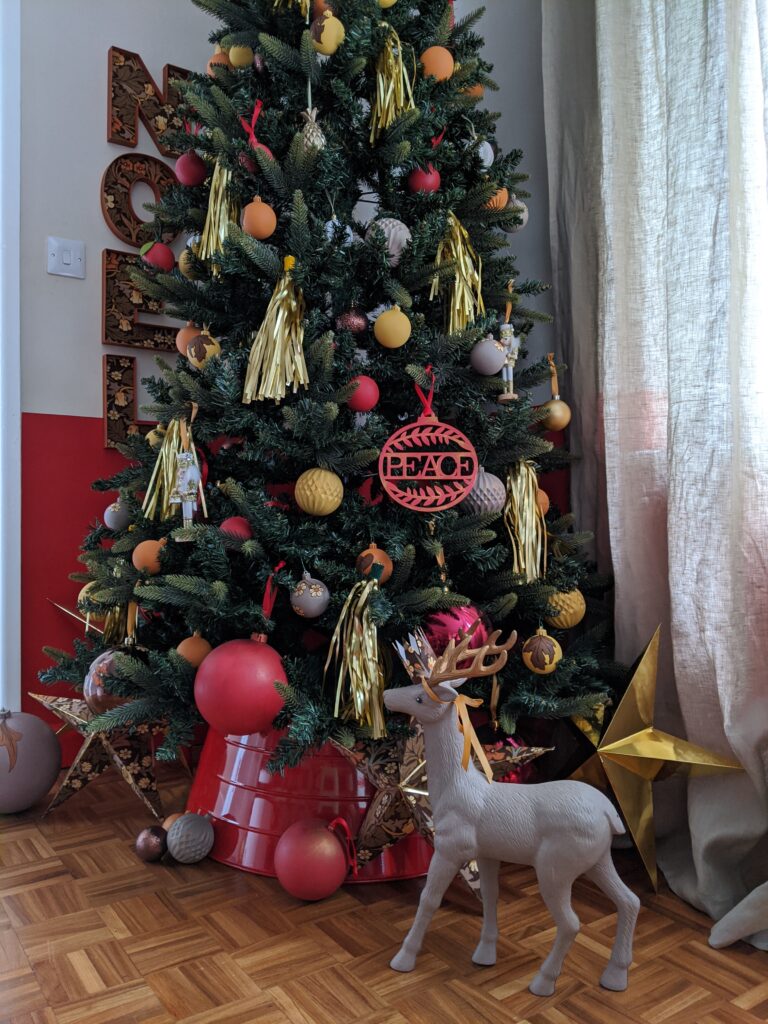 Pin this image to Pinterest to find this post later.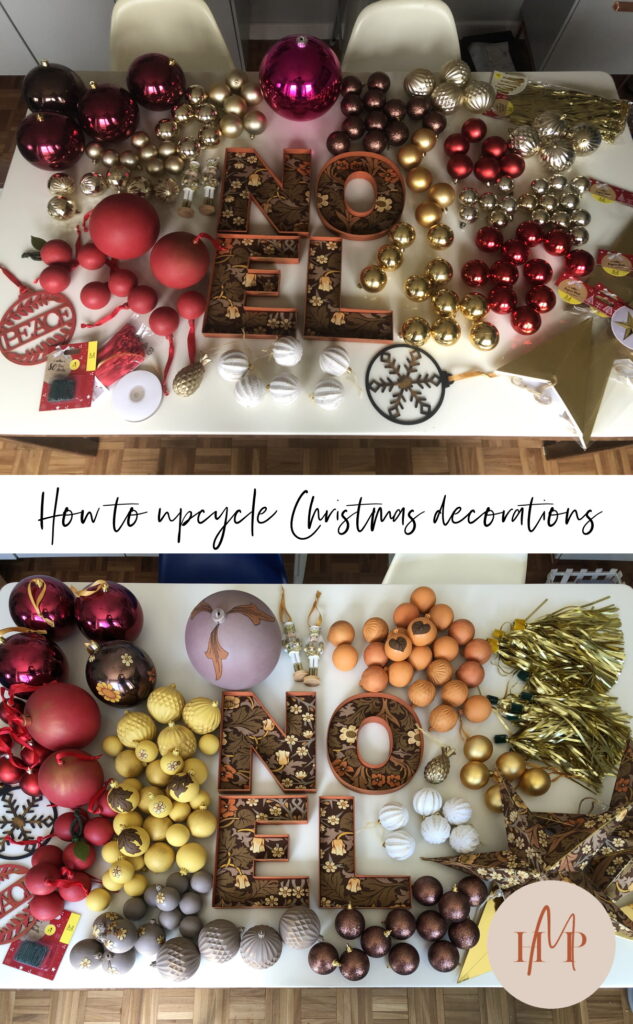 I hope this has inspired you to make, upcycle and create your own unique Christmas decorations. Please let me know in the comments below.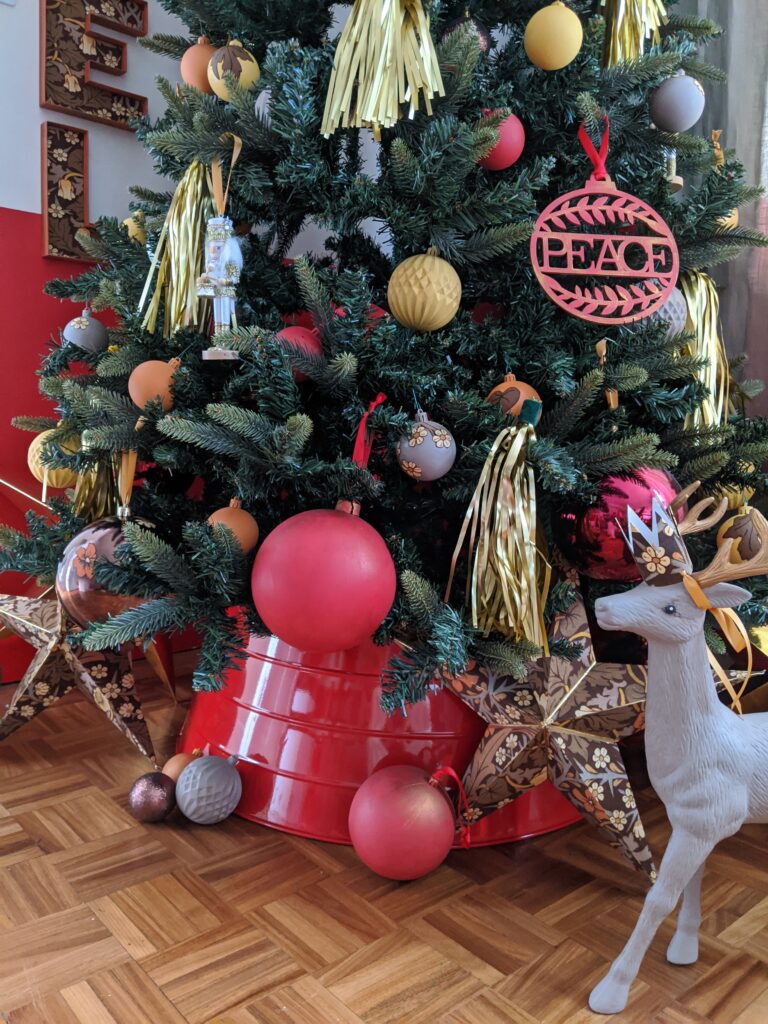 Happy Christmas making!